Jan Esselman elected as President of CEB
Nederlands

BLED (Slovenia) - The European Baseball Confederation (CEB) has a new Executive Board. Today (Saturday, February 16), elections were held during its annual Congress, which was held jointly with the European Softball Federation (ESF) in the Slovenian city of Bled.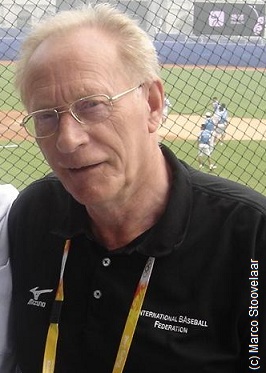 ...Jan Esselman...
(© Photo: Marco Stoovelaar)

In the afternoon, Jan Esselman was elected President of the CEB. He succeeds Petr Ditrich (Czech Republic), who was the Acting President after Martin Miller (Germany) stepped down in February of last year. Earlier in the day, André van Overbeek, also from the Netherlands, was elected President of the ESF.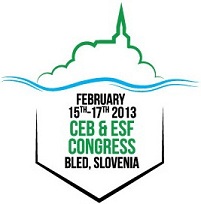 Jan Esselman was the Chairman of the Technical Committee of the CEB since 2005 and was one of two candidates for the postion, the other being Vojco Korosec (Slovenia). In the voting, Esselman got 15 votes, while Korosec got seven and six votes were blank.
Jan Esselman becomes the second Dutchman to preside over the CEB. The first was Guus van der Heijden, who was elected CEB-president in March 1985. Van der Heijden passed away in January 1987 and then was succeeded by Italian Aldo Notari.
Esselman served as vice-president and treasurer of Dutch clubteam Haarlem Nicols in the eighties, then was elected member of the Technical Commission of CEB in February 1993. In the meantime, he was a member of the Board for the KNBSB from 1989-1995. In March 2005, Esselman became chairman of the Technical Committee, succeeding Italian Riccardo Fraccari, who then was elected 1st Vice President in the Executive Board of CEB. Esselman also is a longtime member of the Technical Commission of IBAF. During the upcoming World Baseball Classic, Esselman will be a member of the Technical Commission during the First Round that will be played in Arizona (USA).
CEB Presidents
Period
President (country)
April 1953 - March 1971
Prince Steno Borghese (Italy)
March 1971 - March 1985
Bruno Beneck (Italy)
March 1985 - January 1987
Guus van der Heijden (Netherlands)
January 1987 - March 2005
Aldo Notari (Italy)
March 2005 - February 2012
Martin Miller (Germany)
February 2013 - February 2013
Petr Ditrich (Czech Republic) (interim)
February 2013 - current
Jan Esselman (Netherlands)
Elected as 1st Vice-President was Peter Kurz (Israel), while Jürgen Elsishans (Germany) was named 2nd Vice-President. Elsishans got 14 votes, staying ahead of Alexander Ratner (Russia), who got 12 and therefore was not re-elected. Earlier in the day, Elsishans was a candidate for the vice-presidency of the ESF, but he withdrew for that position. Petr Ditrich (Czech Republic) was named 3rd Vice-President, getting 20 votes, while Rod Moore (Denmark) got four votes for this position.

René Laforce (Belgium) was confirmed to continue as Treasurer, as he was the lone candidate. Xavier Mateu (Spain) was elected as the new Secretary-General, after Mario De Bono (Malta) withdrew.

Next, it took a long time to elect the five so-called Vocals in the new Board. Matts Fransson (Sweden) and Michael Manning (Ireland) were elected in the first round of voting. Hereafter, Didier Seminet (France) was elected in the fifth roun, Monique Schmidt (Switzerland) in the sixth round and Valentinas Bobulis (Lituania) in the eighth round of voting. In total, today's meeting lasted six hours to elect a new Board.

Also today, several awards were handed out. Marco Mazzieri of European baseball champion Italy was named Coach of the Year, Frantisek Prybil (Czech Republic) was named Umpire of the Year and Dennis Duin (Netherlands) was named Scorer of the Year. Spain was named Federation of the Year for its accomplishment of qualifying for the World Baseball Classic.

With the new boards of both the CEB and ESF now being installed, it is sad to note that there is no representative in both federations of Italy, which, together with the Netherlands, is one of the leading baseball and softball countries in Europe.

(February 16)