Come-from-behind win Team North in All Star Game
Nederlands

HAARLEM (Neth.) - Team North trailed 6-2 in the third inning, but won the fourth annual Dutch Major League All Star Game against Team South on Sunday 13-9, thanks to a 5-run rally on two homeruns in the eighth inning. It was the second win for Team North in the short All Star-history. In 2010, Team South won the inaugural game in The Hague, 7-4, at the site of ADO. Team North then won 8-5 in 2011 and Team South won last year's game, 9-2. The games in 2011 and 2012 were both played at the site of UVV in Vleuten. This year's location was the historic Pim Mulier Stadium in Haarlem, the home of Dutch champion Corendon Kinheim, which opened 50 years ago.

Team North, which was coached by Wim Martinus (Corendon Kinheim, he filled in for Hans Lemmink), was compiled from players of Corendon Kinheim, L&D Amsterdam Pirates, Vaessen Pioniers and Mr. Cocker HCAW. Team North, led by Evert-Jan 't Hoen (DOOR Neptunus), selected players from DOOR Neptunus, UVV, ADO Lakers and Mampaey the Hawks.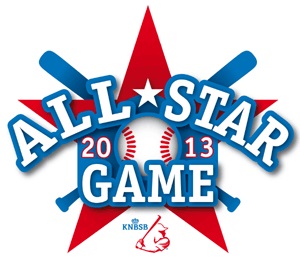 With 22 runs scored and 28 basehits, records were set in the 4-year All Star-history. Another record was set with six homeruns. Phil Ortez, who tied the score with a 2-run homerun in the seventh inning, was 3-for-3 and scored another run in the 5-run eighth at bat, was named Most Valuable Player.
The record-setting day began during the Homerun Contest, which was won by Rudy Van Heydoorn. With five homeruns, the catcher of Neptunus finished in second place in the First Round behind Ferd van Stekelenburg (UVV), who hit nine. Raily Legito (Neptunus, who hit four) and Percy Isenia (Amsterdam Pirates, who hit three) also qualified for the Semi-Final. Quintin de Cuba (Kinheim, no homeruns), Jeffrey Arends (Kinheim, 0), Ricky Daal (UVV, 1) and Kenny Berkenbosch (Pirates, 2) also participated in the First Round.
In the Semi-Final, Van Heydoorn belted 11 more homeruns, but trailed Isenia, who hit 14. With these totals, the two qualified for the Final. Legito and Van Stekelenburg both hit two homeruns in the Semi-Final.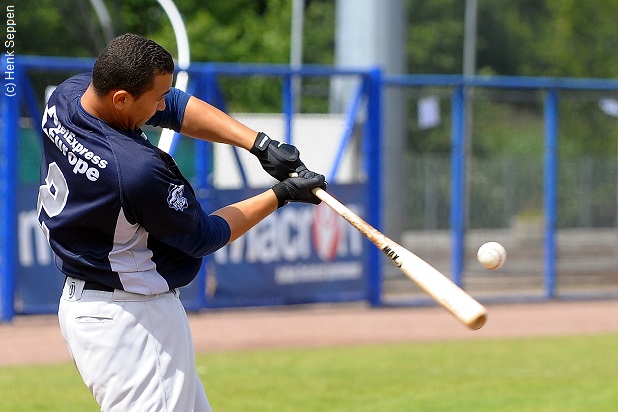 ...Rudy Van Heydoorn set a Homerun Contest record with 23...
(© Photo: Henk Seppen)

Van Heydoorn won the Final by hitting seven homeruns, while Isenia hit only one. With his 23 homeruns, Van Heydoorn set a new Homerun Contest Record. He broke the record of 15, set last year by Bryan Engelhardt, who hit 11 homeruns to also win the contest in 2011. In the first contest in 2010, Isenia won with 10 homeruns. Last year, Van Heydoorn hit only three homeruns in the First Round of his first Homerun Contest. Arends and Isenia participated in their third Homerun Contest.

Veterans Diegomar Markwell (Neptunus) and Rob Cordemans (Amsterdam Pirates) were the starting pitchers. The two also were the starting pitchers in the 2011 All Star Game. For Markwell, this was his third consecutive All Star-start. The two only pitched the first inning. Cordemans walked a batter, while Markwell retired the side. Markwell appeared to become the winning pitcher, thanks to three runs in the second inning, but his status changed to a no-decision when Team North came alongside in the seventh inning.

In the second inning, Sedley Karel (HCAW) took over for Cordemans and gave up three runs. He walked lead-off hitter Ferd van Stekelenburg, then gave up back-to-back homeruns to Rudy Van Heydoorn and Rafaël Jozefa (Neptunus), marking the first time in the All Star-history that back-to-back homeruns were hit. Three outs followed, but Team South had taken a 3-0 lead.

In the bottom of the second inning, Team North got two runs back off of new pitcher Ronald de Bont (The Hawks). Percy Isenia led off with a walk and Jeffrey Arends (Kinheim) singled, then both scored on an one-out double by Quintin de Cuba, who later stranded on third base.

Team South took more distance by scoring three runs in the third inning off of David Bergman (Kinheim). Benjamin Dille (Neptunus) walked and Raily Legito singled, followed by an RBI-double by Dwayne Kemp (Neptunus). With one out, Van Heydoorn added an RBI-single, while Kemp was able to score when a throwing error from the outfield followed to make it 6-2.

In the bottom of the third inning, Team North narrowed the deficit again by scoring two runs off of Kevin Noordzij (The Hawks). With one out, Mervin Gario (Kinheim) and Danny Rombley (Pioniers) singled. With two outs, both scored on a single by Jeffrey Arends, who was the MVP of last years All Star Game. Bas de Jong (Amsterdam) added another single, but Team North left two runners behind.

In the fourth inning, Venezuelan Spaniard Iván Granados (HCAW) became the new pitcher for Team North. The lefthander gave up a 2-out double to Benjamin Dille in the fourth, but no runs. He returned to the mound in the fifth and then gave up a 2-out homerun to Rudy Van Heydoorn. With this, Van Heydoorn became the second player in the All Star-history with two homeruns in one game. In 2011, Bryan Engelhardt was the first.

Team North was held scoreless by Orlando Yntema (Neptunus) in the fourth, but then scored a run in the fifth inning off of Jerremyh Angela (UVV). With two outs, the lefthander walked Jeffrey Arends, who then advanced on a wild pitch and a single by pinch-hitter Phil Ortez (Pioniers). Moments later, Arends scored on a single by pinch-hitter Kenny Berkenbosch (Amsterdam).

After Arshwin Asjes (Kinheim) retired the side for Team North in the sixth, his teammates narrowed the deficit to only 7-6 in the home half of the at bat. Jesse Aussems (Amsterdam) led off with a double off of new pitcher Elton Koeiman (The Hawks) and advanced on a single by Vince Rooi (Pioniers), who had just entered the game as new short stop. With one out, Aussems scored when Koeiman threw a wild pitch, but Rooi was left at third base.

Team South took some more distance by adding a run in the seventh inning off of Kaj Timmermans (HCAW). With two outs, he hit Dwayne Kemp with a pitch, then gave up singles to Ferd van Stekelenburg and Giovanni Samboe, who had just taken over as catcher for Van Heydoorn. But Timmermans ended with a strikeout, so Team South left two runners, but now led 8-6.

In the bottom of the seventh inning, Team North made it a new ballgame. Jorian van Acker (Neptunus) was the new pitcher for Team South and he was greeted with a lead-off double by Jeffrey Arends, who reached base for the fourth time. Next, Phil Ortez hit a homerun, that tied the score (8-8). Ortez also homered in last years All Star Game, but then played for Team South as player of ADO Lakers. Three outs followed, but at this moment, the more than 1300 spectators already had seen a record amount of runs (16), while the total of basehits (21) was approaching the record (24).

In the top of the eighth inning, new pitcher Swen Huijer walked Quensley Bazoer (ADO Lakers) with two outs, but he was left behind. Former pro Huijer (Boston Red Sox-minors) then went on to become the winning pitcher, as Team North struck with five runs in the home of the eighth inning. Veteran pitcher Duko Jansen (UVV) took over for Team South and began with a groundout. But the experienced closer then gave up five hits. Jorin van Amstel (HCAW) and Roelie Henrique (Amsterdam) singled and scored when Percy Isenia followed with a 3-run homerun. After another grounder accounted for the second out, Phil Ortez singled (he was 3-for-3) and Kenny Berkenbosch followed with a homerun to give Team North a 13-8 lead.

Team South could answer with only one more run off of closer Bayron Cornelissen (Pioniers). Dennis De Quint (UVV) led off with a double, moved on a single by Dwayne Kemp and scored on a sacrifice fly by Giovanni Samboe, but another flyout then ended the game, which lasted two hours and 54 minutes.

Team North - Team South 13-9
R
H
E
All Star Team South
033
010
101
-
9
11
1
All Star Team North
022
011
25X
-
13
17
1
pitchers Team South
inn.
SO
BB
H
R
ER
Diegomar Markwell
1
1
-
-
-
-
Ronald de Bont, H (1)
1
-
1
2
2
2
Kevin Noordzij
1
1
-
4
2
2
Orlando Yntema, H (1)
1
1
-
-
-
-
Jerremyh Angela, H (1)
1
-
1
2
1
1
Elton Koeiman, H (1)
1
-
-
2
1
1
Jorian van Acker, BS (1)
1
1
-
2
2
2
Duko Jansen, L (0-1)
1
-
-
5
5
5
pitchers Team North
inn.
SO
BB
H
R
ER
Rob Cordemans
1
2
1
-
-
-
Sedley Karel
1
1
1
2
3
3
David Bergman
1
1
1
3
3
2
Iván Granados
2
3
-
2
1
1
Arshwin Asjes
1
2
-
-
-
-
Kaj Timmermans
1
1
-
2
1
1
Swen Huijer, W (1-0)
1
1
1
-
-
-
Bayron Cornelissen
1
-
-
2
1
1
Homeruns: Team South: Rudy Van Heydoorn 2 (2)(2-run,2nd,off Karel; solo,5th,off Granados), Rafaël Jozefa (1)(solo,2nd,off Karel); Team South: Phil Ortez (1)(2-run,7th,off Van Acker), Percy Isenia (1)(3-run,8th,off Jansen), Kenny Berkenbosch (1)(2-run,8th,off Jansen).
Umpires: HP-Fred Groenewegen, 1B-Olav Steijger, 2B-Johan Brandsma, 3B-Henri van Heijningen.
Official Scorer-Fred van der Kade.
Play-by-Play-Sven van Eijk.
Public Address Announcer-Yvonne de Vries.
Time-2:54 hr.
(June 16)