Loek van Mil gets try-out in Japan
Nederlands

FUKUOKA (Japan) - Fukuoka SoftBank Hawks will give Dutch pitcher Loek van Mil a try-out next week and so, the 7,1 foot (2,15 m) tall pitcher might play in Nippon Professional Baseball next season. But being a Free Agent, he of course also will wait for offers from other Major League-organizations.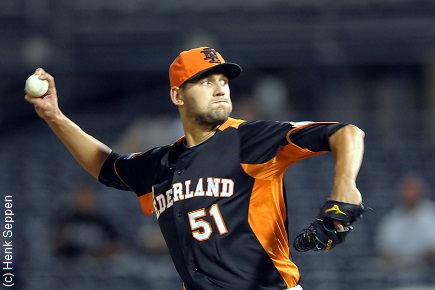 ...Loek van Mil during the WBC...
(© Photo: Henk Seppen)

The Hawks announced today (Friday, November 8) that they will give a try-out to three foreign pitchers from November 13-19. The other pitchers are Brandon Mann and Bruce Billings.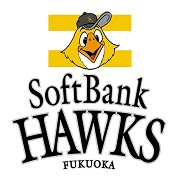 The Hawks, which last won the Japanese championship in 2011, play in the Pacific League, which is the same league where Dutch outfielder Andruw Jones plays for Tohoku Rakuten Golden Eagles. The other Dutch outfielder, Wladimir Balentien is playing in the Central League with Yakult Swallows. Both had a successful season. Balentien broke the all-time single-season Homerun-record, while Jones won the championship-title with the Golden Eagles.
Van Mil elected to become Free Agent on November 4. By the way, on the same day, pitcher Jair Jurrjens also elected for Free Agency.
In March of this year, Van Mil participated with the Netherlands National Team in the World Baseball Classic and pitched in the semi-final in San Francisco vs. Dominican Republic.
Loek van Mil, who turned 29 in September, started his professional career in 2006, making his debut in the Rookie League-team of the Minnesota Twins. He moved up to Double-A with the Twins in 2009. During the 2010 season, Van Mil was traded to the Los Angeles Angels of Anaheim, where he played in Double-A in 2010 and 2011. In 2012 another transfered followed, as he moved from the Angels to the Cleveland Indians. In 2012, Van Mil made his debut on the Triple-A level. This season, Van Mil pitched in the organization of the Cincinnati Reds in Double-A and Triple-A. In total, the righthander pitched in 51 games in relief this season and was 0-10 with eight saves.
29-year old Brandon Mann pitched in Japan for Yokohoma BayStars in 2011 and 2012. Before that, the lefthander played for eight seasons in the Minor Leagues from Rookie League to Double-A. He played in the organizations of the Tampa Bay Devil Rays (later Tampa Bay Rays) and Los Angeles Dodgers. In 2009, he reached his highest level, pitching in 27 games in Double-A, finishing with a 7-9 record.
Bruce Billings, who turns 28 next week, is pitching professionally since 2007. He started in the organization of the Colorado Rockies, but is playing for the Oakland Athletics since 2011. In that season, he reached the Triple-A level, where he also played in 2012 and this season. This year, he was 13-8 in 28 games pitching for Sacramento River Cats.
(November 8)