Japan also wins second game of Baseball Challenge
Nederlands

NEW TAIPEI CITY (Taiwan) - On Saturday-evening (November 9), Japan also won Game 2 of the 3-game Baseball Challenge vs. Taiwan. Like in the first game on Friday, Japan won with a 4-2 score. Game 3 of the series, which is played in Taiwan, will be played on Sunday.

Today, the teams played their second game in the Xinzhuang Baseball Stadium in New Taipei City, which also was the site for the opening game of the series, which was sanctioned earlier in the week by the World Baseball Softball Confederation (WBSC). Almost 9800 spectators attended the game.
Just as in the opening game, Taiwan held the lead briefly. In the first at bat, Taiwan, which was the visiting team tonight, opened the score. Starter Yusuke Nomura began with two strikeouts, but then gave up a homerun to Dai-kang Yoh, the Taiwanese designated hitter.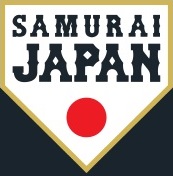 Samurai Japan answered with a 4-run rally in the bottom of the second inning. With one out, starter Fu-te Ni gave up five consecutive basehits, including a double and triple, resulting in four runs. With one out, Hideto Asamura singled and Ryosuke Hirata doubled, then both scored when Shogo Akiyama singled. Hikaru Ito added another single and then Akiyama and Ito both scored when Takayuki Kajitani followed with a triple to make it 4-1. Yu-xun Chen then relieved Ni and ended the inning.
In the following six innings, Japan added only two more basehits off of four pitchers.
After giving up the run in the first inning, Nomura retired nine of the next ten batters he faced, before being relieved. Daichi Osera took over in the fifth and retired the side. In the sixth, he gave up a lead-off double to Po-ting Hsiao, then walked a batter with two outs, but finished with a strikeout.
After Ryoma Matsuda retired the side in the seventh inning, Ban Takagi became the fourth pitcher for Japan in the eighth inning. He got two quick outs, then gave up a double to Che-hsuan Lin, who then scored on a following single by Tu-hsuan Lee to make it 4-2.
Takahiro Matsunaga pitched the ninth inning for Japan and saw Taiwan get the bases loaded. He struckout the first two batters he faced, then hit Jin-de Jhang with a pitch, gave up a single to pinch-hitter Guo-long Luo and walked Fu-lin Kuo, also a pinch-hitter. But next batter Po-ting Hsiao then fouled out to end the game.
(November 9)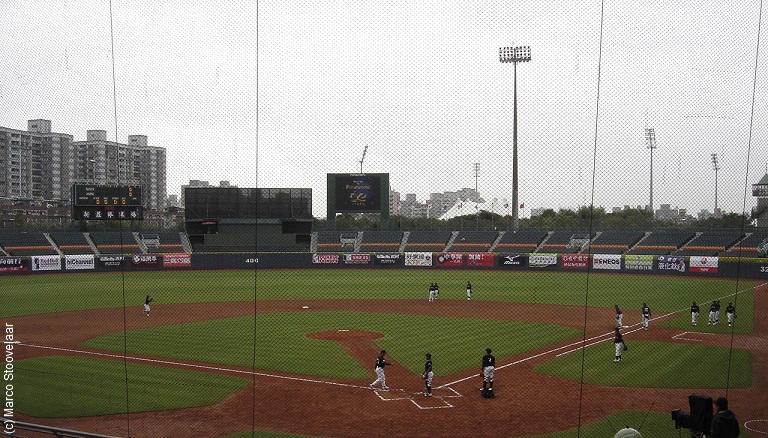 ...Xinzhuang Baseball Stadium in New Taipei City...
(© Photo: Marco Stoovelaar)