Wim Martinus new Head Coach of Kinheim; Mike Crouwel Assistant
Nederlands

HAARLEM (Neth.) - Wim Martinus is returning to the big league as a Head Coach. The veteran coach succeeds Hans Lemmink, who in September announded that he would leave as Head Coach of Corendon Kinheim. This season, Martinus was the 3B Coach in the staff of Lemmink, who had taken over as Head Coach during the Play-Offs of last year. Lemmink was a member of Kinheim's coachingstaff since 2010 and took over last season after the team was swept in the opening series of the Play-Offs. Under guidance of Lemmink, Kinheim reached the Holland Series and won the Dutch championship-title.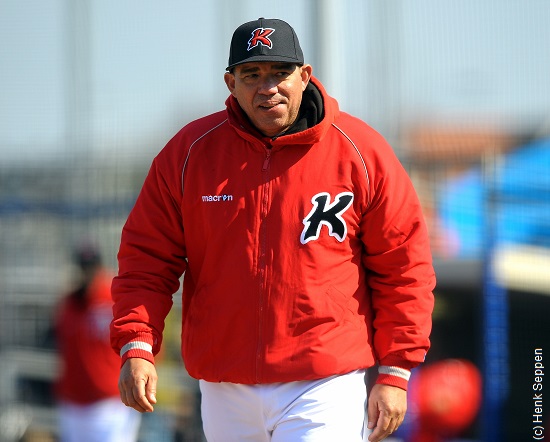 ...Wim Martinus new Head Coach of Kinheim...
(© Photo: Henk Seppen)

Former Kinheim and National Team-player Mike Crouwel will assist Martinus in the new season.

While Wim Martinus has been associated with DOOR Neptunus the most as both a player and a coach, he has been a Head Coach in the Dutch big league before, as he led Sparta-Feyenoord and ADO some years ago.

After a long playing career (he made his debut in 1984) with Neptunus, Martinus turned to coaching. He retired after the 2003 season, then in 2004, he was the Head Coach of Tridents, the second team of Neptunus. Martinus then made his coaching debut in the Dutch big league a year later after being appointed Head Coach of Sparta-Feyenoord. Martinus led the Rotterdam-squad for two seasons, then was the Head Coach of ADO in 2007.
In his first big league-season, he led Sparta-Feyenoord to fourth place to qualify for the Play-Offs and was then swept by Neptunus. The next season, Sparta-Feyenoord finished in seventh place. With ADO, Martinus finished the 2007 season in sixth place.
After three seasons as Head Coach, Martinus returned to Neptunus in 2008, where he became a member of a successful coachingstaff. For five years (2008-2012), Martinus was the 3B Coach of Neptunus, while Adonis Kemp was the 1B Coach, while Jan Collins was the Bench Coach and also Pitching/Catching Coach, before being the Head Coach in 2011 and 2012. This staff was led by Eric de Bruin in 2008 and Steve Janssen in 2009-2010.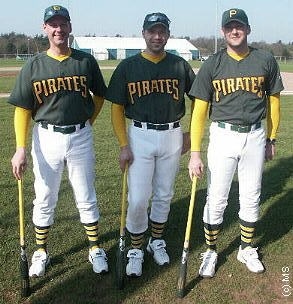 ...Mike Crouwel (center) with Ronald...
...Stoovelaar (left) & Paul Nanne...
...while coaching Pirates in 2004...
(© Photo: Marco Stoovelaar)

Late August of last year, a few days after completion of the Holland Series in which Neptunus was swept by Kinheim, it was announced that a new coachingstaff would lead the Rotterdam-club in 2013. And so, Neptunus separated with Martinus and Kemp, while Collins stayed as an Assistant Coach. Because of Martinus' long association with Neptunus, it was a surprise to many that less than a month later, he was appointed as new 3B Coach of Kinheim.

Since November 2006, Martinus also is a member of the coachingstaff of the Dutch National Baseball Team. He was with the Orange-squad in 2011 when it won the world championship and in March of this year when it reached the semi-final of the World Baseball Classic.

Mike Crouwel last coached in the big league in 2006 when he was a member of the coaching staff of ADO, which was then led by Jimmy Summers. In 2003-2005, Crouwel was one of the coaches at Amsterdam Pirates. In 2003, he and Ronald Stoovelaar were the Assistant Coaches of Brian Finnegan. The two then also assisted Paul Nanne, who was the Head Coach in 2004 and 2005. The 2005 staff was expanded with Eelco Jansen as pitching coach. With that, Amsterdam Pirates had an unique coaching staff in 2005, as Nanne, Crouwel, Stoovelaar and Jansen all had participated in an Olympic Games with the Dutch National Baseball Team. As a player, Crouwel played in the big league for Amstel Tijgers, Haarlem Nicols, Kinheim and Amserdam Pirates. In 1992, he played one season professionally in the organization of the Philadelphia Phillies, playing in Rookie League and Single-A.

(October 10)