Detroit shuts out Oakland to reach ALCS
Nederlands

OAKLAND, California (USA) - Detroit Tigers shutout Oakland Athletics 3-0 on Thursday-evening, October 10 to win the American League Division Series 3-2 and become the second team to reach the American League Championship Series. Detroit opens the best-of-seven ALCS against Boston Red Sox next Saturday in Boston. It's the third year in a row that Detroit reaches the ACS.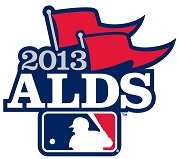 Detroit opened the score with two runs in the fourth inning off of starter Sonny Gray. With one out, Torii Hunter singled, then scored when Miguel Cabrera followed with a homerun. Hereafter, the Tigers got the bases loaded with two outs when Victor Martinez and Jhonny Peralta singled and Alex AVila walked. But the three runners were left when Omar Infante grounded out.

Detroit added its third run in the sixth inning. Martinez and Peralta opened with singles, then Gray was relieved by Dan Otero. Peralta was then forced out on a grounder by Avila, which brought Martinez to third base. Hereafter, Infante also hit a force play-grounder, which eliminated Avila, but Martinez scored the third run.
Detroit-starter Justin Verlander was dominant and retired the first 16 batters he faced, before walking Josh Reddick with one out in the sixth inning, but then two flyouts followed. Verlander's No-Hitter ended with two outs in the seventh inning when Yoenis Cespedes singled. Verlander ended the at bat with a strikeout.
In the eighth inning, Verlander gave up his second basehit, when Reddick singled with two outs, but the ace again followed with an inning-ending strikeout.
In the ninth inning, Joaquin Benoit took over for Verlander. With two outs, he gave up a double to Jed Lowrie, then hit Cespedes with a pitch. But the game ended when Seth Smith flied out.
(October 10)