Evert-Jan 't Hoen European Coach of the Year
Nederlands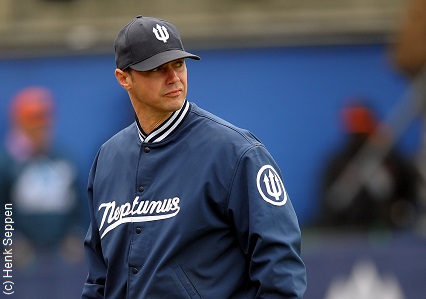 ...Evert-Jan 't Hoen...
...European Coach of the Year...
(© Photo: Henk Seppen)

BRUSSELS (Belgium) - Evert-Jan 't Hoen has won the Coach of the Year Award of the European Baseball Coaches Association (EBCA). The winner was announced on Saturday-evening (November 9) during the Coach of the Year dinner during the EBCA-convention in Brussels.

Evert-Jan 't Hoen, who was unable to attend the meeting in Belgian capital Brussels, becomes the first Dutchman to win the award. But he also becomes the third coach to be associated with Dutch baseball.
In 2009, Belgian Steve Janssen won the Award for his accomplishments with DOOR Neptunus and in 2011, the Award was handed out to American Brian Farley, who then as Manager led the Netherlands National Team to the world championship-title in Panama.
This season, Evert-Jan 't Hoen made his debut in the Dutch big league as Head Coach and won the Dutch championship-title with DOOR Neptunus. 't Hoen was one of five finalists for the Award. The other nominees were Doriano Bindi (San Marino), Jan Gregor, David Winkler (both Czech Republic) and Chris Higgins (Germany). The finalists were announced at the end of last month.
It was the sixth time that the award was handed out by the EBCA, which is having an annual convention since January 2005.
(November 10)