Pioniers hands ADO Lakers third consecutive shutout
Nederlands




THE HAGUE / ROTTERDAM / BUSSUM / VLEUTEN (Neth.) - After winning 27-0 on Saturday, Vaessen Pioniers today won 15-0 vs. ADO Lakers to hand the team its third consecutive shutout since last Thursday. L&D Amsterdam Pirates was outscored by Mr. Cocker HCAW, 6-2. After losing the first two games, UVV today shutout Mampaey The Hawks, 10-0.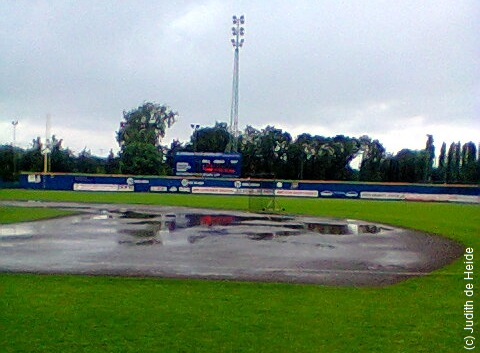 ...No game today (again)...
(© Photo: Judith de Heide)

The third meeting between DOOR Neptunus and Corendon Kinheim was called off today in Rotterdam. After a brief, but heavy, rainshower of some 40 minutes, the field in the Neptunus Familiestadion was blanked. While the weather cleared after the rain and the weather conditions improved, the field remained wet and was declared inplayable by the umpire crew. The game is re-scheduled for next Tuesday.

On Thursday, May 16, the first game of the first 3-game series between Neptunus and Kinheim also rained out in Rotterdam. The game was re-scheduled for the next day, but then rained out again and was moved to the following Tuesday-evening. Then, on Saturday, the scheduled second game of the series, also was cancelled due to the condition of the playing field in Rotterdam, as is was impossible to remove water from the field, and was re-scheduled for Monday. On Sunday, the original third game of the series between the two teams was played in Haarlem with Kinheim winning, 3-0. On Monday-afternoon, back in Rotterdam, the make-up game of Sunday rained out for another time and was re-scheduled for Tuesday, May 28. On Tuesday-evening, May 21, the make-up game of initial first match-up, again had to be cancelled due to rain, marking the fifth time in six days that a game between Neptunus and Kinheim rained out in Rotterdam. A new date was not announced at that time, as a new 3-game series was approaching, while Kinheim also had to participate in the European Cup Qualifier early June. On May 28, the original Game 2 could be played in Rotterdam with Neptunus winning, 8-5. The original Game 1 finally could be made up on June 18 and was won by Kinheim, 6-2.
---

At The Hague, Vaessen Pioniers won 15-0 vs. ADO Lakers on 17 basehits, including three by Danny Rombley (who homered), Dè Flanegin and Michael Pluijmers. For ADO Lakers, this was its 20th consecutive loss. The team won only twice this season, with the second being recorded on May 23 vs. Corendon Kinheim. In its last seven games, ADO Lakers scored only six runs, while giving up 84.

Pioniers opened the score with three runs in the second inning on four hits, including back-to-back RBI-doubles by Skip Visser (2-run) and Michael Pluijmers. Three runs were added in the next at bat on an error, single by Djewi Appelman and a sac-fly by Visser, but also three runners were left behind.

A lead-off homerun by Rombley in the fourth inning made it 7-0, then three more runs were added in the sixth inning. Flanegin singled in two runs in this at bat.

A 5-run rally followed in the seventh inning on six basehits, including back-to-back doubles by Vince Rooi (2-run) and Dè Flanegin.

Three pitchers gave up only four hits to ADO Lakers.
---

At Bussum, Mr. Cocker HCAW won 6-2 vs. L&D Amsterdam Pirates and decided the game in the first at bat. Pirates took an 1-0 lead in the top of the inning on a single by Bas de Jong, but also left the bases loaded. HCAW reacted with four runs in the home half of the at bat off of starter Ben Grover. HCAW collected three basehits, but the Amsterdam-defense also contributed with two errors. A throwing error by catcher Bas Nooij when Linoy Croes stole third base led to the tying run. A single by Juriën Overman, basesloaded walk for Jim Froberg and force play-grounder by Peter van Doesburg contributed to the next runs.

HCAW added a run in the sixth on a single by Jorin van Amstel and another one in the eighth on a sac-fly by Van Amstel. Pirates managed to score only one more run in the ninth inning on a single by Wesley Connor. In the first seven innings, Amsterdam hit only three basehits off of rookie Tony Kreisel.

...Winning pitcher Tony Kreisel...

...3rd baseman Jorin van Amstel makes a nice defensive play...
(© Photos: Alfred Cop Fotografie)
---

At Vleuten, UVV won 10-0 vs. Mampaey The Hawks on 14 basehits, including three by Norbert Jongerius, who also had three runs batted in.

UVV rallied for six runs in the second inning on five basehits. After the first two batters were retired, Mike Bazuin doubled and Brennan Nijhof was hit by a pitch. The first run was then scored on a single by Nick Peels. Hereafter, a single by Daan Cornelissen, basesloaded hit batter for Dennis De Quint, 2-run single by Ricky Daal and an error lifted the lead to 6-0.

Three runs were added in the fifth inning on a single by Bazuin and 2-run single by Jongerius. In the home of the seventh inning, UVV reached the 10-run difference when Nijhof reached on an error and Jongerius ended the game with a walk-off single.

(August 11)