Wladimir Balentien ties Japanese HR-record!
Nederlands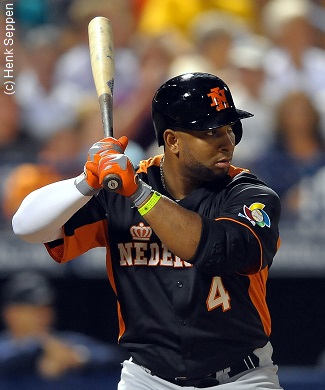 ...Wladimir Balentien during the WBC...
(© Photo: Henk Seppen)

TOKYO (Japan) - Dutch Outfielder Wladimir Balentien tied the single-season Homerun-record in Nippon Professional Baseball (the Japanese Major League) today (Wednesday, September 11) when he hit his 55th homerun. With this, Balentien tied the record set in 1964 by legendary slugger Sadaharu Oh, which was equaled in 2001 by Tuffy Rhodes and in 2002 by Alex Cabrera, who were both former Major League-players. Balentien has a chance of breaking the record, as he has 21 regular-season games left.

Balentien, who plays for the Tokyo Yakult Swallows, hit the homerun Wednesday-evening in the sixth inning in a 6-2 loss against Hiroshima Carp. The game was played at home at Jingu Stadium. ,,It's an honor to be tied with such great players'', Balentien reacted afterwards.


...Watch Balentien's 55th homerun...

For the 29-year old Balentien, who was born in Willemstad (Curaçao), this is his third season with the Swallows. Rhodes and Cabrera were unable to break the record. Both had only a few games left in the season when they played and were walked, as the record of Sadaharu Oh is highly regarded. Oh, who played his entire career for the Yokyo Yomiuri Giants, hit 868 homeruns in his long career, which makes him the world recordholder.

After signing a professional contract on July 9, 2000 (seven days after his 16th birthday), Balentien made his professional debut in 2003, playing in 50 games for the AZL Mariners, the Rookie League-team of the Seattle Mariners. In those 50 games, Balentien hit 16 homeruns and finished with a .283 batting average.

In 2004, Balentien promoted and played in the Class-A and Class-A Advanced teams of the Mariners. The outfielder also played in the high Class-A in 2005, then moved to Double-A in the 2006 season. In that year, playing for San Antonio Missions, Balentien belted 22 homeruns.

His accomplishments earned him another promotion, as he played in Triple-A in 2007 and 2008. Playing for Tacoma Rainiers in these two seasons, Balentien added 42 more homeruns.

The ultimate promotion for Balentien came in September 2007 when he was recalled to the Major League-team of the Seattle Mariners. He appeared in only three games, but went 2-for-3 with a double and his first big league-homerun. In 2008, Balentien played in 71 Major League-games for the Mariners and collected 49 basehits, including seven homeruns.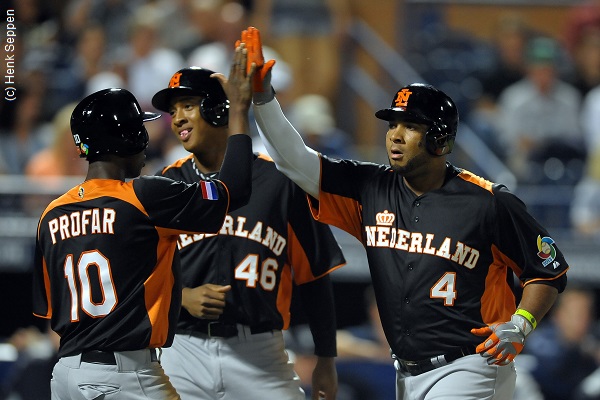 ...Wladimir Balentien is greeted by Jurickson Profar and Jonathan Schoop...
...after hitting a homerun in a WBC-exhibtion game in March...
(© Photo: Henk Seppen)

In 2009, Balentien played the entire season in the Major League. He began the season with the Mariners, playing in 56 games and hitting 33 basehits, including four homeruns. On July 29, he was traded to the Cincinnati Reds, where he added 40 games, 29 basehits and three homeruns.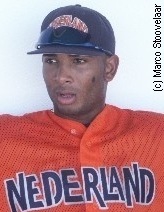 ...Balentien in the Dutch...
...Olympic Team in 2004...
(© Ph: Marco Stoovelaar)

In 2010, Balentien returned to AAA and played the entire season for the Louisville Bats, the AAA-team of the Reds. He then played in 116 games and hit 25 homeruns. In November 2010, Balentien was released.

Hereafter, the powerhitter signed a contract with the Tokyo Yakult Swallows in the Japanese Major League. With the Swallows, he made his debut in 2011 and played in 140 games, hitting .228 (111-for-486) with 31 homeruns. Last year, Balentien also hit 31 homeruns in his second season in Japan, playing in 106 games and hitting .272 (96-for-353). So far this season, Balentien has played in 107 games and is hitting .340 (127-for-374), scoring 84 runs and 116 RBI's. He missed the first 12 games of the season, due to a leg injury he sustained during the World Baseball Classic, when he played for the Dutch National Baseball Team. Balentien also was a member of the Orange squad during the Olympic Games of 2004 in Athens (Greece).

(September 11)