Curtis Granderson next month in European Big League Tour
Nederlands

AMSTERDAM (Neth.) - Outfielder Curtis Granderson of New York Yankees will head a group of Major League-players this year in the European Big League Tour (EBLT). The fourth edition of the event will be held November 16 through 23 in Rotterdam (Netherlands) and Paris (France). In the upcoming weeks, more names of Major League-players who will participate will be announced.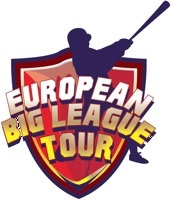 The European Big League Tour is an initiative of Dutch professional pitcher Rick van den Hurk. The righthander pitched in the Major League for Florida Marlins, Baltimore Orioles and Pittsburgh Pirates. This season, Van den Hurk made his debut in the Korean Baseball Organization (KBO), the Korean Major League. He pitches for reigning champion Samsung Lions, which closed the regular season recently in first place and therefore automatically qualified for the Korean Series, which opens on October 24.
During the European Big League Tour, players from the Major League give clinics to youth baseball-players. The Major Leaguers are assisted by Dutch professional players from the minor league, as well as players from the Dutch National Baseball Team.
With the EBLT, Van den Hurk wants to promote baseball in Europe and give something back to the sport that brought him to the highest possible level. Besides that, he wants to realize the dream of many children to be able to practice with Major League-players.
This year, the EBLT will again be held in Topsportcentrum Rotterdam, which is near 'De Kuip', the soccer-stadium of Feijenoord. The indoor-facility will be the site for the clinics on Saturday, November 16 and Sunday, November 17. On both days, the clinic sessions will be held 12-2 PM and 3-5 PM.
On Saturday, November 23, the Institut National du Sport, de l'Expertise et de la Performance (INSEP) will be the site in French capital Paris.
Youth players can register for free to participate in the clinics of the European Big League Tour. Go for more information to the website of the European Big League Tour.
---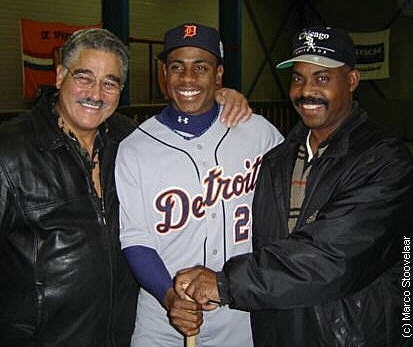 ...Curtis Granderson in Amsterdam in 2006...
...with former Dutch National Team-players...
...King Zschuschen (left) and Jacky Jakoba...
(© Photo: Marco Stoovelaar)

Curtis Granderson (33) was drafted by Detroit Tigers in 2002. He made his professional debut the same year, playing for Oneonta Tigers (Single-A). In following seasons, the outfielder promoted to Double-A and Triple-A, then made his Major League-debut on September 13, 2004 against Minnesota Twins. On that day, he played the entire game in centerfield and was 0-for-4 with one strikeout. He went on to play in nine games for the Tigers in September 2004.

In the following year, in played in 47 games for the Tigers in the big league. From 2006 on, Granderson was the regular centerfielder for Detroit.

On December 8, 2009, Granderson was traded to the New York Yankees as part of a 3-team trade, which also involved Arizona Diamondbacks. And so, Granderson is the centerfielder for the Yankees since the 2010 season. He hit a homerun in his first at bat as a Yankee on April 4, 2010. He belted 41 homeruns in 2011, then hit 43 in 2012.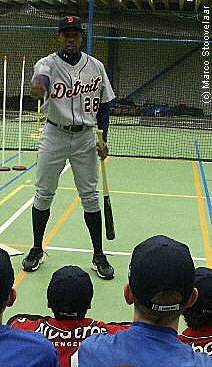 ...Curtis Granderson gives...
...tips during his clinic...
...in Amsterdam in 2006...
(© Photo: Marco Stoovelaar)

This season, Granderson played in only 61 games due to two injuries. In the first game of Spring Training he fractured his right forearm after being hit by a pitch. He returned into action on May 14, but then broke the knuckle of his left pinkie finger on May 24 after being hit by a pitch again. He had to undergo surgery and returned on the field on August 2. Granderson batted .229 (49-for-214) with seven homeruns and 15 runs batted in.

In 10 Major League-seasons, Granderson has played in 1187 games, hitting 1157 basehits, 217 of them a homerun. He collected 606 RBI's and scored 780 runs.

Granderson participated with the Tigers in the World Series of 2006 against St. Louis Cardinals. With the Yankees, he reached the Play-Offs in 2010-2012. In 2010 and 2012, the Yankees were eliminated for the World Series in the American League Championship Series. Granderson played in three All Star Games (2009, 2011, 2012).

Off the field, Granderson is recognized for his commitment to the community through outreach and charity work. Many of his charitable endeavors support inner city children.

Curtis Granderson traveled to the Netherlands earlier, as on November 14, 2006, he gave a clinic in the indoor-facility of Amsterdam Pirates in Amsterdam. It was the start of a series of clinics, which brought Granderson also to Pisa (Italy) and London (Great Britain). These clinics were organized by Major League Baseball.

In Amsterdam, Granderson conducted a hitting clinic for talented players, who were playing for the then-three Baseball Academies in the Netherlands, which were founded by then National Team-Manager Robert Eenhoorn.

Back then, in an interview with Grand Slam * Stats & News, Granderson said: ,,It doesn't matter how your body is built, or whatever your background or ethic race is, whether you're rich or poor, you can reach a lot. There are a lot of nationalities in Major League Baseball. You just need a good head-eye coordination, then a lot of great things can happen in this sport. I'm honored to be given this opportunity of expanding baseball worldwide, to come over here and be part of this tour. Baseball is an exciting game and we want to make it as global as possible. I love to see players from different countries, therefore I watch the Little League World Series.''

In March of 2006, the first World Baseball Classic was held. Granderson in November 2006: ,,That was very successful. Yes, I would like to play in a national team when given the chance. It would be an honor for me to represent my country and play against the best players of the world. Yes, I think there will be a Global World Series someday and I want to be part of that. It would be great if the best players of the world would play against each other.''

In 2009, Granderson participated in the second World Baseball Classic, playing for Team USA.
---

History
The first edition of the European Big League Tour was held in 2010 when clinics were held in Eindhoven, Rotterdam, Haarlem (Netherlands) and Antwerp (Belgium). Participating then were Major Leaguer-players John Baker (Seattle Mariners), Roger Bernadina (Washington Nationals), the late Greg Halman (Seattle Mariners), Adam Jones (Baltimore Orioles) and Jeremy Guthrie (Baltimore Orioles), former Major League-player Brady Anderson (Baltimore Orioles) and Strength and Conditioning Trainer Kyle Barbour (Arizona Diamondbacks).

In 2011, the second EBLT took place in Utrecht, Amsterdam (Netherlands), Prague (Czech Republic) and Parma (Italy). This time, Rick van den Hurk (Baltimore Orioles) was joined by Roger Bernadina (Washington Nationals), Prince Fielder (Milwaukee Brewers), Dexter Fowler (Colorado Rockies), Greg Halman (Seattle Mariners), Adam Jones (Baltimore Orioles) and Mike Stanton (Florida Marlins), as well as former player and 6-time All Star Bobby Bonilla.

Last year, Rotterdam was the site for the first time during the third EBLT, which then continued in London (Great Britain). The Major League-players who then conducted the clinics were Roger Bernadina (Washington Nationals), Chris Dickerson (New York Yankees), Jeremy Guthrie (Kansas City Royals), Alex Liddi (Seattle Mariners) and of course, Rick van den Hurk (Pittsburgh Pirates) himself.

...European Big League Tour 2010...
...Greg Halman, Adam Jones, Rick van den Hurk,...
...Brady Anderson, John Baker, Jeremy Guthrie...
(© Photo: Henk Seppen)

...European Big League Tour 2011...
...Dexter Fowler, Adam Jones, Roger Bernadina,...
...Mike Stanton, Rick van den Hurk...
(© Photo: Marco Stoovelaar)

...European Big League Tour 2011...
...Prince Fielder & Greg Halman...
(© Photo: Marco Stoovelaar)



...European Big League Tour 2012...
...Jeremy Guthrie, Chris Dickerson, Rick van den Hurk,...
...Roger Bernadina, Alex Liddi...
(© Photo: Henk Seppen)
(October 11)