Detroit 1-hits Boston in ALCS-opener
Nederlands

BOSTON, Massachusetts (USA) - Detroit Tigers opened the best-of-seven American League Championship Series vs. Boston Red Sox with an 1-0 victory. The same score as St. Louis Cardinals won their game earlier in the day vs. Los Angeles Dodgers to take a 2-0 lead in the NLCS.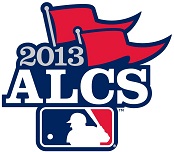 Detroit's victory came with an impressive outing by their pitchers. They took a No-Hitter into the ninth inning, but that was then broken with one out. Starter Anibal Sanchez struckout 12 batters and gave up no basehits in six innings, but he did walk six batters. Al Albuquerque then pitched a hitless seventh inning and struckout two. In the eighth inning, Jose Veras took over the pitching, struckout two Shane Victorino and Dustin Pedroia, then was replaced by Drew Smyly, who ended the inning when David Ortiz flied out.
After Detroit had stranded runners on second and third base in the of the 9th, closer Joaquin Benoit took over the pitching for the Tigers in the bottom of the ninth inning. He began by striking out Mike Napoli, but then gave up a single to Daniel Nava, who had fouled off four pitches. Nava was replaced by pinch-runner Quintin Berry, but next batter Stephen Drew flied out. Next batter was Xander Bogaerts, who had entered the game in the top of the eighth inning as new third baseman. Berry then stole second base, but the game ended when Bogaerts popped out.
Detroit broke the scoreless tie in the sixth inning. With one out, Miguel Cabrera walked and Prince Fielder was hit by a pitch. A force out followed, but that brought Cabrera to third base, who then scored on a single by Jhonny Peralta.
(October 12)