Starting Pitchers & Officials Holland Series announced
Nederlands

AMSTERDAM (Neth.) - The starting pitchers for the first two games of the Holland Series have been announced. In the meantime, the game officials for the first four games have been assigned. The best-of-seven Holland Series between DOOR Neptunus and Vaessen Pioniers begins on Saturday, September 14 at Rotterdam, starting at 2 PM. Game 2 on Sunday will also be played in Rotterdam. The Series then moves to Hoofddorp for the next three games, the first of which is being scheduled for next Thursday.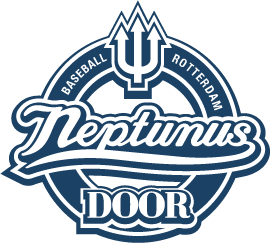 Evert-Jan 't Hoen, Head Coach of DOOR Neptunus, sticks with the rotation he has used the entire season. That means that lefthander Diegomar Markwell will take the mound in the opening game on Saturday, while righthander Orlando Yntema starts on Sunday.
Robert Klaver, the Head Coach of Vaessen Pioniers, confirms that he will use his American pitchers in the first two games. Lefthander Josh Rickards will start for Pioniers on Saturday, then Eddie Aucoin will be starter in Game 2 on Sunday.
In the regular season, Neptunus won four of the six games against Pioniers. In the Play-Offs, Neptunus swept Pioniers in three games.
Markwell was 3-0 this season against Pioniers including the Play-Offs, while Yntema was 2-1. For Pioniers, Rickards and Aucoin both were 1-1 against Neptunus.
Starting Pitchers
Game 1
Game 2

...Diegomar Markwell...

...Josh Rickards...

...Orlando Yntema...

...Eddie Aucoin...
(© Photo: Henk Seppen)
(© Photos: Reni-Foto)
Regular Season
Date
Game
Score
Winning Pitcher
Losing Pitcher
May 2
Pioniers vs. Neptunus
3-11
Diegomar Markwell
Mika de Lincel
May 4
Pioniers vs. Neptunus
12-13
Orlando Yntema
Josh Rickards
May 5
Neptunus vs. Pioniers
7-4
Tim Roodenburg
Kevin Miner
July 18
Neptunus vs. Pioniers
3-2
Diegomar Markwell
Dennis Buring
July 20
Neptunus vs. Pioniers
2-4
Eddie Aucoin
Orlando Yntema
July 21
Pioniers vs. Neptunus
6-3
Josh Rickards
Tim Roodenburg
Play-Offs
August 29
Neptunus vs. Pioniers
4-3
Diegomar Markwell
Kevin Miner
August 31
Pioniers vs. Neptunus
2-5
Orlando Yntema
Eddie Aucoin
September 1
Neptunus vs. Pioniers
3-4
Berry van Driel
Bayron Cornelissen
---
Game Officials
...Left to right: Johan Brandsma, Henri van Heijningen, Olav Steijger, Winfried Berkvens...
(© Photos: Henk Seppen)
The Dutch Federation (KNBSB) has named the game officials (umpires and official scorers) for the first four games. All games of the Holland Series will be handled by a 4-man umpire crew.

Veteran umpires Johan Brandsma (22nd season), Henri van Heijningen (23rd season) and Olav Steijger (17th season) will be involved in most games. Brandsma and Van Heijningen are working in their 12th Holland Series, Steijger is doing his eleventh Series. Winfried Berkvens, also a veteran umpire, has been assigned to one game, which will mark the participation in his eighth Series.

Fred Groenewegen and Fred van Groningen Schinkel, two other veteran umpires, are unavailable for the Series, due to injuries.

Two of the four most experienced Official Scorers, Marco Stoovelaar and Harry Wedemeijer, who are officiating in their 37th and 36th season respectively, have both been assigned to Game 3. Two other longtime scorers, Maaike Houtkamp (22nd season) and Linda Steijger (16th season) also have been assigned.
#
Date
Game
Umpires
Official Scorers
Commissioner
1
Sat., Sep. 14
Neptunus vs. Pioniers
HP-Johan Brandsma
1B-Henri van Heijningen
2B-Olav Steijger
3B-Niek Elshof
Maaike Houtkamp
Stefan Slinger
Fred van Groningen Schinkel
2
Sun., Sep. 15
Neptunus vs. Pioniers
HP-Henri van Heijningen
1B-Olav Steijger
2B-Johan Brandsma
3B-Stenar van Groningen Schinkel
Francis Speters
Sven van Eijk
Fred van Groningen Schinkel
3
Thu., Sep. 19
Pioniers vs. Neptunus
HP-Winfried Berkvens
1B-Henri van Heijningen
2B-Olav Steijger
3B-Efrem Silvania
Harry Wedemeijer
Marco Stoovelaar
Willem Broertjes
4
Sat., Sep. 21
Neptunus vs. Pioniers
HP-Olav Steijger
1B-Johan Brandsma
2B-Henri van Heijningen
3B-Peter Brink
Linda Steijger
Rienette Hamers
Willem Broertjes
---

Holland Series History
This will be the 26th Holland Series. The first was played in 1987 when Amsterdam Pirates defeated Neptunus. After a Holland Series was not needed in 1988 (due to the rules back then), a final was played every year since 1989.

For Neptunus, this is the 19th time that the Rotterdam-squad has reached the season's final. Neptunus has won twelve of them, including six times in a row from 1999-2004. The last time Neptunus won the championship was in 2010 when it defeated Amsterdam Pirates, 4-2. Last year, Neptunus was swept in four games by Corendon Kinheim.

For Pioniers, this will be the sixth time that the team from Hoofddorp wil play in the Holland Series. Pioniers won its very first Holland Series in 1997, when it defeated Mr. Cocker HCAW, 3-1. Hereafter, it reached the final four more times, but lost in 2006, 2007, 2009 and 2011.

This is the second Holland Series between Neptunus and Pioniers. The two teams also met in 2009 with Neptunus winning the then best-of-five, 3-1.

Besides meeting once before in a Holland Series, the two teams faced each other nine times before in a Play-Off series during the old format. Since 2011, the top-4 plays another postseason format.

(September 13)