Charles Urbanus returns as Head Coach of Amsterdam
Nederlands

AMSTERDAM (Neth.) - Charles Urbanus returns as Head Coach of L&D Amsterdam Pirates, succeeding Sidney de Jong. The naming of Urbanus was confirmed on Thursday-evening, September 12, but officially announced today (September 13). After last season, Urbanus had stepped down after three years with the club and he then was succeeded by De Jong, who had retired as a player. Earlier this week, it was announced that De Jong stepped down after only one season, as he was added to the coaching staff of the Dutch National Baseball Team, becoming its Hitting Coach per November 1.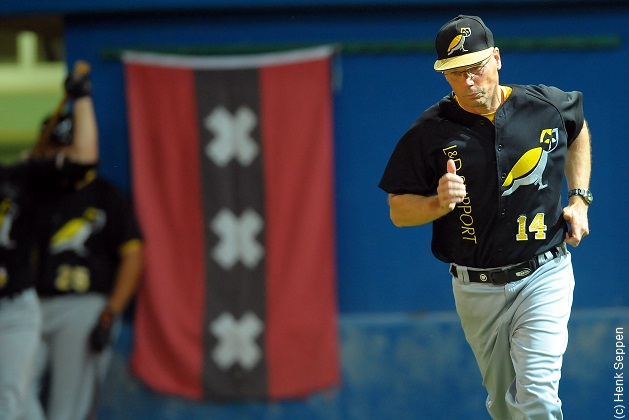 ...Charles Urbanus returns to Amsterdam...
(© Photo: Henk Seppen)

The return of Urbanus is a surprise to many, as the veteran coach stated last year that he wanted to take some distance after being involved in baseball for many years. Urbanus wanted to focus more on his regular job, as well as being able to travel to the USA, where his son Nick plays professionally in the organization of the Texas Rangers. After completion of last years Play-Offs, Urbanus stepped down. In an interview with De Telegraaf-newspaper, Urbanus then stated: ,,I already had informed the club that I would step down after the season, whatever the results. I'm involved in coaching since 1986, I want to take a year of leave, to be able to look at my son in America''.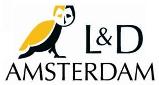 While his comeback might be a surprise, Urbanus told Grand Slam * Stats & News today that a possible return already was somewhat in the making. ,,Yes, it's true that I wanted to take some distance. But in the past weeks, some other clubs contacted me, so I already was thinking about the possibility of returning to the field'', Urbanus said. ,,But this opportunity speeded up this decision. You simply can't control these things. So, yes, you can state that this was somewhat unexpected for me also.''
3B Coach Ronald Jaarsma, Hitting Coach Percy Isenia and Pitching Coach Rob Cordemans will return. Urbanus: ,,When Sidney informed the team of his leaving, these three agreed to come back and then my name came up. Of course, that gives you a good feeling. And it makes it very attractive to return and make the step. When you have worked with a lot of pleasure with a club for three years and then you're name is back on top of the list when a new opportunity is there, it makes it easier to come back.''
Isenia and Cordemans also remain active as a player next season. Urbanus: ,,It is important that you want to have and must have the right feeling and I have that feeling with Ronald, Percy and Rob. I must have the feeling that I can consign things to them. With my work, there always can be situations like meetings and I have the feeling that they can fill in at those moments. And I want to support them with that, helping them to grow as a coach. And of course, they can help me. It is my job to find the right way in using Percy and Rob again as both a player and coach. It's a challenge.''
Urbanus confirmed that pitcher Nick Stuifbergen and outfielder Wesley Connor have both retired, while pitcher Ben Grover returns to America, where he will become a High School-coach. Urbanus: ,,It is all very early at this stage. I've just had a first meeting on Thursday. In the coming days and weeks, we will have more talks, also with the players. See what we need and how we can add players. My intention is to first add players from within the club and after that look outside.''
For Charles Urbanus, this marks the third time that he will lead the Amsterdam-squad. He first coached the team in 1995-1997 when it played in the First Division, after relegating from the big league in 1994. In October 2009, Urbanus was named the successor of Rikkert Faneyte, who had stepped down as Head Coach. And so, in 2010, Urbanus returned to the highest division as a Head Coach after a 14 year-absence, as he had last coached in the Dutch big league in 1994, which was his last season with Neptunus.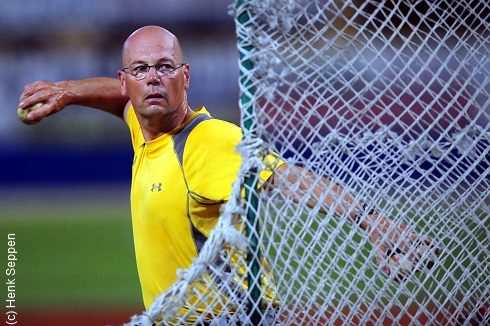 ...Charles Urbanus throwing batting practice...
(© Photo: Henk Seppen)

Charles Urbanus can look back to an impressive career, as he was without any doubt one of the best all-round players in the seventies and eighties in the Dutch Majors. Besides that, he comes from a family which is linked to baseball since the forties of the last century. Urbanus made his debut as a player in the highest division in 1971 when he was playing for OVVO in Amsterdam. With the same club his father Han Urbanus was the ace pitcher from 1947-1970, setting a record back then of being the only player to have played in the highest division in four different decades and also setting a record by playing in 24 big league-seasons. Both records were long thought to be unbreakable, but were broken nevertheless many years later. Besides his father Han, Charles' uncle Charles Urbanus (Sr.) also played for OVVO, but he became more known for his coaching, which he did at both OVVO and the Dutch National Baseball Team in the sixties. Johan Urbanus, the younger brother of Charles (Jr.), pitched briefly in the big league for Amstel Tijgers. In 2009, Nick Urbanus, the son of Charles Jr., played in his first big league-game for Pirates and also made his debut in the Dutch National Baseball Team. In 2011, Nick made his professional debut.

Charles Urbanus played for 15 seasons in the Dutch big league for OVVO (1971-1976) and Amstel Tijgers (1978-1986), both in Amsterdam. In 1977, Urbanus also played for Amstel Tijgers, which then played in the First Division after having separated from OVVO. While he initially was a pitcher primarily, he later became a regular second baseman. During his career, he was named Beste Pitcher three times and was named league MVP twice.

From 1972-1986, Urbanus played in the Dutch National Baseball Team, participating in five World Championships and six European Championships, amongst other international events.

After concluding his playing career in 1986, he became the Head Coach of the women softball-team of Terrasvogels in 1987-1988. After being one of the coaches of the Dutch Junior Baseball Team in 1988, Urbanus was a member of the coaching staff of the National Team in 1989-1991 and returned as an Orange coach in 2000.

In 1991, Urbanus turned to clubcoaching in baseball. He became the Head Coach of Neptunus and stayed there until the 1994 season, guiding the Rotterdam-squad to the Play-Offs in each of those years. In his first season as Head Coach in the Dutch big league, Urbanus led Neptunus to the Dutch title, as he did in 1993. In 1995, Urbanus took over at Amsterdam Pirates, where he then coached for three seasons when the club played in the First Division after having relegated in 1994. In 1997, Urbanus led Pirates to the championship title, resulting in promotion back to the big league. Before returning to the main squad of Amsterdam in 2009, Urbanus had been involved with the club in the years before, as he had coached the second team of Pirates (Boekaniers/Bucs), as well as several youth teams. In 2008 and 2009, he was the Head Coach of the Amsterdam Pirates Rookie Team, which whom he won the Dutch championship two years in a row.

In his three seasons during his second stay in Amsterdam (2010-2012), Urbanus reached the Play-Offs each year and led the team to the Dutch championship-title in 2011. This was his sixth national championship-title with a clubteam. As a player, he won the Dutch title with Amstel Tijgers in 1979, 1980 and 1986 and as a coach in the big league, he won the national championship in 1991, 1993 (both Neptunus) and 2011 (Pirates). When one includes his First Division-championship with Pirates in 1997 and national championships with the Amsterdam Rookies in 2008 and 2009, his counter stands at nine championships with a baseball clubteam.

(September 13)

...Charles Urbanus talks with pitcher Jos de Jong...
...at left his successor and predecessor Sidney de Jong...

...Charles Urbanus argues with umpire Henri van Heijningen...
...during the 2012 season...

...Charles Urbanus embraces Nettuno-Manager Ruggero Bagialemani...
...during the European Cup Tournament in 2012...
...The two faced each other many times as players in games...
...between the national teams of the Netherlands and Italy...

...Charles Urbanus throws the ceremonial first pitch...
...on Opening Day 2013...
...Standing at left is John Witte, who in July stepped...
...down as chairman of the club...
(© Photos: Henk Seppen)