Former player Ruut Jongeling passed away
Nederlands
IN MEMORIAM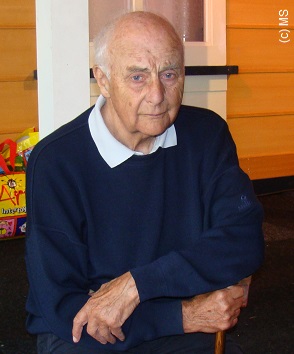 ...Ruut Jongeling...
(1927 - 2013)

HAARLEM (Neth.) - Former baseball-player and National Team-player Ruut Jongeling passed away on Thursday, February 28 at the age of 85. The memorial and cremation ceremony was private and took place on Wednesday, March 6.

Rudolf (Ruut) Jongeling was born on October 31, 1927 in Renkum. After World War II, Jongeling started to play baseball for HHC in the city of Haarlem. In the late forties, he played for the second team of HHC. During his playing days, when his first name was mostly written as Ruud (with a 'd' at the end instead of a 't'), he developed into a fine pitcher, who had a good control.

After the 1950 season, Jongeling went to play for RCH in Heemstede, with whom he starting playing in the highest division (back then First Division) since 1951 and had players like Nol Houtkamp, Gé Oosterbaan and Nico van Heemskerk as teammates. In 1952, he became known as a control-pitcher and threw several one-hitters. In June of 1952, Jongeling was selected as pitcher for the Dutch National B-Team, but didn't saw actions in games against Belgium and England in June. He then threw a complete game for the B-squad in August against Belgium-B in Breda, throwing an one-hitter in a 5-0 win. After completion of the regular season, Jongeling threw another one-hitter in September. This time, he went the distance for 'The Rest of the Netherlands' in the honorary game against the national champion, which in this case was OVVO. Initially, he was a back-up pitcher and not supposed to pitch in this game. Jan Smidt, who was named as pitcher, was unavailable as he served in the military and had to go to West-Germany for military exercises. So, Jongeling filled in, struckout nine batters and gave up only one basehit, as single by Han Urbanus, who pitched a complete game for OVVO, struckout eleven batters and also gave up only one basehit. The game ended in a 0-0 score after nine innings.

In 1953, Jongeling also represented Haarlem in the annual city-games against Amsterdam and Rotterdam. But in the same year, he also made his debut in the Dutch National Team, throwing the final three innings and gaving up only one basehit in an exhibition game against the Mildenhall Ramblers, an American military team from England.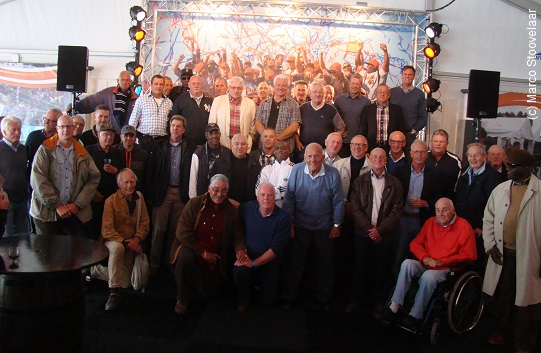 ...Last year, Ruut Jongeling attended at reunion of former...
...National Team-players during the Haarlem Baseball Week...
...Jongeling sits in the front row at the right side (red sweater)...
(© Photo: Marco Stoovelaar)

After the 1953 season, Jongeling returned to HHC. During the 1954 and 1955 seasons, he made some appearances for the National B-team, and played as second baseman in an exhibition game for the the main squad. In 1956, Jongeling played his only three internationals games for the Orange squad. He participated in the European Championship (which was won) in Rome (Italy) and played as leftfielder and second baseman in two games. Later in the year, he played at second game in a game against Belgium.

Jongeling was able to play at all positions. While primarily a pitcher, he also played in the infield and outfield and even was used as a catcher later in his career. Jongeling played for the main squad of HHC in the Dutch big league through the early sixties. Thereafter, he remained active until a high age, pitching for lower level teams within the club.

After concluding his baseball-career, Ruut Jongeling later became very involved in ice-skating. When the artificial ice track in Haarlem was re-opened in 1983, Jongeling was one of the driving forces of Iceclub Haarlem in administrational and organisational activities. During youth skating games, Jongeling was the stadium announcer, but also served as starter. Due to health reasons, he retired from this positions in 2007.

Besides these activities, Jongeling also was closely associated for several years with 'De Adriaan', the beautiful windmill, located at the Spaarne-river in Haarlem. There, he served as one of the guides of the mill, which originally dates from 1779, but burnt down in 1932. It was rebuilt on the original foundations and re-opened in 2002.

Through this, the webmaster of Grand Slam * Stats & News offers his condolences to the family of Ruut Jongeling and wishes them a lot of strength.

(March 14)