DOOR Neptunus opens Holland Series with shutout-win
Nederlands

ROTTERDAM (Neth.) - After a two hour and one minute delay, the first game of the 26th Holland Series between DOOR Neptunus and Vaessen Pioniers went underway on Saturday at the Familiestadion in Rotterdam. Neptunus opened the best-of-seven with a 4-0 shutout-victory. Last year, Neptunus was swept in four games by Corendon Kinheim.

The opening game of the best-of-five Promotion/Relegation Play-Off between ADO Lakers and Twins in The Hague was cancelled due to rain and was re-scheduled for next Monday-evening. The two teams will meet on Sunday in Oosterhout.

In the 9-game Play-Off series, Neptunus qualified last Saturday and finished in first place to earn home rights of the first two games of the Holland Series. Pioniers became the second finalist last Sunday by winning against L&D Amsterdam Pirates, which therefore was eliminated. Reigning champion Corendon Kinheim was eliminated and dethroned on Saturday.

In the hours leading up to the opening game, the weather conditions were far from favorable. It had rained throughout the night and it was still raining in the morning hours. Groundskeepers worked hard to make the field in the Familiestadion playable, but, while not hard, it kept on raining. With this, the scheduled start of the game of 2 PM was postponed until at least 3:30. Around 3 PM, the umpire crew and groundskeepers took another look at the field and, as the rain cleared and the sun came out, an OK was given to start the game around 4 o'clock.

And so, at 4:01 PM, two hours and one minute after the scheduled starting time, Game 1 of the Holland Series went underway.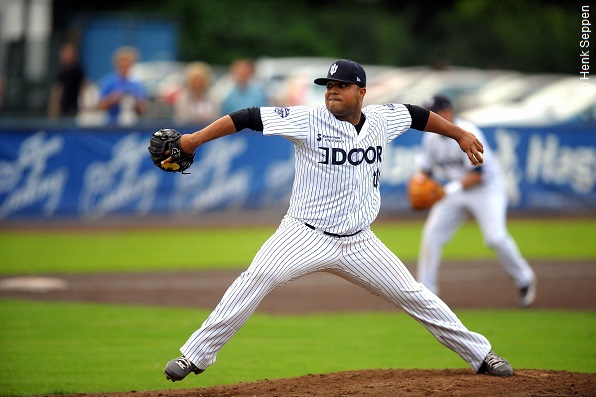 ...Winning pitcher Diegomar Markwell...
(© Photo: Henk Seppen)

Diegomar Markwell started for Neptunus, which today played its 75th Holland Series-game overall, extending its own record. The lefthander threw eight innings, struckout four, walked one batter and gave up seven basehits. Last year, Markwell also started the opener, but then was the losing pitcher, as he was in Game 4 of the Series against Kinheim. He also was the losing pitcher in Game 1 of the 2010 Series against Amsterdam Pirates, but won the opener of the 2009 Series against Pioniers. With today's win, Markwell raised his Holland Series-record to 5-4.

Pioniers also started the game with a lefthander, as American Josh Rickards took the mound in his first Series-appearance. Rickards threw 5-plus innings, in which he threw 119 pitches. Rickards struckout eight batters, but also walked seven. He gave up only three basehits, but his walks led to three runs in the third at bat.

Markwell retired the first six batters he faced, while Rickards had allow some baserunners. In the first inning, Gianison Boekhoudt led off for Neptunus with a single, then Benjamin Dille walked. But then, a flyout and force out followed. Rickards then ended the at bat by striking out active pro Kalian Sams. In the second, Rickards walked Gyenuar Lopez, but then struckout Rafaël Jozefa, Adrian Anthony and Shaldimar Daantji.

Pioniers reached base for the first time in the third inning when Dè Flanegin walked with one out, but he was left behind.

Neptunus then struck with three runs in the home of the third, when Rickards again encountered some problems with finding the strike-zone. With one out, he gave up a single to Benjamin Dille, but then walked Raily Legito, Dwayne Kemp and Kalian Sams, resulting in a run. A sacrifice fly by Gyenuar Lopez and single by Rafaël Jozefa then lifted the lead to 3-0.

Rickards then retired the side in the fourth and fifth inning, while his teammates were unable to move the runners around off of Markwell. After being retired in order in the fourth, Pioniers got its first two batters on base in the next at bat. Mark Duursma and Mark-Jan Moorman led off with singles, but a force out followed, then Markwell was supported with a double play.

In the sixth, Michael Pluijmers led off for Pioniers with a bunt-single. Markwell tried to field the ball, but probably twisted his ankle and fell down. After being treated, Markwell was able to continue pitching. Pluijmers, who last Sunday hit Pioniers to the Holland Series with a walk-off double, was then eliminated in a following double play.

In the home of the sixth inning, Neptunus added a run. With one out, Rafaël Jozefa and Adrian Anthony walked, which led to the departure of Rickards. The lefthander was replaced by Dennis Buring, who was greeted with an RBI-single by Shaldimar Daantji, who then stole second base. Next, Gianison Boekhoudt walked, but this time, the Pioniers-defense followed with an inning-ending double play.

In the seventh inning, Danny Rombley led off with a single, but then Neptunus turned its third double play in three consecutive innings on a following grounder by Vince Rooi. Next, Mark Duursma singled, but then Markwell struckout Mark-Jan Moorman to end the at bat of the Hoofddorp-squad.

Buring retired the first two batters in the bottom of the seventh inning, then was relieved by Joran Klarenbeek. He faced Kalian Sams, who popped up to end the inning.

In the eighth inning, Pioniers got its fourth consecutive lead-off hitter on base, when Kevin Dirksen singled. Dè Flanegin then also singled, but the two stranded, as three flyouts followed.

Neptunus then got the bases loaded in the home of the eighth inning. With one out, active pro Scott Ronnenbergh took over the pitching for Klarenbeek. The lefthander walked Rafaël Jozefa, then gave up a single to Adrian Anthony. The two advanced on a grounder by Shaldimar Daantji and then the bases got loaded when Ronnenbergh walked Gianison Boekhoudt. Next, Benjamin Dille hit a grounder to second baseman Zerzinho Croes. While Boekhoudt ran towards second base, Croes fielded the ball, but then threw it by first base, leading to two runs. Robert Klaver, Head Coach of Pioniers, came out to argue with the umpires, stating that Boekhoudt had interfered with Croes. The umpires got together, discussed the situation and then indeed ruled Boekhoudt for interference, resulting in the the third and the annulment of the two runs. That brought out Neptunus' Head Coach Evert-Jan 't Hoen for an argument. As the ruling was upheld, 't Hoen filed a protest for the remainder of the game, but it was then withdrawn after the win. Ronnenbergh recently completed his fourth professional season in the organization of the Seattle Mariners, where he played in the Rookie League for the fourth year in a row. He appeared in 15 games, all as reliever, and struckout 28 batters in 27 1/3 inning. He walked 17 and gave up 31 hits, while ending the season with an 1-2 record and a 4.61 ERA.

Closer Berry van Driel pitched the last inning for Neptunus and retired the side to seal the win.

For the record...
...18 of the previous 25 Holland Series were won by the team that also won the opening game
...Today's shutout was the 20th in Holland Series-history and first since Neptunus shutout Pirates 3-0 on September 9, 2010
...The shutout was the 13th by Neptunus in Holland Series-history
...Today's shutout was the first in an opening game since Neptunus shutout Pioniers 16-0 on August 20, 2009
...Today marked the first time that umpire Johan Brandsma was behind the plate in an opening game of a Holland Series, this is Brandsma's 12th Series.

(September 14)