Wendell Hato new Head Coach RCH-Pinguïns
Nederlands

HEEMSTEDE (Neth.) - Wendell Hato is the new Head Coach of RCH-Pinguïns for the 2014 season. Hato succeeds Chris Mowday, who also was one of the pitchers of the team this season and acted as playing coach. During the World Port Tournament this year, Mowday made his debut in the Dutch National Baseball Team. Mowday was assisted by former big league- and National Team-pitcher Patrick Beljaards, but he resigned after the season due to personal reasons, as was reported by the Haarlems Dagblad-newspaper.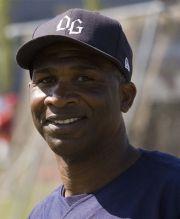 ...Wendell Hato...

This season, RCH-Pinguïns finished in fourth place in the second highest league ('Overgangsklasse'), 30 points (15 games) behind league-leader Twins.

In his playing days, Hato played baseball for RCH himself, but also played for Sparks and in the Dutch big league for Haarlem Nicols.
As a coach, Hato brings a lot of experience, as he has been active as a coach for Kinheim, Euro Stars, Onze Gezellen, Rooswijk and Double Stars.
In 1991, Hato was a member of the coaching-staff of big league-team Haarlem Nicols, which was then led by Jan Dick Leurs. Nicols finished in second place to qualify for the Play-Offs, but was then eliminated for the Holland Series.
Wendell Hato also was involved as a coach in softball. After having coached the baseball-team of Onze Gezellen in 2008, he agreed to become Head Coach of the women softball-team of Olympia Haarlem in October of that year. The team had just relegated from the big league in the 2008 season and Hato then led Olympia Haarlem in 2009 when it played in the second highest league (First Division). But in September of that year, with two games remaining in the regular season, Hato was unable to coach in the remaining games due to work commitments. Olympia Haarlem, which was 28-12 under Hato, qualified for the Promotion/Relegation Play-Off, defeated Gryphons to return to the big league in 2010. Since that season, the team is led by Caroline Powell.
Hato's son Björn briefly played professional baseball in the organization of the New York Mets, where he played in the Dominican Summer League (Rookie League) in 2010 and 2011. Since 2012, he is playing in the Dutch big league as an infielder for L&D Amsterdam Pirates.
(October 14)