Neptunus leads Series 2-0 after 10th inning win
Nederlands

ROTTERDAM (Neth.) - Kalian Sams, who recently returned to the Netherlands after completion of his professional season in the USA, today (Sunday, September 15) delivered a game-winning, walk-off single in the tenth inning to give DOOR Neptunus a 2-1 victory in Game 2 of the best-of-seven Holland Series against Vaessen Pioniers. With this, the Rotterdam-squad took a 2-0 lead, after winning 4-0 on Saturday.

VIDEOS

...Coverage Dutch TV of today's game...
(NOS Studio Sport, September 15)

...Kalian Sams talks about his game-winning single...
(RTV Rijnmond, September 15)

...Head Coach Evert-Jan 't Hoen reacts to today's win...
(RTV Rijnmond, September 15)

...Kalian Sams talks about playing for Neptunus...
(RTV Rijnmond, September 9)

The Holland Series now shifts to Hoofddorp for the next three games. Game 3 is scheduled to be played on Thursday-evening, starting at 7:30 PM, then Game 4 follows on Saturday, September 21, beginning at 2:00 PM. If needed, Game 5 will be played on Sunday at Sportpark Toolenburg in Hoofddorp. These will be the last games Pioniers plays at the site, as it moves to a new complex next season.

After two scoreless innings, the score was opened in the third inning when both teams crossed home plate. Hereafter, with the score tied at 1-1, the game remained scoreless, as starting pitchers Eddie Aucoin (Pioniers) and Orlando Yntema (Neptunus) kept each other in balance. In the ninth inning of this pitching duel, the bullpen took over.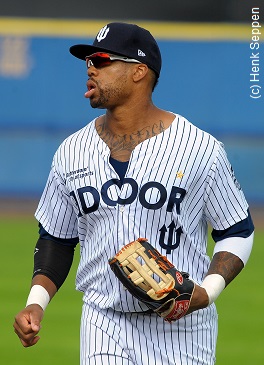 ...Kalian Sams...
...game-winning single...
(© Photo: Henk Seppen)

Both teams got the most scoring opportunities in the first three innings of the game.

Pioniers got two runners on base with one out in the opening at bat. Phil Ortez and Danny Rombley then singled, but next batter Vince Rooi lined out to third baseman Raily Legito and Mark-Jan Moorman struckout.

For Neptunus, Benjamin Dille and Raily Legito both singled with one out in the home of the first at bat, but then the inning ended when Dwayne Kemp grounded into a double play.

In the second at bat, Kevin Dirksen singled with one out for Pioniers, but this time Dè Flanegin grounded into a double play to end the inning.

After Neptunus was retired in order in the bottom of the second inning, Pioniers took an 1-0 lead in the third at bat. Michael Pluijmers led off with a walk, then advanced on a sac-bunt by Zerzinho Croes and moved to third base on a grounder by Phil Ortez. He then scored when Danny Rombley singled.

However, the lead was shortlived, as Neptunus came alongside immediately in its third at bat. Adrian Anthony and Shaldimar Daantji led off with singles. With one out, Daantji was forced out at second base on a grounder by Benjamin Dille, which brought Anthony to third base. He then scored when Raily Legito reached on a hit to the left side of the infield. Third baseman Michael Pluijmers dove to the ball, then, after fielding it, tried to force out Dille at second base. In the meantime, Anthony scored. Pluijmers dove to the ball in front of short stop Vince Rooi, who appeared to be ready to field the ball and might have a better chance of eliminating a runner at either home, second base or first base. A grounder then ended the inning, but the score was tied at 1-1.

Neptunus-starter Orlando Yntema then allowed only two of the next 16 batters to reach base. After retiring the side in the fourth and fifth inning, Yntema walked lead-off batter Phil Ortez in the sixth at bat. But after a flyout, Ortez was eliminated in a double play. The righthander then gave up an one-out single to Mark Duursma in the seventh inning, but this time, a flyout and strikeout followed. Yntema then retired the side again in the eighth.

Neptunus got five batters to reach base in the fourth through eighth inning off of Eddie Aucoin. Kalian Sams led off with a single in the fourth, but then was caught stealing, followed by two grounders. Aucoin then retired the side in the fifth nning, but then Neptunus reached base twice again in the next at bat. With two outs in the sixth, Dwayne Kemp singled and stole second base, then Kalian Sams walked, but was forced out.

In the seventh inning, Aucoin gave up a 2-out single to Shaldimar Daantji, who stole second base, but then was left behind. In the eighth, Aucoin retired the side.

And so, while it started to drizzle somewhat, the ninth inning could have been decisive, but both teams stranded runners in scoring position, while the bullpen took over the pitching. For Pioniers, Vince Rooi singled with one out, then Mark-Jan Moorman walked. This brought in Brenda Wise to relief Orlando Yntema. The Australian faced Mark Duursma, who popped up for an infield-fly, then a force out ended the inning.

In the home of the ninth inning, Swen Huijer took over the pitching for Pioniers. The tall righthander and former pro (Boston Red Sox-organization) gave up a lead-off single to Kalian Sams, who then advanced on a sac-bunt by Gyenuar Lopez. Moments later, Sams stole third base and Huijer walked Rafaël Jozefa. But with runners at first and third base, Huijer struckout Adrian Anthony and Shaldimar Daantji to end the scoring threat and force extra innings.

While the international tie-break rule (runners on first and second base) is used in the regular season and during the Play-Offs, it is not used during the Holland Series. And that means that the game continues as was done before the introduction of the tie-break, with no runners on base and just following the batting order of that moment.

In the top of the tenth inning, Dè Flanegin led off with a single and was replaced by pinch-runner Chris Williams, who then advanced on a sac-bunt by Michael Pluijmers. But he stranded at second base, as two outs followed.

In the bottom of the tenth inning, Neptunus decided the game. With one out, Benjamin Dille singled and Raily Legito walked, which brought in closer Bayron Cornelissen to take over for Swen Huijer. But he began with a wild pitch that moved the runners. Next, Dille was tagged out at the plate by catcher Mark Duursma trying to score on a grounder to short stop Vince Rooi by Dwayne Kemp. Moments later, Kalian Sams underscored his value by lining a pitch into centerfield for a walk-off single that brought in Legito from second base. Centerfielder Danny Rombley tried to stop the ball by diving towards it, but had no chance and so Sams registered his third basehit of the game to give Neptunus a 2-0 lead in the Series.

For the record...
...Today's victory was the 45th in Holland Series-history for Neptunus, which is the lone club with 20 or more Series-wins; Kinheim is in second place with 18 victories.
...For Pioniers, this was the team's eighth loss in its last nine Holland Series-games and 15th in its last 19 since returning to the final in 2006.
...This was only the fifth extra-inning game in the Holland Series this century.
...This was the second extra-inning game for Neptunus, which won 8-7 in eleven innings vs. ADO on August 27, 2000.
...For Pioniers, this was its third extra-inning game. It also lost the previous two, 4-3 in 13 innings on October 6, 2007 vs. Kinheim and 5-4 in 14 innings vs. Amsterdam Pirates on September 3, 2011.
...Brendan Wise became the first Australian winning pitcher since Dushan Ruzic was the winner for Neptunus in relief on September 12, 2010 against Amsterdam Pirates.

...Pioniers-starter Eddie Aucoin...

...Neptunus-starter Orlando Yntema...

...Vince Rooi turns a double play in the 1st inning...
...Raily Legito is forced out...

...Shaldimar Daantji steals 2nd base in the 7th inning...
...Vince Rooi puts on the tag...

...Kalian Sams steals 3rd base in bottom 9th...

...Winning pitcher Brendan Wise...

...Swen Huijer (right) is relieved in the bottom 10th...
...In the back, Head Coach Robert Klaver talks with Mark Duursma...

...Benjamin Dille is tagged out by Mark Duursma in bottom 10th...



...Kalian Sams singles in the winning run...

...The win is celebrated...
(© Photos: Henk Seppen)
(September 15)