Veteran MLB-Umpire Wally Bell passed away
Nederlands
IN MEMORIAM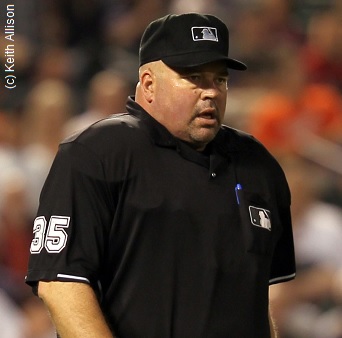 ...Wally Bell...
(1965 - 2013)
(© Photo: Keith Allison)

YOUNGSTOWN, Ohio (USA) - Veteran Major League-umpire Wally Bell has passed away on Monday, October 14 after suffering a massive heart attack in his hometown of Youngstown. Wally Bell was only 48 years old, was married and had two children.

Wally Bell was a very experienced and well-respected umpire. While being only 48, he had just completed his 21st season in the Major League. A week ago, Bell was a member of the umpire-crew that worked the National League Division Series between St. Louis Cardinals and Pittsburgh Pirates. That series ended on October 9 (only five days ago) with the Cardinals winning the NLDS to advance to the NLCS. Bell was at third base in that game. He was behind the plate in Game 2 of that Series.

On July 16 of this year, Wally Bell was the 1B Umpire during the All Star Game, which was played at Citi Field, the stadium of New York Mets.

In March of this year, Wally Bell was one of the Major League-umpires, who officiated in the Championship Round of the World Baseball Classic in San Francisco. During that round, Bell was the Home Plate Umpire in the semi-final between the Netherlands and the Domimican Republic on March 18. The day before, he was the 2B Umpire in the semi-final between Puerto Rico and Japan. On March 19, Bell was the Leftfield Umpire in the WBC-final between the Dominican Republic and Puerto Rico.

In the semi-final of the Netherlands National Baseball Team, Diegomar Markwell, Tom Stuifbergen, Leon Boyd and Loek van Mil pitched for the Orange squad. The Dutch Team took an 1-0 lead in the first inning, but the Dominicans then rallied for four runs in the fifth at bat and went on to win 4-1 to reach the final. Playing for the Dutch Team that day were current Major Leaguers Andrelton Simmons (Atlanta Braves), Jurickson Profar (Texas Rangers), Roger Bernadina (Philadelphia Phillies) and Jonathan Schoop (Baltimore Orioles), as well as Wladimir Balentien (Yakult Swallows) and Andruw Jones (Tohoku Rakuten Golden Eagles), who are playing the Japanese Major League. Amongst the Dominican players were Major Leaguers such as Miguel Tejada, Robinson Cano, Hanley Ramirez and Nelson Cruz.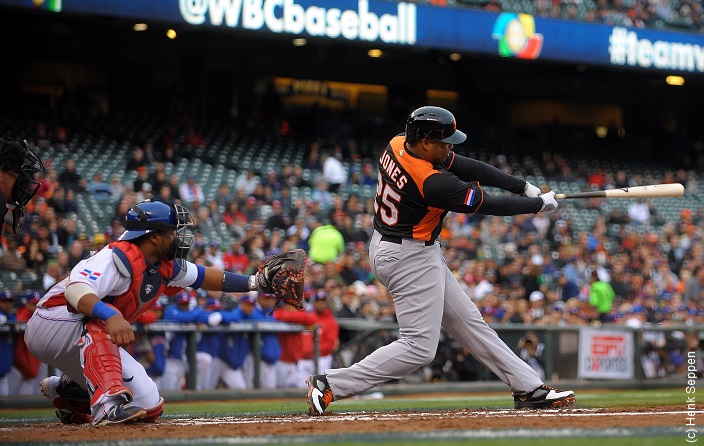 ...Wally Bell behind catcher Carlos Santana and with Andruw Jones hitting...
...during the semi-final of the World Baseball Classic between the Netherlands...
...and the Dominican Republic in San Francisco on March 18...
(© Photo: Henk Seppen)

In 2006, Bell officiated in the World Series between St. Louis Cardinals and Detroit Tigers. The Cardinals won that Series, 4-1.

Bell began umpiring summer league games when he was 17 years old. He attended umpiring school shortly thereafter and became a professional umpire. Bell umpired for eight seasons in the minor leagues at all levels and climbed from Rookie League to Triple-A. He was promoted to the Major League in 1993. In February 1999, Bell had quintuple bypass surgery, but he returned to the field eleven weeks later. According to his MLB-biography, he considered returning to the field afterwards as one of the highlights of his career. Bell did charity work with the American Heart Association in following years. Bell is the first active MLB-umpire who passes away since John McSherry suffered a heart attack on Opening Day 1996 while being the Home Plate Umpire in Cincinnati.

Wally Bell umpired in one World Series (2006), three All Star Games (1997, 2000, 2013), six Division Series (1998, 1999, 2003, 2004, 2006, 2013), three League Championship Series (2000, 2001, 2005) and one World Baseball Classic (2013).

''Wally was a great umpire, a great partner and a great friend'', said umpiring colleague Joe West, who is the President of the World Umpires Association, which oversees the activities of Major League-umpires. ''The umpiring community is deeply saddened by this tragic loss. He will be sorely missed by many.''

In a statement by Major League Baseball, Joe Torre, Executive Vice President of Baseball Operations, said: ''Umpiring was his life, and he touched so many people within the game of baseball.'' MLB Commissioner Bud Selig added in a statement: ''All of us at Major League Baseball are in mourning tonight regarding the sudden passing of Wally Bell. I always enjoyed seeing Wally, who was a terrific umpire and such an impressive young man. On behalf of our 30 Clubs, I extend my deepest condolences to Wally's family, fellow Umpires and his many friends throughout the game.''

The 6-man umpiring crew that worked Game 3 of the National League Championship Series between Los Angeles Dodgers and St. Louis Cardinals on Monday-evening in Los Angeles, learned the news about one hour before the game started. ,,It was obviously very difficult and we had to regroup rather quickly and put our concentration where it needed to be'', said Crew Chief Gerry Davis during the post-game press conference. ,,We kept telling each other that that's the way Wally would have wanted it, and we know that that's really true. Wally was a true umpire's umpire, and anyone who ever worked with him loved him, and I think that's not only true of the umpire brotherhood. I think if you'll check with the players and teams they felt the same way because Wally always gave 110 percent on the field. We're a very-tight knit group, and it's going to be a big loss for us.''

(October 15)