First Curaçao Baseball Week begins in Willemstad
Nederlands

WILLEMSTAD, Curaçao (Neth.) - On Monday (November 18), the first edition of the Curaçao Baseball Week began in Willemstad on the Antillian island of Curaçao. The island is home to many professional baseball-players, who play for the Netherlands National Baseball Team and can look back to a successful 2013 season.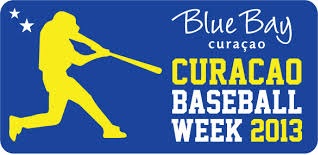 To celebrate all the successes of this year, 18 professionall players participate in the Curaçao Baseball Week, which runs through coming Sunday. Players like Wladimir Balentien, Andruw Jones, Jurickson Profar, Didi Gregorius, Roger Bernadina, Jonathan Schoop and Jair Jurrjens will conduct daily clinics for some 1000 children.
Before the start of the 2013 season, the Netherlands Baseball Team reached the semi-final of the World Baseball Classic. The team was led by Manager Hensley Meulens, who himself was the first Curaçao-born player to reach the Major League, playing for the New York Yankees. Playing for the Dutch WBC-squad were professional players, who later in the season also made headlines themselves. Wladimir Balentien broke the all-time single-season homerun-record in Japan, while playing for Yakult Swallows, Andruw Jones won the Japanese championship with Tohoku Rakuten Golden Eagles, Andrelton Simmons had a great season with Atlanta Braves and won a Gold Glove plus the Platina Glove Award, Jonathan Schoop homered in his Major League-debut, Jurickson Profar had a good season with Texas Rangers, Kenley Jansen qualified for the Play-Offs with Los Angeles Dodgers and Aruban Xander Bogaerts won the World Series with Boston Red Sox.
A fundraising golf-tournament is also included in the event, while coaches can attend seminars held by Hensley Meulens, who is the Hitting Coach of San Francisco Giants, Robert Eenhoorn, former Dutch Manager and current Technical Director of the Dutch Federation, Steve Janssen, Manager of the Dutch Team and Ben Thijssen, member of the coaching staff of the Dutch squad. Maurice Hendriks of the Netherlands Olympic Committee also will be attending the event.
,,We are extremely proud that the KNBSB is a partner is this fantastic event, which will benefit all coaches and the youth on Curaçao'', Robert Eenhoorn said in a statement. ,,It doesn't happen that often that all these good players are together on Curaçao.''
There also will be meet-and-greets with the players and daily, a ticket will be won by one of the children to attend a Major League-game in Miami next season. On Friday, there will be a baseball-show in Tio Daou Ball Park, including a homerun-derby.
The participating players are Wladimir Balentien, Roger Bernadina, Carlton Daal, Chris Garia, Didi Gregorius, Jonatan Isenia, Andruw Jones, Jair Jurrjens, Shairon Martis, Kevin Moesquit, Randolph Oduber, Jurickson Profar, Dashenko Ricardo, Jonathan Schoop, Sharlon Schoop, Hainley Statia and JC Sulbaran, plus Dutch pitcher Rob Cordemans.
(November 18)