Neptunus wins 3rd game, has title in sight
Nederlands

HOOFDDORP (Neth.) - On a cloudy and chilly evening, DOOR Neptunus defeated Vaessen Pioniers 6-1 on Friday to take a 3-0 lead in the best-of-seven Holland Series. With this, the Rotterdam-squad has the Dutch championship-title in sight with two games ahead to be played in Hoofddorp. Game 4 will be played Saturday, starting at 2 PM. If needed, the fifth game will then be played on Sunday, starting at 12 PM, two hours earlier than scheduled, due to television registration.

Today's game was initially scheduled for Thursday-evening, but then was cancelled due to rain and an unplayable field. Diegomar Markwell (Neptunus) and Lars Huijer (Pioniers), the two announced starters for Thursday, kept their spot in the rotation and started tonight. Markwell gave up seven basehits in seven innings to earn his second win of the Series. Huijer gave up five hits, but also walked four batters and hit another one, while giving up four runs in the 3 2/3 inning he pitched. So, it wasn't a successful evening for Huijer, who made his first appearance of the season for Pioniers and was ejected after leaving the mound.

Huijer pitched for Pioniers during the 2010 and 2011 season in a total of eight games, but tonight was his first appearance for the team in a post-season. The righthander recently returned home after completion of his third professional season in the organization of the Seattle Mariners. This season, Huijer was 8-2 for the Everett AquaSox, the Single-A Advanced team of the Mariners. He pitched in 14 games, started 13 and struckout 61 batters in 71 1/3 inning, while walking only 23. Huijer gave up 57 basehits and 24 runs and finished with a 3.03 ERA. In 2011 and 2012, Huijer pitched in the Rookie League-teams of Seattle.

In the first inning, Lars Huijer needed a total of 24 pitches. Lead-off hitter Gianison Boekhoudt fouled off three pitches and had a 3-2 count when he grounded out, but then Huijer hit next batter Benjamin Dille with a pitch and walked Raily Legito. The two runners advanced when Dwayne Kemp grounded out, then were left behind when Kalian Sams also grounded out.

In the second inning, third baseman Michael Pluijmers encountered some difficulties. He made an error on a lead-off grounder by Gyenuar Lopez, then dropped the ball while turning for a double play on the following grounder by Rudy Van Heydoorn. Pluijmers was unable to force out Lopez and only retired Van Heydoorn at first base. Huijer then walked Adrian Anthony, but followed with a strikeout for Shaldimar Daantji, then Neptunus left two more runners as Boekhoudt fouled out.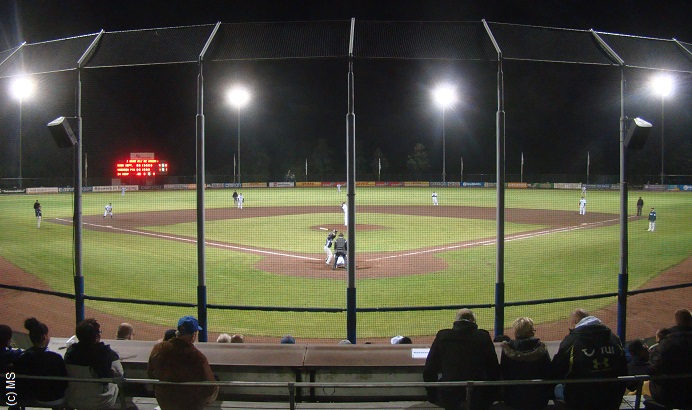 ...Under better, but colder, weather conditions than the day before...
...Neptunus takes a 3-0 lead in the Holland Series...
(© Photo: Marco Stoovelaar)

But in the third inning, Neptunus opened the score and it was again Kalian Sams, who put things into motion for the Rotterdam-squad. With one out, veteran Raily Legito singled and stole second base. Next, Kemp struckout, but Sams followed with a double to bring in Legito and put Neptunus ahead.

Diegomar Markwell also needed several pitches in his first three at bats and saw Pioniers reached base. With one out in the first inning, the lefthander gave up a double to Phil Ortez, then walked Danny Rombley, but got out of the inning when next batter Vince Rooi grounded into a double play. In the second inning, Mark-Jan Moorman singled with one out, then Dè Flanegin walked with two outs, but the two stranded when Michael Pluijmers flied out.

In the third inning, trailing 1-0, Pioniers came alongside. With two outs, Markwell walked Rombley and Rooi, then gave up an RBI-single to Mark Duursma, but Moorman grounded out to end the inning.

From the fourth inning on, Markwell grew and gave up only three more basehits in the next four innings and allowed only one more runner to reach second base. Huijer ran into problems in his fourth inning. He initially got two quick outs, but then gave up a single to Shaldimar Daantji, who stole second base, followed by a walk for Gianison Boekhoudt. Next, Benjamin Dille singled to bring in Daantji, giving Neptunus a renewed lead. Huijer then loaded the bases when he walked Raily Legito. Dwayne Kemp then delivered a single through the left-side of the infield, enabling Boekhoudt and Dille to score and lift the lead to 4-1. Hereafter, Pioniers' Head Coach Robert Klaver brought in Dennis Buring to relief Huijer. While walking towards the dug-out, Huijer said something in the direction of Home Plate Umpire Olav Steijger. And when he was in the dug-out, he apparently said something too much, as Steijger ejected him.

Reliever Dennis Buring did fine in the next innings. He took over with runners on first and second base, who moved into scoring position on a double steal. Buring ended the at bat strongly by striking out Kalian Sams.

But Neptunus had scored three runs and with that had decided the game, as Pioniers simply was unable to do something back tonight and didn't look good. Zerzinho Croes led off the fifth inning for the home team with a single, but then three outs followed. In the sixth, Rudy Dirksen singled with two outs, but also was left behind.

Dennis Buring walked a batter with one out in the sixth, then retired the next four batters in a row. With two outs in the seventh, he gave up singles to Gyenuar Lopez and Rudy Van Heydoorn and was relieved by Scott Ronnenbergh, another active pro on the roster of Pioniers. The lefthander struckout Adrian Anthony to end the inning.

In the bottom of the seventh, Markwell gave up a lead-off single to Michael Pluijmers, who was force out, followed by a double play.

Neptunus added a run in the eighth at bat. Ronnenbergh walked Shaldimar Daantji, who was then awarded second base on a balk. With one out, he scored on a double down the rightfield-line by Benjamin Dille. Ronnenbergh then struckout Legito and a grounder ended the inning, but the lefthander gave up another run in the ninth at bat. He first was supported by a nice play by short stop Vince Rooi on a line drive grounder by Kalian Sams, but then walked Gyenuar Lopez. Next, Rudy Van Heydoorn singled to bring Lopez to third base. But the latter was able to score when third baseman Michael Pluijmers muffed a throw from leftfielder Kevin Dirksen to make it 6-1. Ronnenbergh then waked Adrian Anthony and was relieved by Joran Klarenbeek, who struckout Daantji and ended with a flyout.

Jorian van Acker pitched the final two innings for Neptunus. He gave up a lead-off single to Danny Rombley in the eighth, but he was later forced out. Van Acker retired the side in the ninth to end the game.

And so, Neptunus now needs only one more victory to capture its 14th Dutch championship-title.

(September 20)