No-decision for Rick van den Hurk
Nederlands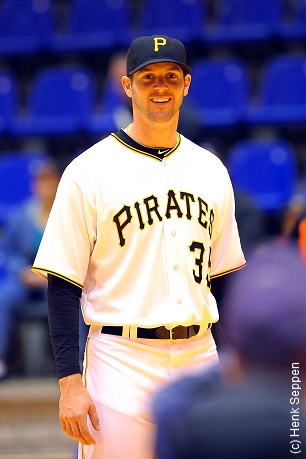 ...Rick van den Hurk during his European...
...Big League Tour in November 2012...
...in Rotterdam (Netherlands)...
(© Photo: Henk Seppen)

INCHEON (South Korea) - Tonight (Wednesday, September 25), Dutch pitcher Rick van den Hurk made his 23rd appearance for Samsung Lions in his first season in Korean Baseball Organization, the Korean Major League. The righthander started against SK Wyverns, threw six innings and left with his team trailing 3-0. In the eighth inning, the Lions turned the game around with a 7-run rally to win 7-3, meaning Van den Hurk got a no-decision. The rally was highlighted by a 3-run homerun by Seok-Min Park.

In the first inning, the righthander gave up a 3-run homerun to Dong-Min Han, then held the Wyverns scoreless in the next five at bats. Van den Hurk struckout seven batters and walked two.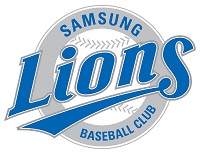 Van den Hurk also had a no-decision in his previous start a week ago against NC Dinos when he struckout six batters in seven innings. Before that appearance, Van den Hurk was the losing pitcher in three consecutive starts. On September 12, he struckout nine batters and gave up only two hits in 7 1/3 inning, but ended up as the loser against Lotte Giants, giving up the lone run in the eighth inning. On September 3, Van den Hurk was the losing pitcher vs. KIA Tigers and before that on August 28 vs. NC Dinos.
Before he was the losing pitcher three times in a row, Van den Hurk had won three of his previous four starts in August. He recorded his last win on August 22, when he was the winning pitcher vs. Doosan Bears.
After today's game, Van den Hurk is 6-9 with a 3.99 ERA. He struckout 129 batters in 137 2/3 inning and walked 47 batters, while giving up 124 basehits, including 10 homeruns. He allowed 65 runs, 61 of them earned. van den Hurk might have one start left in the regular season, which ends on October 3.
Samsung Lions currently leads the Korean Major League with a 72-47 record and two ties. The Lions, which have now won eight games in a row, are followed in the ranking by LG Twins, which is 71-50 and no ties. Last year, Samsung Lions captured the title by winning the Korean Series.
This is Van den Hurk's first season in Korean professional baseball. Between 2007 and last year, Van den Hurk pitched in 50 Major League-games, playing for Florida Marlins (2007-2010), Baltimore Orioles (2010-2011) and Pittsburgh Pirates (2012). He also was in the organizations of Toronto Blue Jays and Cleveland Indians, but didn't play for these clubs in the Major League.
(September 25)