Cardinals champion in NL Central
Nederlands

ST. LOUIS, Missouri (USA) - St. Louis Cardinals is the champion of the Central Division in the National League. The Cards secured first place tonight (September 27) by winning 7-0 against Chicago Cubs. It was their first Central Division-title since 2009.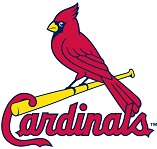 St. Louis rallied for three runs in the first at bat to take an early lead. Yadier Molina contributed with a 2-run double. Molina also an RBI-single later in the game. Matt Holliday hit the 250th homerun of his career.
Winning pitcher Lance Lynn struckout nine batters in six innings and won his 15th game of the season.
With this, all Division-champions in the National League are now known, as are the champions in the American League.
In the battle for home-field advantage in the Wild Card Play-Off, Pittsburgh Pirates won 4-1 at Cincinnati Reds to open a 3-game series. The Pirates and Reds will meet each other in this Wild Card-game.
The race for the Wild Card also continues in the American League with still three teams battling.
(September 27)