Golden Eagles win to even Japan Series
Nederlands

SENDAI (Japan) - Tohoku Rakuten Golden Eagles won its first-ever Japan Series-game, defeating the famed Yomiuri Giants 2-1 to even the best-of-seven Japan Series, 1-1, on Sunday-evening (October 27). Playing at home at Kleenex Miyagi Stadium in Sendai, the Golden Eagles scored its runs in the sixth and seventh inning, then hold onto the small lead. The Series now moves to Tokyo, where Game 3 will be played on Tuesday.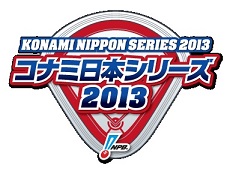 Singer Satoru Sakamoto sang the National Anthem before the game.
Masahiro Tanaka continued his dominance on the mound this season by throwing a complete game. The ace went unbeaten this season for the Golden Eagles and finished with a 24-0 record and one save. He struckout 183 batters in 212 innings. In the Play-Offs, he was 2-0, threw two complete games and also earned a save. Tonight, Tanaka was brilliant again, struckout 12 batters and gave up only three basehits, one of them being a homerun.
Rookie Tomoyuki Sugano held the Golden Eagles scoreless in the first five innings. He gave up a single in the second inning and was supported with a double play in the fourth. After the Eagles recorded two more basehits, but no runs, in the fifth inning, the home team opened the score in the next at bat.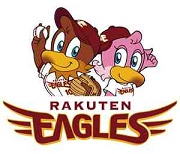 In the sixth, Takero Okajima led off with a single and advanced on a sacrifice bunt by Kazuya Fujita. He then scored when Ginji Akaminai followed with another single. Moments later, Andruw Jones also reached base when he walked. This was Jones' second of three walks in the game. It marked the end for Sugano, who was relieved by Hirokazu Sawamura. But he then walked Casey McGehee, which loaded the bases, but then a flyout ended the at bat.


...Masahiro Tanaka...
...27th victory...
(© Golden Eagles)

In the seventh inning, the Golden Eagles doubled its lead. With two outs, Ryo Hijirisawa and Takero Okajima both singled, putting runners at the corners. This brought in new pitcher Takahiro Aoki, who was greeted with an RBI-infield-hit by Kazuya Fujita that scored Hijirisawa and made it 2-0. Fujita reached first base sliding head-first on a close play and was called safe by 1B Umpire Kenjiro Mori. Giants-Manager Tatsunori Hara briefly argued the call. TV-replays show that Fujita appears to be out.

Masahiro Tanaka walked a batter with two outs in the first inning, then retired seven batters in a row. He then gave up a lead-off single to Takayuki Terauchi in the fourth and hit Yoshinobu Takahashi with a pitch with two outs, but a grounded ended the inning.

Tanaka then retired the side in the fifth, but got the bases loaded in the sixth when the game was still scoreless. With two outs, he walked Shinnosuke Abe, gave up a single to Shuichi Murata and also walked Toshinobu Takahashi. With the bases loaded, Tanaka struckout José Lopez (who batted .303 with 18 homeruns in the season) and that sparked the home team, which then opened the score moments later.

Leading 2-0, Tanaka gave up a run in the eighth inning when Takayuki Terauchi homered with one out. Tanaka followed with two strikeouts, then retired the side in the ninth, ending the game with his 12th strikeout.

(October 27)