Pirates decide NL Wild Card; AL Wild Card still undecided
Nederlands




CINCINNATI, Ohio / ARLINGTON, Texas / MINNEAPOLIS, Minnesota (USA) / TORONTO, Ontario (Canada) - Pittsburgh Pirates on Saturday (September 28) hit six homeruns and won 7-3 vs. Cincinnati Reds to capture homefield-advantage in the one-game Wild Card Play-Off next Tuesday. The two teams conclude the regular season against each other on Sunday, then travel to Pittsburgh to meet each other again in the Wild Card-game. The winner of that game then advances to the National League Division Series and meets the team with the best won-loss record in the National League.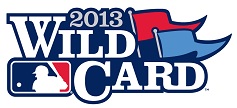 That will be decided on Sunday-evening, the final day of the regular season. St. Louis Cardinals, the champion of the NL Central Division, won 6-2 vs. Chicago Cubs, while NL-East champion Atlanta Braves was beaten 5-4 by Philadelphia Phillies. With this, the Cardinals are now 96-65 and the Braves are 95-66. And so, the Cardinals currently have the best record. But on Sunday, the team both could end the season with a 96-66 record. In that case, Atlanta will earn the best record, based on the head-to-head results against St. Louis this season. Atlanta would then meet the Wild Card-winner, while the Cardinals would meet NL-West champion Los Angeles Dodgers.
The Wild Card-race in the American League can even end up in a 3-team tie.
Texas Rangers won 7-4 vs. Los Angeles Angels of Anaheim (playing the last inning in heavy rain) to move into a tie with Tampa Bay Rays, which lost 7-2 at Toronto Blue Jays. Later in the evening, Cleveland Indians won 5-1 at Minnesota Twins. With this, Cleveland is now in place for the fourth best-record and thus the homefield-advantage in the Wild Card Play-Off.
After Saturday's games, Cleveland is 91-70, while Texas and Tampa Bay both are 90-71. That means that the three could end the season on Sunday with the same record. When the three teams end in a tie, two tiebreaker games will be played. First, the Rays and Indians would meet on Monday in Cleveland. Next, the loser of that game has to travel to Texas for a game on Tuesday. The winner of Tuesday's game would then meet the winner of Monday's game on Wednesday in the Wild Card Play-Off.
When the Rangers and Rays end in a tie, they will play a tiebreak game on Monday in Texas.
(September 28)