Jurickson Profar leads hitters in Dominican League
Nederlands

SANTO DOMINGO (Dominican Republic) - Jurickson Profar is currently the best hitter in the Liga de Béisbol Profesional de la República Dominicana (LIDOM), which is the official name of the professional league in the Dominican Republic. It is one of four professional Winter Leagues, the others being in Mexico, Puerto Rico and Venezuela. The winners of these leagues will meet each other in the Caribbean Series in February.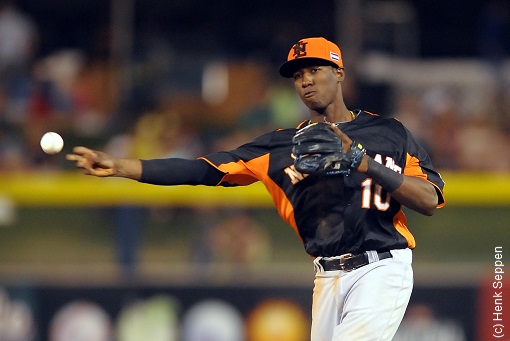 ...Jurickson Profar during the World Baseball Classic...
(© Photo: Henk Seppen)

On October 18, 20-year old short stop Jurickson Profar from Curaçao, opened the new Dominican season, playing for Tigres del Licey. In the opening game against Leones del Escogido, Profar batted in the first run of the season with a sacrifice fly and also double in what would be a 4-1 loss.

After he was hitting in the number 3 spot in the opening game, Profar moved to the number 2 spot in the next games. He batted 1-for-3 in the first two games, but then was 4-for-4 and scored twice when he was the designated hitter in the third game of the season vs. Escogido, which was won 5-3.

Profar, who was the short stop in all other games he played, then continued his strong hitting in the next games. He was 2-for-3 with a homerun and three runs scored in a 19-8 win vs. Toros del Este, then was 3-for-5 with a double and two runs scored the next day in a 7-4 win vs. Estrellas de Oriente.

Profar was then 1-for-3 in the next two games, was hitless for the first time last Saturday (0-for-4) in the only game in which he was the lead-off hitter, but batted 2-for-3 with a double and run scored on Sunday (October 27) in a 7-0 shutout-win at Toros del Este.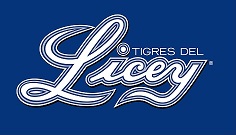 After having played in the first nine games of Licey, Profar is leading the league with a .469 (15-for-32) average, followed by teammate Yamaico Navarro, who hits .438. Profar also leads with 10 runs, sharing first place with Gregory Polanco of Leones del Escogido, 15 basehits and a .561 On Base Percentage. So far, Profar has hit three doubles and one homerun, walked eight times and has two runs batted in.
Jurickson Profar signed a professional contract with Texas Rangers on July 2, 2009 when he was only 16 years old. He then made his professional debut in 2010 playing in the Single-A Short Season-team of the Rangers. Profar then promoted to Single-A in 2011 and played in Double-A in 2012. But on September 2, 2012, when he was 19 years old, he made his debut in the Major League. He played at second base for the Rangers in an 8-3 win at Cleveland Indians. In the third inning, he led off with a homerun in his first-ever Major League at bat. Profar went on to play in nine big league-games in 2012.
This season, Profar played in 85 Major League-games for the Rangers, playing at 2nd base (32 games), 3rd base (10 games) and short stop (18 games). But he also was used as Designated Hitter and in the outfield. Profar, who is a switch-hitter, finished the season with a .234 batting average (67-for-286) with 11 doubles and six homeruns. He scored 30 runs and batted in 26.
In March of this year, Profar was added to the roster of the Netherlands National Team for the Final Round of the World Baseball Classic in San Francisco.
Also on the roster of Licey are Cuban pitchers José Ariel Contreras and Yunesky Maya. This season, the 41-year old Contreras pitched in seven Major League-games for Pittsburgh Pirates. The righthander pitches in the Majors since 2003. In the past, he participated in several international events with the successful Cuban National Team, including World Championships and Olympic Games. But he also participated in the Haarlem Baseball Week and World Port Tournament, the two leading internatinal tournaments in the Netherlands. Maya pitched in one game this season for Washington Nationals, where he also appeared on the mound in 2010 and 2011. So far, the two Cubans started two games for Licey and are both 0-1.
Tigers del Licey is currently in second place with a 6-3 record behind Águilas Cibaeñas, which is 7-1. Licey is the oldest and most successful professional baseball club in the Dominican Republic. The club was founded in 1907 and has captured a record 22 national titles and has won the Caribbean Series ten times.
(October 28)