FOX Sports to broadcast Major League in Europe!
Nederlands

NEW YORK, New York (USA) - FOX International Channels (FIC), a division of 21st Century FOX, on October 23 announced that it has signed an exclusive, multi-platform, long-term agreement with Major League Baseball International (MLBI) to televisie an abundance of live Major League Baseball-games in over 30 countries across Europe. Until August, European baseball-fans could follow MLB-games on ESPN America.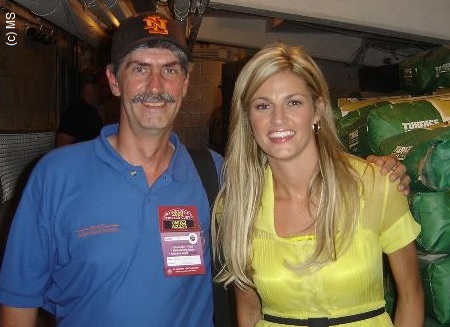 ...Grand Slam Editor Marco Stoovelaar with Erin Andrews...
...at the Chicago Cubs in 2008...
...Erin currently is the sideline-reporter for FOX...
...during the World Series between Boston and St. Louis...

The new deal began with the current World Series between the Boston Red Sox and St. Louis Cardinals. But the deal also grants FIC the rights to distribute all Major League-games, including the regular season, the All Star Game, Homerun Derby, plus Wild Card Play-Offs, as well as Division Series, League Championship Series and World Series. It also gives FIC rights to a number of classic MLB games, as well as ancillary programming from both MLB and FOX.

The games will be broadcast of FOX International Channels speciality channels, which FOX has been expanding in Europe. FOX Sports recently launched the channels in the Netherlands, Italy, Turkey and Cyprus.
,,The relationship with FOX International Channels allows us to expand our relationship with FOX and is an exciting development for our business in Europe'', said Paul Archey, the Senior Vice President of International Business Operations at Major League Baseball. ,,This deal exemplifies the growing popularity of baseball across Europe and will provide increased access to telecasts for our many passionate fans.''
FOX International Channels recently also signed similar agreements for international rights to the National Football League and Euroleague Basketball.
,,FIC's new partnership with Major League Baseball International underscores our strategy to build a premier sports rights portfolio that we can leverage across multiple territories on our different TV channels distributed in Europe'', said Diego Londoño, Chief Operating Officer of FOX Internatonal Channels Europe & Africa.
FOX International Channels now reaches over 71 million homes in Latin America, South East Asia, Japan and Europe.
(October 29)