Dutch Team opens World Port Tournament with win
Nederlands

ROTTERDAM (Neth.) - The Dutch Baseball Team opened the 14th edition of the World Port Tournament on Sunday-evening with a 7-2 win against Taiwan. In the afternoon, Cuba shutout Curaçao, 3-0.

Initially, the Dutch Team didn't play well in the first three innings. ,,But after that, we started to play well and turned the game around. And that gave us a good feeling'', Dutch Manager Steve Janssen said.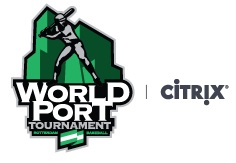 Defensively, the Dutch squad committed three errors in the first three at bats. In the opening inning, the Taiwanese lead-off hitter Ming-Jen Kuo reached on a throwing error by Dwayne Kemp, who played at 3rd base. That's an unfamiliar position for him, as he is normally playing at short. Moments later, Kuo was forced out on a grounder by Chun-Kai Liao, who then picked off by starting pitcher Diegomar Markwell. But then, short stop Stijn van der Meer made a throwing error on a following grounder, but that runner stranded.
For the Dutch Team Roelie Henrique led off with a walk, but then Van der Meer grounded into a double play.
In the third, Taiwan took a 2-0 lead on four basehits. Ming-Jen Kuo led off with a single, moved on a sac-bunt, then scored on a double by Wang-Wei Lin. The latter then advanced to third base on a failed pick-off by Markwell and scored on a following double by Po-Jung Wang.
Hereafter, the Dutch Team started to settle down, didn't add more errors, started scoring, turned the game around and went on to win. Taiwan added only three more basehits in the final six innings.
In the fourth inning, the Orange squad took a 3-2 lead. Stijn van der Meer and Danny Rombley began with singles, then Bryan Engelhardt tied the scored when he followed with a 2-run double. With one out, Dwayne Kemp singled, moving Engelhardt to third, who then scored on a sac-fly by rookie Gianison Boekhoudt, who was today's catcher in the line-up of Steve Janssen.
Two runs were added in the sixth inning. Bryan Engelhardt led off with a double and Vince Rooi singled, then a sac-fly by Dwayne Kemp made it 4-2. With two outs, the bases got loaded when Michael Duursma and Shaldimar Daantji walked. The fifth run was then scored when next batter Roelie Henrique also walked. But three runners stranded, as a strikeout ended the at bat.
In the seventh inning, the Dutch Team scored another run when Danny Rombley led off with a single and later scored on another sac-fly by Dwayne Kemp. The last run was scored in the eighth when Roelie Henrique walked with one out and scored on a wild pitch with two outs.
The Dutch Team meets Cuba on Monday-evening, starting at 7:30 PM.
(June 30)