Pioniers opens Urbanus Tournament with win
Nederlands

BUSSUM (Neth.) - Vaessen Pioniers opened 32nd edition of the annual In Memoriam Charles Urbanus Sr. Tournament in Bussum on Friday-evening with a 7-1 victory against host Mr. Cocker HCAW.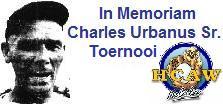 Pioniers, which a week ago won the annual Jan van de Vegte Memorial Tournament in Nijmegen, decided the game right away in the first inning with a 7-run rally. HCAW-starter Sander Helmendach then gave up six basehits. After lead-off hitter Zerzinho Croes grounded out, the next seven batters reached base safely. Mark Duursma, Dirk van 't Klooster and Danny Rombley all singled to bring in the first run. After Rombley had stolen second base, Vince Rooi walked, then, Mark-Jan Moorman followed with another RBI-single. The next run was then scored when Kevin Dirksen walked and veteran Dè Flanegin then connected for a 2-run double. After a strikeout, Zerzinho Croes singled in two more runs in his second at bat in the inning to make it 7-0.
In the next five innings of the 6-inning game, Pioniers added only three more basehits and was held scoreless by Helmendach and Bob Klaarenbeek, who took over the pitching in the third inning.
Sedley Karel, who last season pitched for HCAW, started for Pioniers. He gave up HCAW's lone run in the third inning. Max Clarijs led off with a walk, then moved on a single by Peter van Doesburg, but was forced out at third base on a grounder by Jasper Keijzer. A following sngle by Jimmy Froberg then accounted for the run.
(April 4)