Pirates wins twice on Day2 of Urbanus Tournament
Nederlands

BUSSUM (Neth.) - On Day 2 of the annual In Memoriam Charles Urbanus Sr. Tournament in Bussum, L&D Amsterdam Pirates won both games on Saturday and now leads the event. Amsterdam opened with a 6-1 win vs. Vaessen Pioniers, then shutout Corendon Kinheim 3-0 in the next game. Day 2 ended with a surprise 4-3 win of host Mr. Cocker HCAW vs. Kinheim. The event ends on Sunday.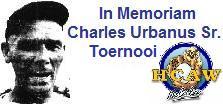 In the opener today, Rob Cordemans started for Pirates and gave up four hits in four innings. Rookie Daan Hendrix took over in the fifth and completed the game.
Amsterdam opened the score in the first inning off of starter Steven van Groningen. Roelie Henrique led off with a bunt-single, advanced on a sacrifice bunt by Michael Duursma and moved to third base on a single by Remco Draijer. Henrique then scored in a double-steal situation when Draijer took off from first base. Pioniers came alongside in its first at bat. Zerzinho Croes led off with a single, moved on a single by Dirk van 't Klooster and a force play-grounder by Danny Rombley and scored on a grounder by Vince Rooi.
After Pioniers left two runners in scoring position in the home of the second inning, Pirates re-took the lead in the third by scoring twice. Roelie Henrique led off with a walk, then stole second base with one out. Next, Remco Draijer also walked and the two then again executed a double-steal, which was followed by a throwing error, leading to a run. A sacrifice fly by Kenny Berkenbosch then made it 3-1.
Pirates added three runs in the fifth off of Van Groningen. With two outs, Michael Duursma singled and Remco Draijer walked, then Kenny Berkenbosch followed with a 3-run homerun.
In the next game against Kinheim, Amsterdam scored twice in the first inning off of David Bergman. Björn Hato led off with a single and Jesse Aussems followed with a bunt-single. With one out, Kenny Berkenbosch singled in a run, then a sacrifice fly by Bas de Jong made it 2-0.
The third run was scored in the sixth inning off of new pitcher Pim Walsma. Kenny Berkenbosch led off with a walk, advanced on a single by Bas de Jong and a throwing error, then scored on a double play-grounder by Rashid Gerard.
Amsterdam-starter Kevin Heijstek gave up only three hits in five innings, then Kyle Ward threw the final two innings.
In the final game of Day 2, Kinheim led 3-2 vs. HCAW, which then scored twice in the seventh and final inning of the game to win 4-3.
Kinheim opened the score in the first inning off of Robin Schel. René Cremer led off with a double, then scored on an one-out double by Quintin de Cuba.
HCAW came alongside in the second at bat off of Nick Veltkamp when lead-off batter Sergino Martis reached on an error and scored on a triple by Kevin Weijgertse.
Kinheim got back on top in de third inning when Quintin de Cuba homered with two outs, but again HCAW was ablet to tie the score in the fifth inning. Former Kinheim-player Roy Seltenrijch led off with a single, was awarded second base on a balk and stole third base. With one out, Peter van Doesburg then walked. Next batter Zerzinho Croes then flied out to rightfield, bringing in Seltenrijch, but it also led to an inning-ending double play, as Van Doesburg was also eliminated at first base.
Kinheim then took the lead for the third time in the sixth inning on an RBI-single by Mervin Gario off of new pitcher Maickel Rietel. But again, Kinheim was unable to hold the lead. Raymond Rutte became Kinheim's third pitcher in the seventh inning and ran into problems with two outs. He then walked Roy Seltenrijch, hit Bart Gabriels with a pitch and loaded the bases by also walking Peter van Doesburg. The tying run was then scored when next batter Linoy Croes also walked. Moments later, HCAW scored the go-ahead run when Rutte hit Jasper Keijzer.
(April 5)