Stadium Pioniers officially opened
Nederlands

HOOFDDORP (Neth.) - The stadium of Vaessen Pioniers in Hoofddorp was officially opened on Thursday-evening, April 10. With a push on a red button, at 5:58 PM, the scoreboard lit up with the word 'OPEN', then at exactly 6 PM, three ceremonial first pitches were thrown to open the beautiful complex.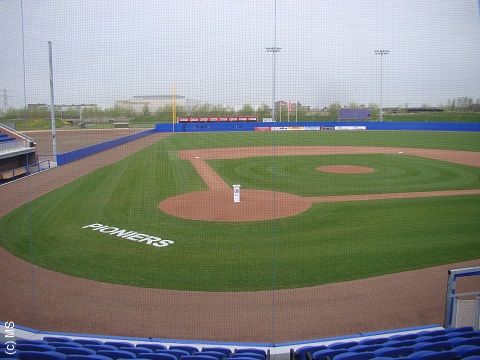 ...The new stadium in Hoofddorp...
(© Photo: Marco Stoovelaar)

When you enter the complex, you can only be in awe, as it really looks great. The stands are close to the field, which makes the stadium intimate. The dug-outs are huge, the locker rooms are spacious, as is the score/press box. Behind leftfield and rightfield, there are two big bullpens, as well as an indoor batting cage. Inside the stadium is a strength and conditioning room. Behind the stands is the general clubhouse, where spectators can but their refreshments and food. There is a meeting/press room, there is a souvenir shop. It appears they have thought of everything.

Before the official opening ceremony, there was a press conference. ,,This is a truly great and wonderful ballpark'', stated Jason Holowaty, the Director for Market Development in Europe, Middle East and Africa (EMEA) of Major League Baseball. ,,This is a Major League-calibre venue. It's hard to believe that a year ago when this was announced, there was nothing here.''

Holowaty announced that Major League Baseball will use the new complex in Hoofddorp for several events. ,,There will be try-out camps here starting next month, which will be visited by scouts. Also, we will have a pitching and hitting mini-camp in July.'' But there will also be a MLB Fall Academy Tournament on the site with participation of Academy-teams from the Netherlands, Italy, Germany, an European All Star Team and two more international teams. ,,This will be the first of its kind, a new event'', Holowaty stated. The tentative dates for the event are September 22 through October 5.

,,This is the result of what can happen when a club, a federation and local government join forces together. It can lead to something as beautiful as this stadium'', added Robert Eenhoorn, the Technical Director Baseball of the Royal Dutch Baseball and Softball Assocation (KNBSB). ,,It now will be a challenge of bringing Major League-games to the Netherlands'', the former National Team Manager continued.

Last year, it was announced that the municipalities of Haarlemmermeer (which includes Hoofddorp) and Amsterdam jointly want to organize the Amsterdam Series. In this series, two Major League-teams will play regular season games in Hoofddorp. Last month, the Major League-season opened with two games in Sydney (Australia). In the past, Major League-games were played in Japan, Puerto Rico and Mexico.

Eenhoorn: ,,This is a beautiful facility, which will have an enormous attraction force for the sports of baseball and softball. It will be very special for talent development. There is no accomodation in Europe that can be compared to this site. So, it is only logical that this will also be the practice facility for the Dutch National Baseball Teams, including an office, storage, etc.'' Besides the national baseball-teams, Basebal Academy Kennemerland also will use the facilities.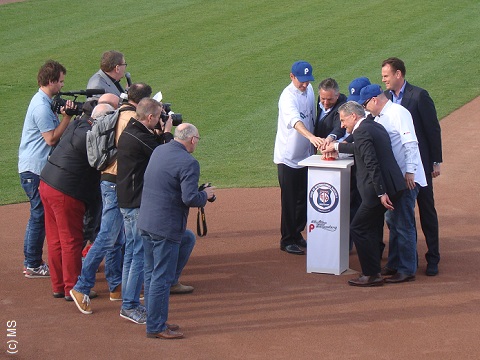 ...The red button is pushed to open the site...
(© Photo: Marco Stoovelaar)

Eenhoorn: ,,It is the ambition of bringing Major League-games to the Netherlands. We are in the final phase of talks right now. And we have good hopes that something special can happen here in July 2015.''

,,I want to congratulate everyone with this site. This is something we can be very proud of'', Eenhoorn concluded.

,,We are very happy with the events Major League Baseball wants to organize here this year'', club-president Ilja Schinkel said. ,,A year ago, the project started and I'm amazed at the quality of the facility. I'm very proud of the Foundation ETO, the club Pioniers and main sponsor Vaessen, and everyone else who contributed in the realisation of this complex. Our ambition it to grow the sport of baseball. We are heading into a bright future!''

Maurits Hendriks, Technical Director of the Netherlands Olympic Committee (NOC*NSF) and the Chef de Mission of the Netherlands Olympic Team during the Olympic Games of 2012 in London and Olympic Winter Games earlier this year in Sochi, also participated in the opening ceremony. ,,This is one of those initiatives which is good for Dutch sport. You can get inspired by this'', Hendriks said. ,,The role of the KNBSB was very exceptional. In it's vision for talent development, a model was created which didn't exist. And when you add the highest competition (Major League) in this, that's daring and phenomenal. And then holding onto that vision and continue with it. I surely hope baseball will return as an Olympic sport. An initiative as this can absolutely contribute to that. I want to congratulate everyone with this, to those who dared to start this initiative.''

Adam Elzakalai, Alderman of Sports for the Municipality of Haarlemmermeer, added: ,,This is a very special day for Haarlemmermeer. I feel like a pioneer myself. Daring to take a step a little further. The complex is part of Park21, we want to stimulate that it will be a location for people where they want to go to for recreational purposes. This marks a new beginning.''

The baseball- and softball-accomodation is part of the Sportcomplex Koning Willem-Alexander, which was officially opened a month ago by His Majesty King Willem-Alexander.

After the press conference and the speeches made by Maurits Hendriks and Adam Elzakalai, it was time to go to the field. There, emcee Hans Heil introduced the six persons, who were involved in the official opening ceremony. They were Jason Holowaty, Maurits Hendriks, Adam Elzakalai, Robert Eenhoorn, Maarten Broersen of Foundation ETO and Tom Haagmans, the Director of Building Company Vaessen, which constucted the site.

The six jointly pushed a red button, which lit up the scoreboard, which stated 'OPEN for serious baseball'. Holowaty, Hendriks and Elzakalai then threw out a ceremonial first pitch to complete the official opening of the complex.

Vaessen Pioniers will play its first official home game of the new season at the site on Sunday, April 20.

...Robert Eenhoorn is interviewed by Fox...

...The main stands...

...The spacious home dug-out...

...A look into one of the locker rooms...

...The view from rightfield...

...The home team bullpen...

...The overall complex in Hoofdddorp...
...is named after King Willem-Alexander...

...Robert Eenhoorn, Jason Holowaty and...
...Ilja Schinkel address the media...

...Pioniers Head Coach Robert Klaver shows...
...National Team Manager Steve Janssen around...

...Proud Pioniers coaches Robert Klaver (left)...
...and Peter Barentsen in their dug-out...

...The stadium is officially opened...



...Jason Holowaty, Adam Elzakalai and Maurits Hendriks...
...throw the ceremonial first pitches...

...Time to take some photos...

...The view from the scorebox...
(© All Photos: Marco Stoovelaar)
(April 10)