(Story by Marco Stoovelaar; Photo courtesy of New York Yankees)
IN MEMORIAM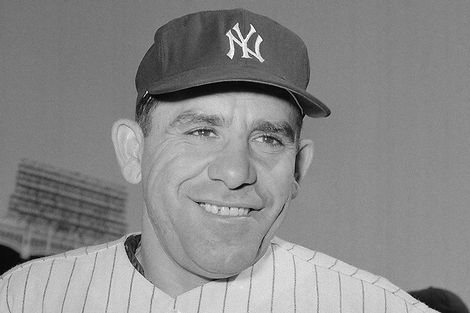 ...Yogi Berra...
(1925 - 2015)

Legendary Hall of Famer Yogi Berra passed away
Nederlands

WEST CALDWELL, New Jersey (USA) - The international baseball-world is in mourn, as it has lost one of its most iconic, legendary and beloved personalities. On Tuesday (September 22), wellknown former catcher and Hall of Famer Yogi Berra passed away at age 90. Berra was one of the most recognized and popular American sport figures.

Berra died on the same day as his Major League-debut 69 years before. On September 22, 1946, Yogi Bera made his debut in the big league, playing for the New York Yankees. It was the beginning of an impressive career.

As son of Italian immigrants, Lawrence Peter Berra was born on May 12, 1925 in St. Louis. He signed with the New York Yankees and made his professional debut in 1943 when he played for the Norfolk Tars, which was playing at the then-called Class B Minor League. His baseball career was then interrupted when he served in the US Navy during World War II. On June 6, 1944, he was serving on the USS Bayfield during the D-Day invasion of France. After World War II, Berra picked up his baseball-career and played in the AAA-team of the Yankees in 1946, the year in which he also made his Major League-debut.

Yogi Berra played in 18 seasons (1946-1963) for the Yankees, appearing in 2116 games. After seven games in 1946 and 83 in 1947, he became the regular catcher of the Yankees in 1948. With the Yankees, he collected 2148 basehits, including 358 homeruns. Berra batted in 1430 runs and scored 1174. While being a coach for the New York Mets in 1965, he played in four more games, hitting 2-for-9.

With the Yankees, Berra appeared in 14 World Series and won ten of them, both still records. He also set several other World Series-records, including games played, at bats, basehits, doubles, games caught and catcher putouts.

On October 8, 1956, Berra was the catcher when Don Larsen pitched the only Perfect Game in World Series-history. The Yankees won the game vs. the Brooklyn Dodgers, 2-0. Larsen is now the last living player who played in this game for either team.

During his impressive career, Berra was a 15-time All Star and was named American League Most Valuable Player in 1951, 1954 and 1955. In 1999, he was named to the Major League Baseball All-Century Team, as one of the two catchers, the other being Johnny Bench.

Berra was elected into the Hall of Fame in 1972, the same year in which his uniform number 8 was retired by the Yankees. Berra shares the number with Bill Dickey, who he succeeded as catcher and was his mentor.

Besides being a much-beloved and great player, Berra also was known for telling many anecdotes and had many, often funny, some confusing quotes, the so-called 'Yogiisms'. The most famous of that is of course ''It Ain't Over 'Till It's Over''. This quote has been used by many over the years and still is underscored in most games nowadays worldwide. It is said that his nickname Yogi was the inspiration for the namegiving of wellknown cartoon-character Yogi Bear.

Yogi Berra was a great lefthanded hitter, who covered all areas of the strike zone and had a wide plate coverage. He was known for being one of the best clutch-hitters, as he could turn bad pitches into runproducing hits. As a catcher, Berra was labeled as outstanding. He was quick, mobile, handled pitchers well and had a great throw. He was the first catcher to leave a finger outside his glove. On June 24, 1962, he caught an entire 22-inning, seven hour game against the Detroit Tigers when he was 37. The Yankees won the game, at Tiger Stadium, with a 9-7 score. There were 39 basehits in the game, including three by Berra, who was 3-for-10.

After the 1963 season, Berra retired and was named as the new Manager of the Yankees, succeeding Ralph Houk. The Yankees reached the World Series, but lost to the St. Louis Cardinals and Berra was fired. He then became a coach of the New York Mets, where he stayed for seven seasons. In 1972, Berra took over as Manager of the Mets, succeeding Gil Hodges, who had unexpectedly passed away during Spring Training.

During the 1973 season, the Mets were in last place and Berra then first used his famous quote to a reporter: ,,It ain't over 'till it's over''. The Mets went on to win the Eastern Division and captured the National League-championship, eliminating favorite Cincinnati Reds. In the World Series, the Mets lost to the Oakland A's.

In 1976-1983, Berra was a member of the coaching-staff of the New York Yankees, where he was then the Manager in 1984-1985. In 1977 and 1978, the Yankees won the World Series. He concluded his coaching career with the Houston Astros, where he was the Bench Coach in 1986-1989. In later years, he returned to the Yankees after an apology by Yankee-owner George Steinbrenner. Berra had returned as Yankee-Manager in 1985 with the promise that he would not be fired. However, Steinbrenner fired him after only 16 games, which led to a rift that lasted almost 15 years. After a personal apology by Steinbrenner, Berra returned to Yankee Stadium and also served frequently as guest-instructor, working with catchers, during Spring Training, which he kept doing so at a high age.

In 1998, the Yogi Berra Museum and Learning Center was opened. There, several items from Yogi, such as a glove and World Series-rings can be seen. Berra was a frequent visitor and it was his intention to teach children important values such as sportsmanship on an off the field. The stadium of the New Jersey Jackals, which plays in the Independent Can-Am League, is named after the famous catcher.

Berra's son Dale Berra also played in the Major League for the Pittsburgh Pirates, New York Yankees and Houston Astros. While playing for the Yankees, his father was the Manager.

With the passing of Yogi Berra, the (international) baseball-world has lost one of its most beloved persons.

(September 23)