L&D Amsterdam Pirates vs. Curaçao Neptunus
Like on Friday-evening, Neptunus again took an early comfortable lead, scoring four runs in the first two innings. On Friday, the team was able to score some additional runs in the remainder of the game, but today, the squad was held scoreless from the third inning on. From the fourth at bat on, Amsterdam Pirates started to come back and narrowed the deficit to 4-2. A crucial moment followed in the fifth inning, when an Amsterdam-run was annuled due to a time-out. In the next at bat, a homerun made it 4-3 and that was to be the final score.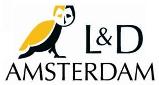 Neptunus opened the score with one run in the top of the first inning off of Rob Cordemans. With one out, the veteran righthander hit Randolph Oduber with a pitch, then gave up a 2-out single to Gianison Boekhoudt. Dwayne Kemp followed with a single down the rightfield-line that gave Neptunus an early lead.
Like on Friday-evening, Neptunus added three runs in the second at bat. The bases got loaded quickly when Daniel Fernandes, Benjamin Dille and Shaldimar Daantji (bunt) all singled. Fernandes then scored on a grounder by Christian Diaz and two more runs were added when Randolph Oduber followed with a 2-run single that lifted the lead to 4-0.
That was to be it for Neptunus today, as it was held scoreless in the remainder of the game by the Amsterdam-pitching. After leaving two runners behind in the third inning, Neptunus reached base only four more times in the last six at bats, gettting into scoring position only once.
On the other hand, Amsterdam started to get back into the game and narrowed the deficit. It might even have come alongside when a crucial moment in the fifth hadn't happen.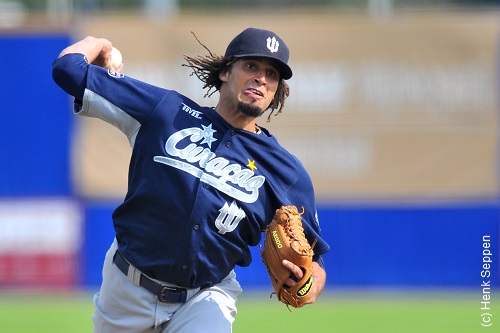 ...Winning pitcher Orlando Yntema...
(© Photo: Henk Seppen)

Trailing 1-0, Amsterdam got into scoring position in the bottom of the first inning. With two outs, Nick Urbanus singled and Gilmer Lampe walked, but they were left behind.

With a 4-0 lead in the top of the third inning, Neptunus got a chance to add another run. Dwayne Kemp led off with a double, then Daniel Fernandes walked with one out. But the next two batters were eliminated, including short stop Michael Duursma catching a line drive by Shaldimar Daantji. Neptunus was retired in order in the fourth inning.

Amsterdam Pirates was retired in order in the second and third inning, but came back from the fourth inning off of Neptunus-starter Orlando Yntema. From this inning on, the righthander started to encounter some problems and gave up three runs, which could have been four.

In the bottom of the fourth inning, Nick Urbanus led off with a walk and moved to third base on a sacrifice bunt by Gilmer Lampe and a grounder by Kenny Berkenbosch. He then scored on a single by Danny Rombley to make it a 4-1 score. Next batter Linoy Croes also singled to put runners at the corners. Moments later, Croes stole second base, but then Rashid Gerard grounded out to end the inning.

Like on Friday-evening, the bottom of the fifth inning was very crucial for Amsterdam Pirates. On Friday, trailing 4-2, Michael Duursma was initially waved home, then stopped, but continued running trying to score on a double, resulting in him being eliminated. Today, Amsterdam did score a run, but that was annulled. Max Clarijs led off with a single and Remco Draijer walked. They moved into scoring position on a sacrifice bunt by Michael Duursma, then Nick Urbanus delivered a runscoring single to narrow the deficit to 4-2. The basehit by Urbanus brought Draijer to third base. With that, Amsterdam had runners on first and third base with only one out and trailing 4-2. With Gilmer Lampe in the batter's box, a double-steal situation followed. Pitcher Orlando Yntema made a pick-off at first base, while Urbanus went to second base and at the same time, Draijer took off towards the plate. The ball was thrown back to the plate, but Draijer was in time and scored, as the ball was not under control. However, the run was annulled and the runners were send back to their respective bases, as a time-out had been called! While Yntema was ready to pitch, Lampe asked for a time-out, which was granted by Home Plate Umpire Henri van Heijningen at the same moment that Yntema stepped off and threw the ball to first base. Moments later, Yntema struckout Lampe and next batter Kenny Berkenbosch flied out in what could have been a productive at bat for Amsterdam.

In the top of the sixth inning, Neptunus got into scoring position for the last time in this game. Benjamin Dille led off with a single, advanced on a sacrifice bunt by Shaldimar Daantji and moved to third base when Christian Diaz flied out. With two outs, Randolph Oduber walked and that led to a pitching change. Rob Cordemans was relieved by Tom de Blok, who got Raily Legito to hit a grounder and end the at bat.

In the bottom of the sixth, with one out, Linoy Croes homered for Amsterdam off of Orlando Yntema to narrow the deficit to 4-3.

In the top of the seventh, Gianison Boekhoudt led off for Neptunus with a single. With one out, he was eliminated in a double play when short stop Michael Duursma made a nice catch on a line drive by Dashenko Ricardo. Boekhoudt was the last Neptunian player to reach base, as Tom de Blok retired the side in the final two innings.

Pirates got one final chance in the seventh inning. With two outs, Nick Urbanus walked, which marked the end for Yntema. Berry van Driel took over, saw Urbanus steal second base and walked Gilmer Lampe. But the latter was then forced out on a grounder by Kenny Berkenbosch that ended the inning.

Van Driel then retired the side in the eighth inning, as did closer Loek van Mil in the ninth to end the game. The game ended with a nice diving catch by centerfielder Shaldimar Daantji on a line drive by Michael Duursma.

With that, Neptunus is one victory away from its 17th championship in club-history. When Amsterdam Pirates wins Game 5 on Sunday, the Series continues next Saturday in Rotterdam.