L&D Amsterdam Pirates vs. Curaçao Neptunus
The spectators of the very-well attended Monday-evening game have witnessed an attractive match-up in which both teams made no errors. There was solid pitching and some nice defensive plays and just attractive baseball!

However, without doing anyone short, it was Kyle Ward, who played a major part in tonight's game. The lefthanded starter of Amsterdam Pirates threw seven strong innings, gave up only five basehits and allowed only one runner of Neptunus reach second base while he was on the mound. He was credited with the run Neptunus scored, but that happened after he had left mound in the eighth inning.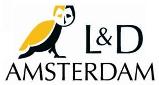 As was done in the previous two games in Amsterdam, there was another ceremonial first pitch tonight. In fact, there were two, as Sascha Egas and Isabelle Markies were given the honor to do so and threw their pitches to catchers Dashenko Ricardo (Neptunus) and Rashid Gerard (Pirates). Last month, the two participated with the Netherlands National Women Baseball Team in the World Championship in South Korea. There, the team won three games.
Kyle Ward retired the side in the first inning, then gave up a lead-off single to Gianison Boekhoudt in the second inning. He moved to second base on a sacrifice bunt by Dwayne Kemp, but then stranded. The next time that a Neptunian runner reached second base again was in the eighth inning.
In the third inning, Ward again gave up a lead-off single, this time to Benjamin Dille, but then three flyouts followed.
In the meantime, Amsterdam Pirates had a productive first at bat off of Belgian starter Kenny Van Den Branden, but failed to open the score. Remco Draijer led off with a single down the rightfield-line, then stole second base with one out. Nick Urbanus then walked and Linoy Croes was hit by a pitch to load the bases. But the inning ended when next batter Kenny Berkenbosch grounded into a double play.
Van Den Branden retired the side in the next two innings, but gave up the first run in the game in the fourth. With one out, Linoy Croes drilled the ball into right-centerfield for a double, then advanced when Kenny Berkenbosch followed with a single. Danny Rombley followed with another single to give Amsterdam an 1-0 lead, but two runners were left behind.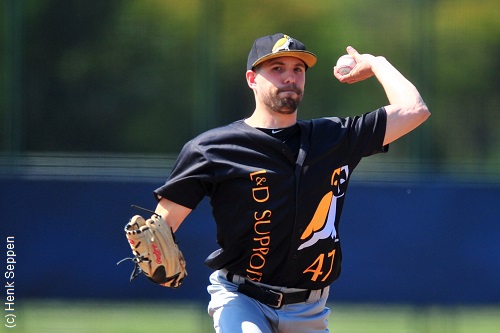 ...Winning pitcher Kyle Ward...
...seven strong innings...
(© Photo: Henk Seppen)

After Ward had retired the side in the fourth inning, a great defensive play followed in the fifth. Dashenko Ricardo led off for Neptunus with a single, but then was forced out on second base moments later. Rien Vernooij bunted the ball up in the air and while it wasn't an easy play, the ball appeared to be caught by Kyle Ward. However, he touched, but missed catching the ball, which dropped on the grass, then was picked up by catcher Max Clarijs, who forced out Ricardo on second base. Hereafter, Benjamin Dille hit the ball into rightfield where Danny Rombley made a nice catch and was able to double up Vernooij on a close, but correct call at first base to end the inning.

In the bottom of the fifth, Amsterdam got its lead-off hitter on base, as Michael Duursma was hit by a pitch. But moments later, he also was forced out on second base on a bunt-attempt, as Kenny Van Den Branden made a nice play on a bunt by Remco Draijer. Next batter Gilmer Lampe singled to give Amsterdam another runner in scoring position, but two runners were left behind.

In the top of the sixth, when Ward retired the side for the third time, Amsterdam short stop Michael Duursma made a great defensive play on a hard grounder by Christian Diaz. Van Den Branden also retired the side for the third time in his sixth inning.

In the seventh inning, Gianison Boekhoudt singled for Neptunus with one out, but the Amsterdam-defense then turned a double play.

In the bottom of the seventh, off of new pitcher Berry van Driel, Amsterdam got another chance of adding a run. With one out, Michael Duursma singled and Remco Draijer walked, but both were left behind. With that, Amsterdam had left eight runners behind, five of whom were in scoring position. Despite that and despite leading only 1-0, the Amsterdam-defense prevented Neptunus from getting into scoring position in the first seven innings (except for the second inning). But that changed in the eighth.

Dashenko Ricardo led off with a single, then was replaced by pinch-runner Urving Kemp. It also marked the end for Ward, who got a nice hand of applause when he left the mound. Closer Tom de Blok took over and saw Kemp advance on a sacrifice bunt by Rien Vernooij, then hit next batter Benjamin Dille with a pitch. A foul-fly accounted for the second out, then Christian Diaz delivered an opposite single into leftfield. Kemp raced home from second base to score the tying run, while the throw came in from leftfield. The other two runners also advance and with that, Neptunus had runners on second and third base with two outs with a chance to take the lead. Next batter Randolph Oduber then had a strong at bat, fouling off nine pitches! With a 2-2 count, he fouled seven consecutive pitches, but then finally grounded out on the 13th pitch to end the inning, but the game was now tied at 1-1.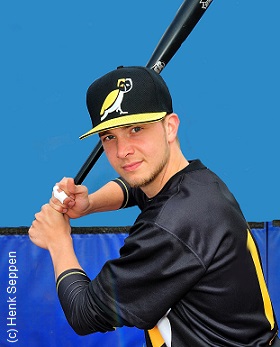 ...Max Clarijs...
...Game-winning, walk-off infield-hit...
(© Photo: Henk Seppen)

In the bottom of the eighth, closer Loek van Mil took over the pitching for Neptunus. He retired the first two batters, then gave up a single to Danny Rombley, but he was forced out.

De Blok then retired the side in the top of the ninth, which ended with a great play by second baseman Nick Urbanus on a hard grounder by Dwayne Kemp. Shortly before that, catcher Gianison Boekhoudt was called out on strikes and was ejected for his reaction on the third called strike by Home Plate Umpire Stenar van Groningen Schinkel. As Neptunus already had replaced its other catcher Dashenko Ricardo earlier, Daniel Fernandes (who mostly plays in the outfield) took over behind the plate in the bottom of the ninth. As Pirates left a runner behind in that at bat, the game went into extra innings.

In the top of the tenth, there was a crucial moment for Neptunus. With two outs, De Blok gave up singles to Benjamin Dille and Shaldimar Daantji to put runners on first and second base. Hereafter, Christian Diaz singled up the middle for an infield-hit. Dille was waved home to score, but ended up well too short. In the meantime, Nick Urbanus had picked up the ball and threw it to catcher Max Clarijs. Dille got into a rundown and was tagged out by third baseman Rashid Gerard to end the inning.

In the bottom of the tenth, Van Mil got the bases loaded with one out. Linoy Croes and Kenny Berkenbosch both singled and advanced on a passed ball. To set up a force play, next batter Danny Rombley was walked intentionally, but that also could have ended the game, as two of the pitches were close to the strike zone and appear to be hittable. With the bases loaded, Van Mil struckout Rashid Gerard and then faced Max Clarijs. He hit a hard grounder through the middle, where short stop Dwayne Kemp made a nice diving stop and tossed the ball in an ordinary effort to second baseman Benjamin Dille in an attempt to force out Rombley, resulting in a close call. However, as the Belgian infielder had to step towards the ball, he was off the base when he received it. 2B Umpire Winfried Berkvens made the right call by ruling Rombley safe, which led to several arguments from Neptunus-players and coaches. Clarijs was credited with an walk-off, infield-hit and Croes scored the winning run!

With that, Pirates won 2-1 to force a sixth game, meaning the Holland Series continues coming Saturday!