(Story by Marco Stoovelaar; Photos by Alfred Cop, Henk Seppen & Marco Stoovelaar)

Longtime baseball-coach Louis Hofer passed away
Nederlands



ZAANDIJK (Neth.) - Longtime baseball-coach Louis Hofer has passed away early Wednesday-morning, March 9 at age 69. While Hofer had health problems in the last few years, his passing came unexpectedly.

The memorial service will be held on Tuesday, March 15 at 11:30 AM in Crematorium Zaanstad of PC Hooft Uitvaartverzorging, which is located at the Wibautstraat 282 in Zaandam-Zuid.

Aloysius (Louis) Hofer was born on January 19, 1947. He had an association of more than thirty years with Amsterdam Pirates, where he had been active as Head Coach and Assistant Coach. But through the years, he also coached at De Spartaan, Odiz Frogs, OVVO, Amstel Tijgers, Boekaniers and Kinheim. He retired as a coach after the 2009 season, which ended one of the longest coaching careers in Dutch big league-history.

Louis Hofer always had a very sympathetic and happy character. Either on the field, in the dug-out, in the clubhouse, or just outside the field. He always had a big smile on his face and always made jokes. Also during a game. But he knew coaching. When the game was on the line, when decisions had to be made or when a call needed to be disputed with an umpire, Louis was there, defending his players and his team.

Before starting a coaching career, Louis Hofer played baseball for Odiz Frogs in Zaandam and then Amsterdam-based De Spartaan.

In 1962, at age 15, he made his debut in the main squad of Odiz Frogs, which then played in the Third Division. Hofer, who was a catcher and third baseman, played for the team through 1970 and promoted with Odiz Frogs to the Second Division in 1965.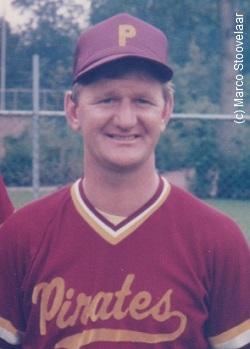 ...Louis Hofer in his second...
...year as Head Coach of...
...Amsterdam Pirates in 1985...
(© Photo: Marco Stoovelaar)

After the 1970 season, Louis transfered to De Spartaan, with whom he initially also played in the Second Division. In 1974, the Amsterdam-squad promoted to the First Division, which then was the second highest league in Dutch baseball. Hofer kept on playing for De Spartaan for six more years and retired as a player after the 1980 season in which De Spartaan celebrated promotion to the Dutch big league.

When De Spartaan first played at the highest level in 1981, Louis Hofer made his coaching-debut, as he was the Assistant Coach of Gerard Stenzler, the longtime Head Coach of the Amsterdam-club. It was the beginning of a long career as coach. Through the years, Louis acted as both Head Coach and Assistant Coach, working for different clubs.

1981 was his lone year as coach with De Spartaan. Hereafter, he was the Head Coach of Odiz Frogs in the First Division. In 1983, he returned to the big league when he was named Assistant Coach of Bart Seidel with Amsterdam Pirates. After that season, he took over as Head Coach and led Pirates for two seasons (1984-1985), finishing in fourth and third place respectively.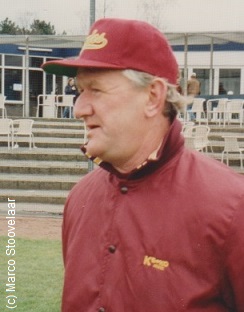 ...Louis Hofer back with...
...Pirates in 1994...
(© Photo: Marco Stoovelaar)

In the next four years, Hofer coached with four different clubs. He first returned as Head Coach to Odiz Frogs. Hereafter, two years followed in which he didn't complete the season. In 1987, he started as Head Coach of OVVO and in 1988, he initially was the Head Coach of big league-team Amstel Tijgers. In both years, he was replaced in mid-season.

Hofer then returned to Amsterdam Pirates, with whom he always has had a special connection. First, he became the Head Coach of Boekaniers, which was then an independent club, but was part of the Pirates-organization.

In 1990, for the second time, Louis became an Assistant Coach with the big league-squad of Amsterdam Pirates, joining Hans Jansen and with Ted Arnold as Head Coach. It was a successful season, as Pirates captured the Dutch Championship-title after sweeping Neptunus in the Holland Series. In this season, American powerhitter Scott Khoury set a single-season, big league-record with 71 runs batted in. Hofer held the position for three seasons, assisting Ted Arnold, whom he then succeeded after the 1992 season to start a second stint as Head Coach of the Amsterdam-club. After leading Pirates in 1993 and 1994, Hofer stepped down, then led a youth-team of the club in 1995 and was one of coaches of the Bucs (the former Boekaniers) in the following two seasons. In these years, he also worked together with Chicho Jesurun, who in this period was one of the coaches of the main-squad of Pirates.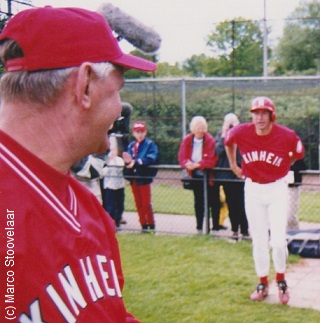 ...Louis Hofer jokes with Marcel Joost...
...who had just become the first player...
...in history with 1,000 basehits...
...during the 1999 season with Kinheim...
(© Photo: Marco Stoovelaar)

After a sabbatical year, Hofer made another return to coaching in the big league, this time being the Assistant Coach of Bernie Beckman at Kinheim in Haarlem in 1999. It was in that season that Marcel Joost became the first player in Dutch history to register 1,000 career-basehits. Joost later became an Assistant Coach of Kinheim himself. At Kinheim, Hofer was Beckman's assistant for four years. In that same period, he was reunited with his former coach Gerard Stenzler, who then was the General Manager of the Kinheim-club. After the 2002 season, Hofer succeeded Beckman as Head Coach. In the following season, he returned to an assisting role, becoming the 3B Coach when Dave Daniels became the new Head Coach of Kinheim in 2004. He initially held the same position in 2005, but took over as Head Coach again in mid-season.

Hereafter, Louis Hofer returned to Amsterdam Pirates for a third period as Head Coach there, leading the team in 2006 and 2007. After completion of the 2007 season, he initially retired. However, Louis simply loved coaching and being on the field, so after a non-coaching year in 2008, he came back for another season with Pirates. He then joined the staff of Head Coach Rikkert Faneyte and was his 1B Coach in 2009, which was to be his final active season as coach. In the final years of his coaching career, Hofer was bothered by back-problems and that eventually led to his definitive retirement.

When he stepped down as coach in 2009, it ended a coaching-career that lasted 27 years. In that span, Louis Hofer coached 21 years in the Dutch big league, which is one of the longest careers at the highest level. In nine big league-seasons, he was a Head Coach. The teams, with whom he was associated either as Head Coach or Assistant Coach, reached the Play-Offs ten times. Besides that, Hofer became one of only a handful of coaches to have been a Head Coach in the Dutch big league in three different decades.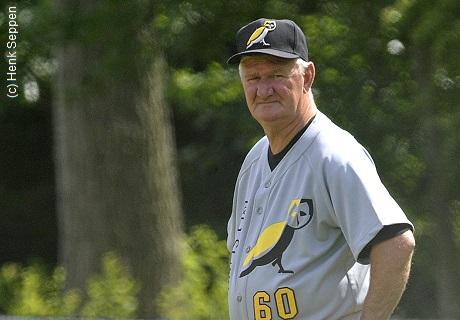 ...Louis Hofer coaching in his final season in 2009...
...being the 1B Coach of L&D Amsterdam Pirates...
(© Photo: Henk Seppen)

Both his sons played in the Dutch big league and like their father were associated with Amsterdam Pirates and Kinheim. Mike Hofer played for HCAW, Amsterdam Pirates, RCH and Kinheim as a pitcher. Raymond Hofer, who mostly was used as short stop, played for Amsterdam Pirates, HCAW, Hoofddorp Pioniers and Kinheim. In 1993 and 1994, Raymond played professionally at the Rookie League-level in the organization of the Atlanta Braves. Both have played in the Netherlands Junior Team, while Raymond also played for the Netherlands National Team.

After he had retired as coach, Louis Hofer remained a frequent visitor of the ballparks and mostly visited games of Amsterdam Pirates, Kinheim and Hoofddorp Pioniers. Unfortunately, he suffered from health problems the last few years, but nevertheless, Louis came as much as possible to the field of his beloved Pirates.

With the passing of Louis Hofer, all mentioned clubs, but especially Amsterdam Pirates, Kinheim and Odiz Frogs have lost someone very special. We have lost a friend and we will miss his smile, his humour and his presence.

The webmaster of Grand Slam * Stats & News offers his condolences to Louis' wife Wil, his sons Mike and Raymond and other family-members and wishes them a lot of strength with this big loss.

(March 10)