Curaçao Neptunus vs. L&D Amsterdam Pirates
Did Neptunus open the score in the opener on Saturday with three runs in the first inning, Amsterdam Pirates opened the score today with two runs in the first at bat. But Neptunus answered with four runs, enlarged its lead, but had to put in some extra effort in the end when Amsterdam rallied in the eighth to secure its lead.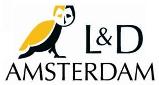 In the top of the first inning, Neptunian pitcher Orlando Yntema had a tough start. The righthander gave up a lead-off single to Remco Draijer, who then stole second base. With one out, he walked Nick Urbanus, then uncorked a wild pitch that moved the runners to second and third base. They then scored when Gilmer Lampe followed with a 2-run single. An error on a grounder by Kenny Berkenbosch led to another runner, but then two runners were left behind.
In the bottom of the first inning, Neptunus reacted with four runs, as Amsterdam-starter Robin Schel was unable to find the strike-zone. First, the lefthander gave up singles to Christian Diaz and Randolph Oduber. They moved on a wild pitch, then the bases got loaded when Raily Legito walked. Hereafter, Neptunus came alongside when Gianison Boekhoudt also walked and Dwayne Kemp added a sacrifice fly. Neptunus re-loaded the bases when Dashenko Ricardo also walked, then took the lead when Schel issued his fourth walk in the at bat, this time to Rien Vernooij. That led to an early departure of Schel, who was relieved by Dennis Burgersdijk. He gave up a sacrifice fly to Benjamin Dille that made it 4-2, but then closed the at bat by striking out Shaldimar Daantji.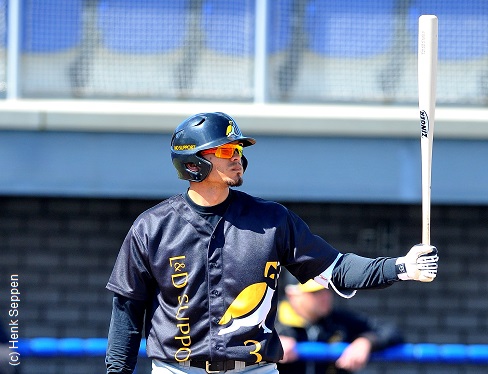 ...Gilmer Lampe...
...2-run single, 3 RBI's...
(© Photo: Henk Seppen)

Burgersdijk then gave up two more runs in the second inning. Christian Diaz and Randolph Oduber again began the at bat with singles, leading to runners on second and third base. They respectively went on to score on a grounder by Raily Legito and a single by Dwayne Kemp, who himself was eliminated after overrunning the base. That ended the inning, but in the meantime, Oduber had scored to make it a 6-2 score.

In the top of the third inning, Nick Urbanus singled for Amsterdam with two outs, but was then eliminated in a double play.

In the bottom of the third, Amsterdam lost pitcher Dennis Burgersdijk, as he was hit on his hand by a comeback line drive by lead-off hitter Dashenko Ricardo. A 7-minute injury delay followed, as Burgersdijk was treated, but he had to leave the game. After the game, it was reported that he was his on the right thumb of his pitching arm. While it was somewhat swollen, no fractures were diagnosed. Burgersdijk threw the last (twelfth) inning of the marathon on Saturday and today entered the game in the first inning. For the upcoming series of three games in Amsterdam, he was considered to be one of the starting pitchers for Pirates.

It was the second serious injury to a Pirates-player in two days. On Saturday, Jesse Aussems entered the game in the bottom of the ninth inning as third baseman. Shortly thereafter, he slipped while trying to come behind a batted ball hit (also) by Dashenko Ricardo, who reached on a basehit. Aussems had to be supported off the field and it was announced after today's game, he might have suffered a severe hamstring-injury. When that indeed is the case, he will be sidelined for several weeks. In the Final of the European Champions Cup early June, Pirates lost starting pitcher Kevin Heijstek for the season with a severe hamstring-injury. In following weeks, Burgersdijk and lefthanded pitcher Kyle Ward were sidelined fo awhile with injuries, while veteran Rob Cordemans had been sidelined since the start of the season. Before the international break at the end of August, Cordemans returned to the mound, while Burgersdijk and Ward also had recovered.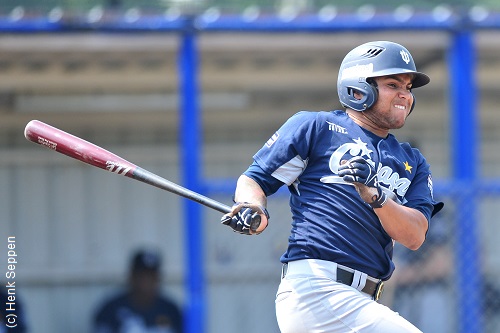 ...Christian Diaz...
...3 hits, double, 2 runs, 1 RBI...
(© Photo: Henk Seppen)

After the exit of Burgersdijk, Pim Walsma was brought in, who was given enough time to warmup, which is the ruling in case of an injury-replacement. Walsma began by striking out Rien Vernooij, then gave up singles by Benjamin Dille and Shaldimar Daantji, but a double play ended the inning. The righthander retired the side in the fourth, but gave up two more runs to Neptunus in the fifth. With two outs, Rien Vernooij walked and Benjamin Dille singled and they went on to score when Shaldimar Daantji reached on an error and Christian Diaz followed with a runscoring double to lift the lead to 8-2.

But from the sixth inning on, Neptunus was held scoreless, while Amsterdam started to come back again.

Amsterdam stranded a runner on first base in the fourth and sixth inning off of Orlando Yntema, who retired the side in the fifth and seventh inning.

In the top of the eighth inning, Kevin Kelly took over from Yntema. He was greeted with a lead-off double by Remco Draijer, who reached third base safely, beating the throw from Kelly on a fielder's choice-grounder by Michael Duursma. With runners at the corners, Nick Urbanus lined out, then Duursma was forced out on a grounder by Gilmer Lampe, but that also brought in a run. Kenny Berkenbosch followed with an RBI-double and another run was scored when an error was made on a grounder by Danny Rombley to narrow the deficit to 8-5. That led to a pitching change. Berry van Driel took over and saw Linoy Croes flyout to end the inning.

Van Driel also threw the ninth inning for Neptunus. He then hit lead-off hitter Rashid Gerard with a pitch, but followed with two strikeouts. Gerard then stole second base, but stranded there, as a flyout by Michael Duursma ended the game.

And with that, Neptunus won to even the Holland Series at 1-1.
Next game, Thursday-evening in Amsterdam, starting at 7:30 PM.