L&D Amsterdam Pirates vs. Curaçao Neptunus
Before tonight's game, the ceremonial first pitch was thrown by Steve Janssen, the Manager of the Netherlands National Baseball Team, which captured the European Championship-title on September 18.

Tonight's game started with two lefthanders. Diegomar Markwell was the announced starter for Neptunus, while Robin Schel took the mound for Amsterdam Pirates. The starting pitchers of Pirates were not announced in advance, due to the recovery of pitchers who have been injured in recent weeks. Besides that, righthander Dennis Burgersdijk was hit on his right-thumb by a comebacker last Sunday. Burgersdijk might have been the scheduled starter for tonight, but that was not confirmed. Markwell started the opener last Saturday, which was decided in ten innings. Schel was the starter for Amsterdam in Game 2, which was played last Sunday, but he then pitched only 1/3 inning in which he walked four batters and gave up four runs.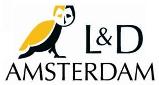 Tonight, Schel gave up four runs in the first two innings. Both times, Neptunus scored with two outs.
In the first at bat, Randolph Oduber reached on an infield-hit with one out, then scored on a 2-out double by Gianison Boekhoudt.
In the second inning, Neptunus added three runs with two outs. First, Dashenko Ricardo led off with a single. Schel then followed with a strikeout and Benjamin Dille lined out to third baseman Rashid Gerard. But hereafter, Shaldimar Daantji tripled to bring in the second run. Two unearned runs were scored hereafter. Daantji scored when an error was made on a grounder by Christian Diaz, who then scored when Randolph Oduber followed with a double to increase the lead to 4-0.
Hereafter, Schel recovered. He closed the second inning by striking out Raily Legito, then began the third at bat by striking out Gianison Boekhoudt. With two outs, the lefthander gave up a double to Dashenko Ricardo, but he was left behind. In the fourth, Shaldimar Daantji singled with one out, but then two grounders followed. Schel then retired the side in the fifth inning.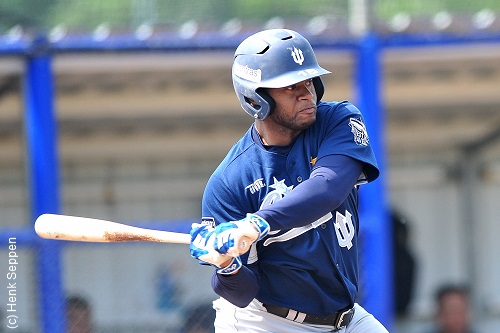 ...Dashenko Ricardo...
...4 hits, 2 doubles, 2 runs scored...
(© Photo: Henk Seppen)

While trailing 4-0, Amsterdam Pirates became productive off of Diegomar Markwell, who struggled somewhat after the second inning. The lefthander retired the side in the first inning, then was helped somewhat in the next at bat. With one out, Kenny Berkenbosch singled. Moments later, it appeared that a pop-fly by next batter Danny Rombley was to drop in short rightfield for a basehit. However, second baseman Benjamin Dille was able to catch the ball, then eliminated Berkenbosch in a double play.

In the third inning, Amsterdam Pirates got into scoring position for the first time. With one out, Rashid Gerard singled, then Remco Draijer walked, but the two runners were left behind.

In the bottom of the fourth, Pirates scored its first run. Nick Urbanus led off with a double off Markwell, who then retired the next two batters, including striking out Gilmer Lampe. Urbanus advanced to third base on a grounder by Kenny Berkenbosch. Next batter Danny Rombley walked with ball-four ending in a passed ball, enabling Urbanus to score. Hereafter, Linoy Croes singled, but Amsterdam again stranded two runners.

In the fifth, the home team scored another run, but that might have been more, as there came another scoring opportunity. Max Clarijs led off with a walk, then moved to third base on a single by Remco Draijer. Clarijs then scored while Draijer was forced out on a grounder by Michael Duursma. Hereafter, trailing 4-2, Nick Urbanus doubled into right-centerfield and then a crucial moment in the game followed. Duursma advanced to third base, was initially waved home, then was stopped, but might not have been able to turn around and continued running. He ended up short, as he was eliminated by catcher Gianison Boekhoudt on the relay-throw from the outfield. Amsterdam could have had runners on second and third base with only one out in this situation with powerhitter Gilmer Lampe being the next hitter, who batted .366 with runners in scoring position in the regular season. Instead, there now were two outs with a runner on second base and he was left behind, as Lampe grounded out.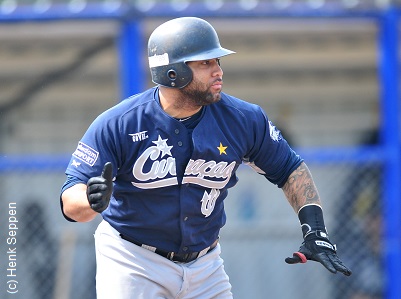 ...Gianison Boekhoudt...
...2 hits, double, homerun, 2 RBI's, one run scored...
(© Photo: Henk Seppen)

Neptunus reacted by adding a run in the top of the sixth off of Schel. Dashenko Ricardo led off with a double and Rien Vernooij singled, resulting in runners at the corners. Daan Hendrix then took over the pitching for Amsterdam, but saw Ricardo score on a sacrifice bunt/squeeze by Benjamin Dille that made it 5-2.

Amsterdam got another scoring opportunity in the bottom of the sixth. With one out, Danny Rombley and Linoy Croes both singled. Hereafter, Neptunus also went to the bullpen, as Berry van Driel was brought in. The righthander got a grounder from Rashid Gerard, which almost was misplayed, but ended in a groundout that moved the two runners to second and third base. A grounder then ended the inning and with that, again two runners were left behind.

In the top of the seventh, it was Neptunus that stranded two runners. With two outs, Dwayne Kemp and Dashenko Ricardo singled, but hereafter, Daan Hendrix closed by striking out Rien Vernooij.

After Van Driel retired the side in the bottom of the eighth, Neptunus again stranded two runners in the next at bat. This time, Christian Diaz and Randolph Oduber singled with two outs, but were left behind.

Amsterdam narrowed the deficit to 5-3 in the bottom of the eighth when Gilmer Lampe led off with a homerun into deep leftfield off of new pitcher Kevin Kelly. The righthander then got three grounders from the next three batters.

Neptunus then decided the game by adding two more runs in the top of the ninth. In this at bat, it was Gianison Boekhoudt, who led off with a homerun off a new pitcher, as Pim Walsma started the inning in relief of Hendrix. Hereafter, Dwayne Kemp walked, stole second base and advanced on a foul-fly. Walsma then also walked Rien Vernooij with ball-four ending in a wild pitch, enabling Kemp to score and make it a 7-3 score. Next batter Benjamin Dille was hit by a pitch, which put runners on first and second base. Hereafter, Shaldimar Daantji was ruled out on an infield-fly, which was not caught, but but an infield-hit by Christian Diaz then loaded the bases. The three runners were left behind, as a grounder ended the at bat, but Neptunus had added two important insurance runs.

The 7-3 lead was enough for Neptunus. Closer Loek van Mil was inserted in the bottom of the ninth inning and he retired the side. The righthander began with two strikeouts, then the game ended when Remco Draijer lined out to second baseman Benjamin Dille.