(Story by Marco Stoovelaar; Photo by Alswinn Kieboom)





Kieboom starts for Washington; Lithuanian pitches for Pittsburgh
Nederlands





FORT MYERS / LAKELAND / TAMPA, Florida (USA) - Spencer Kieboom got a spot in the starting line-up of Washington Nationals on Wednesday (March 1) in the game against Detroit Tigers. Kieboom was the designated hitter and was 1-for-2, scored a run and also had one run batted in. In the evening, Ray-Patrick Didder played in his third game for Atlanta Braves. Against New York Yankees, Didder entered the game as pinch-hitter in the top of the eighth inning. He struckout and stayed in the game as the new leftfielder.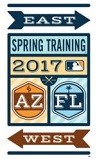 On Tuesday, Ray-Patrick Didder (no at bats) also played, as did Juremi Profar (0-for-1), who briefly played for Texas Rangers. Kieboom, Didder and Profar the lone Netherlands players to get into action on Tuesday and Wednesday, as Major League-players Xander Bogaerts (Boston Red Sox), Didi Gregorius (New York Yankees), Jurickson Profar (Texas Rangers), Jonathan Schoop (Baltimore Orioles) and Andrelton Simmons (Los Angeles Angels of Anaheim) and Minor League-player Shawn Zarraga (Cincinnati Reds) have all left Spring Training to join the Netherlands Kingdom Team in South Korea for the First Round of the World Baseball Classic, as did Hensley Meulens (Hitting Coach, San Francisco Giants), who will be the Orange-Manager. The Netherlands-squad plays its first game on March 7 against South Korea.
At Publix Field at Joker Marchant Stadium in Lakeland on Wednesday, Washington Nationals won 9-1 at Detroit Tigers on 15 basehits, including three homeruns. Michael Taylor homered in the fourth inning, Raudy Read and Drew Ward hit back-to-back homeruns in the sixth. All three were solo-homeruns.
After leaving the bases loaded in the first inning, Washington opened the score in the second at bat and it was Kieboom who accounted for the first run. With two outs, Kieboom singled, then the bases got loaded again when Emmanuel Burriss also singled and Brian Goodwin walked. Hereafter, Michael Taylor also singled to bring in Kieboom and Burriss to put Washington ahead, 2-0.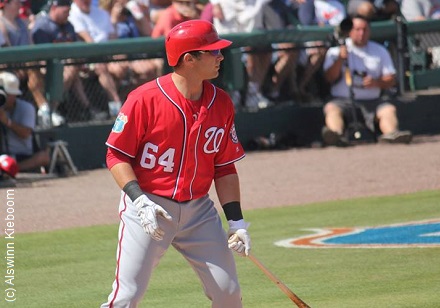 ...Spencer Kieboom hitting for Washington...
...during Spring Training in 2016...
(© Photo: Alswinn Kieboom)

Washington once more got the bases loaded in the third at bat and added two more runs with the second run being scored on a sacrifice fly by Kieboom. In the fifth inning, Kieboom struckout and he was replaced by a pinch-hitter in the seventh inning. Last year, Kieboom made his Major League-debut, playing in one game for the Nationals.
---

At Fort Myers, Minnesota Twins played at home against Pittsburgh Pirates, who won 3-1. This was a true international game, as ten (!) countries were represented.

One of these countries was Lithuania, as 24-year old Dovydas Neverauskas took the mound in the fourth inning for Pittsburgh. The righthander threw two innings in which he struckout one batter and gave up two hits and one run. For Neverauskas, this was his second appearance this Spring Training, as he threw one inning last Saturday (February 25) against Tampa Bay Rays. Last year, he made his Spring Training-debut when he also pitched against the Twins on March 28. He then threw only 1/3 of an inning in his lone appearance.

In November last year, Neverauskas was added to the 40-man roster of the Pirates. In July 2009, he became the first Lithuanian to be signed by a Major League-club. He plays professionally in the Pittsburgh-organization since 2010, mostly as a reliever from 2015 on. Last year, he was 1-0 in 22 appearances in Double-A and 3-4 in 25 appearances in Triple-A.

In 2011, Neverauskaus participated with the National Junior Team of Lithuania in the European Junior Championship in Gijon (Spain). He then pitched the final three innings in an 8-5 loss against Spain. Three days later, he threw the ninth and tenth inning and was the losing pitcher against France. He then struckout three batters, but also gave up the tying run in the ninth, then the winning run in the tenth in the 7-6 win for France.

In the history of Major League Baseball, there has been only one player who was born in Lithuania. That was Jusapas 'Joe' Zapustas, who was born in Lithuania in 1907, but grew up in the USA. He made his debut on September 28, 1933 and played in two games for Philadelphia Athletics, which were his only two in the Major League.

Besides Lithuanian Neverauskas, there also were players from South Africa, Taiwan, South Korea, Canada, Cuba, Puerto Rico, Venezuela and the Dominican Republic, who joined their American colleagues.

Pittsburgh second baseman Gift Ngoepe comes from South Africa. He plays professionally since 2009 and already participated in Major League Spring Training in the past seven years. Last year, Ngoepe played in his first full Triple-A season. He hit eight homeruns, scored 40 runs and batted in 27. Ngoepe, who also is a short stop, was added to the 40-man roster in October last year. In 2009, he participated with the National Team of South Africa in the World Baseball Classic, but he didn't play in the Major League yet.

Jin-De Jhang (non-roster) from Taiwan was the starting designated hitter for Pittsburgh and played in his second game. South Korean Byung-Ho Park (non-roster) was the starting designated hitter for Minnesota. Last year, Park played in 62 Major League-games for the Twins.

Representing Canada was Eric Wood (non-roster), who played at third base in his fourth game for the Pirates. 31-year old Cuban Eddy Rodriguez (non-roster) was one of the catchers of the Twins. In 2012, he played in two Major League-games for the San Diego Padres.

Coming from Puerto Rico were rightfielder Danny Ortiz (non-roster, Pittsburgh) and 2nd baseman Benji Gonzalez (non-roster, Minnesota). There were three Venezuelan players: 1st baseman José Osuna (40-man roster, Pittsburgh), short stop Engelb Vielma (40-man roster, Minnesota) and short stop Ehire Adrianza (40-man roster, Minnesota), who played the past four seasons in the Majors for San Francisco Giants.

Seven players came from the Dominican Republic. For Pittsburgh, that were Major League-veterans centerfielder Starling Marte (40-man) and leftfielder Gregory Polanco (40-man), as well as leftfielder Alen Hanson (40-man) and rightfielder Eury Perez (non-roster), who also have Major League-experience and pitcher Edgar Santana (non-roster). For Minnesota, it were experienced centerfielder Danny Santana (40-man) and reliever Fernandon Romero (40-man).

(March 1)

Related Articles:


Spring Training-debut Ray-Patrick Didder; Schoop homers. (February 27)


Jurickson Profar, Spencer Kieboom play first game; Juremi Profar added. (February 26)


Daniel Arribas & Chris Pieters make Spring Training-debut. (February 25)


Didi Gregorius homers in first Spring Training at bat. (February 24)


Xander Bogaerts first Dutch player in Spring Training-action. (February 23)