(Story by Marco Stoovelaar)

Neptunus wins against Pioniers in attractive game
Nederlands



HOOFDDORP (Neth.) - Curaçao Neptunus won 4-2 against Hoofddorp Pioniers on Saturday (April 1) in what was reported to be a very attractive game with some nice defensive plays.
Diegomar Markwell started for Neptunus and threw six strong innings, keeping Pioniers scoreless. He was supported with four runs that were scored in the fourth and sixth inning.
Pioniers-starter Nick Keur also had a fine start, as he held Neptunus scoreless in the three innings he pitched. In the fourth, Glenn Wassink took over, but he gave up two unearned runs. Neptunus had the bases loaded with two outs, then scored two runs when a hit by Shaldimar Daantji ended in an error.

Neptunus added two runs in the sixth inning off of new pitcher Chris Pfau. The Rotterdam-squad again got the bases loaded and this time, Urving Kemp connected for a Texas League-single to bring in two runs and make it a 4-0 score.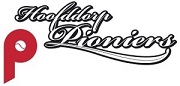 Urving Kemp, who was the third baseman, also made a fine defensive play on a hard grounder between third and short. Neptunus-leftfielder Jochem Koedijk made a great diving catch on a line drive into left-centerfield.
In the bottom of the seventh inning, with a 4-0 lead, Berry van Driel took over the Neptunian pitching. He gave up two runs, which were both scored on a double by Mark Smit.
Misja Harcksen completed the game for Neptunus and threw two scoreless innings to secure the lead.
,,This was a very nice game, well-played by both teams'', Neptunus Head Coach Ronald Jaarsma said afterwards. ,,I saw some great defensive plays, yes, this was very enjoyable''.
On Sunday, Neptunus and Pioniers will meet again in Rotterdam at 2:30 PM. For Neptunus, it will be the second game of a double-header, as it first plays against L&D Amsterdam Pirates at 11:30 PM.
(April 1)
Related Articles:


Neptunus wins North Sea Cup in The Hague. (March 26)


DSS unbeaten winner Van de Vegte Memorial. (March 26)


Pioniers, DSS, HCAW win on first day Van de Vegte Memorial. (March 25)


Neptunus records comfortable win against UVV. (March 19)


Pioniers again wins against RCH-Pinguïns. (March 19)


Pioniers opens exhibition season with two wins. (March 18)


UVV and Neptunus play scoreless exhibition game. (March 18)


Neptunus registers huge exhibition-victory. (March 12)


Neptunus wins exhibition game at HCAW. (March 11)