UVV took an early lead, but then was held scoreless from the third inning on. In the sixth, Twins came alongside and started to turn the game its way.

In the bottom of the first inning, UVV opened the score. Cecil Comenencia was the lead-off hitter for the first time during the exhibition season and he was awarded first base when he was hit by a pitch from starter Brendan Schoemaker. The righthander then also hit next batter Jelle Blaauw with a pitch and the two runners advanced on a sacrifice bunt by Bryce Cherry. A grounder by Mike Bazuin enabled Comenencia to score the first run, but Blaauw stranded on third base.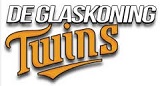 Twins came alongside in the second inning off of starter Timo van Ancum. He gave up a lead-off single to Gino Yonis, who then advanced when an error was made on a sacrifice bunt by Christopher Ge and scored on a following double by Bob van der Meer. With one out and runners on second and third base, Ge was eliminated at the plate trying to score on a grounder towards thirds base by Menno Lenting. Twins stranded runners on second and third base in this at bat.
UVV re-took the lead in the bottom of the second inning, scoring two unearned runs. Julian Goins led off with a walk, then Berend Ruben reached on an error and the bases got loaded when (pitcher) Kevin van Veen (who was the DH) also walked. Goins was then forced out at the plate on a grounder by Brandon Rijnbergen. Cecil Comenencia followed with a runscoring single that made it 2-1. He was then forced out on a grounder by Jele Blaauw, but that also led to a run, 3-1.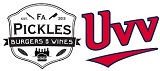 In the remainder of the game, UVV was held scoreless. In the next four innings, Brendan Schoemaker didn't encounter big problems. In the third, with two outs, he gave up singles to Julian Goins and Berend Ruben, but they stranded. In the fourth, he gave up a 2-out single to Jelle Blaauw, but hereafter, he retired seven batters in a row.
In the top of the fifth, Jurjen van Zijl took over the UVV-pitching with a 3-1 lead, but he would give up four unearned runs, as the UVV-defense committed three costly errors.
Van Zijl retired the side in the fifth, but then walked lead-off hitter Nick Peels in the sixth. An error followed on a grounder by Melvin Perdue and the bases got loaded with one out when Tair Vrutaal also walked. A sacrifice fly by Gino Yonis and a single by Christopher Ge then brought in two runs to tie the score. The bases got loaded again when Bob van der Meer reached on an infield-hit, but three runners were left behind.
In the seventh, Menno Lenting led off with a single for Twins, then advanced on a sacrifice bunt by Nick Nefs and a 2-out single by Melvin Perdue. Lenting then scored when a hit by Dennis De Quint was missed in the outfield to put Twins ahead, 4-3.
In the bottom of the seventh inning, with a minimal lead of 4-3, rookie Jan Evertse took the mound for Twins and retired the side.
In the eighth, Twins again got its lead-off hitter on base when Jamie Verheyleweghen led off with a double. With one out, he scored on a throwing error to make it a 5-3 score.
UVV got a chance to do something back again in the bottom of the eighth. Mike Bazuin led off with a walk, then Julian Goins walked with one out. The latter was forced out on a grounder by Berend Ruben, then the bases got loaded when Kevin van Veen walked. But UVV left three runners behind when a grounder ended the at bat.
In the top of the ninth, Evertse was supported with four more runs. New pitcher Roland Laurens gave up back-to-back doubles, resulting in a run. With two outs, Dennis De Quint also connected for a runscoring double. An error and a single by Christophher Ge lifted the lead to 9-3.
In the bottom of the ninth, Jan Evertse gave up a 2-out double to Bryce Cherry, but a grounder then ended the game.