(Story by Marco Stoovelaar)


Quick Amersfoort wins Mastenbroek Tournament
Nederlands



ENSCHEDE (Neth.) - Cityside Apartments Quick Amersfoort has won the 34th edition of the international J.C.J. Mastenbroek Tournament, which is organized annually by Tex Town Tigers in its site in Enschede.
Besides host Tex Town Tigers and Quick Amersfoort, the other participating teams this year were Alcmaria Victrix, Sparks Haarlem and the squad of Barracudas, coming from Zurich in Switzerland.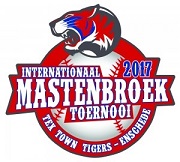 Initially, Omron Pioniers (the second team of Pioniers) also was to participate. Unfortunately, the team had to withdraw a week before the tournament, as five players were added to the main squad of Pioniers, which has a small roster and currently has some injuries. Therefore, the second team had a shortage of available players to participate in the two-day event and had to withdraw, much to their regret.
In an earlier set-up of the tournament, big league-teams DSS and De Glaskoning also were to participate again in Enschede, as they did a year ago. Twins then won the event. Also, Dutch champion Curaçao Neptunus was to be a possible participant. However, the organization said that both DSS and Twins decided to withdraw and therefore, Neptunus also opted not to participate.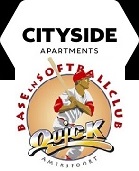 Quick Amersfoort and Sparks Haarlem play in the second highest league ('Overgangsklasse'), while Alcmaria Victrix and Tex Town Tigers play in the third highest league ('First Division').
The tournament with a thriller on Saturday-morning. Host Tex Town Tigers then opened against Barracudas and trailed 4-0 after three innings. In the fourth (and final) at bat, TTT rallied for five runs to win 5-4. In the inning, TTT collected four hits, while the Swiss defense committed three costly errors, resulting in three unearned runs.
In the next game, Alcmaria Victrix and Sparks Haarlem played a 2-2 tie in five innings. Former big league-pitcher Mika de Lincel (Hoofddorp Pioniers) went the distance for Alcmaria, struckout five batters and gave up four hits. Michael Pluijmers, who also played in the highest division some years ago, hit a 2-run homerun to put Alcmaria ahead in the first inning. Scoring on his homerun was Tim Verbrugge, who has a long career in men softball and also had been active as a coach in women softball. Sparks Haarlem came alongside in the third inning.
In its first game of the tournament, Quick Amersfoort won big against Barracudas, 12-1 in 3½ inning. Quick collected only five basehits, but the Swiss defense committed three errors. Quick opened the score in the first inning on a 3-run homerun by Jos de Jong, who pitched several seasons in the big league for Amsterdam Pirates and HCAW. Niels van Weert, another former big leaguer, scored three runs and batted in three for the Amersfoort-squad.
In the fourth game on Saturday, Sparks Haarlem won 6-1 vs. Tex Town Tigers. Winning pitcher was former Kinheim-pitcher Jimmy van der Veldt, who struckout six batters and gave up only three hits. Mike Bos went 3-for-3 for Sparks Haarlem, scored once and batted in five runs. He only missed the homerun to hit for-the-cycle.
Hereafter, Alcmaria Victrix won 12-2 against Barracudas. Winning pitcher Ruben Bakker gave up only three hits. The team from Alkmaar collected 12 basehits, including three by Wouter Knop, who scored twice and batted in one run. André Boekel and Rob van de Kamer both had three RBI's for Alcmaria, which is led this season by coaches Ton Roest and Lisandro Tromp. Roest pitched in the big league for Amsterdam Pirates.
The first day of the tournament ended with a 2-0 win for Quick Amersfoort against Tex Town Tigers. Quick-pitcher Brian van Laar threw a 3-inning No-Hitter and struckout six batters. Quick scored its runs in the third inning on singles by Remian Denis and Jules Cremer.
On Sunday-morning, Quick Amersfoort opened with an 11-3 win against Alcmaria Victrix. Quick trailed 3-2 after two innings, but then scored three runs in the third and rallied for six more runs in the fourth. Bas de Jong, Jules Cremer and Carlos Leon Ribalta all homered for Quick, while Ludrick Pieter homered for Alcmaria. Bas de Jong was the Best Hitter in the Dutch big league for three consecutive seasons while playing for Amsterdam Pirates.
In the next game, Sparks Haarlem handed Barracudas its fourth loss, winning 9-2. The Haarlem-squad trailed 2-1 after three innings, but then rallied for eight runs in the top of the fourth inning. Sparks collected only four basehits, but one of them was a grand slam homerun by Lindell Finsey, which increased the lead from 5-2 to 9-2 in the fourth inning. Kelvis Garcia homered for Barracudas.
In the afternoon, the game between Alcmaria Victrix and Tex Tow Tigers ended in a 6-6 tie. With that, Alcmaria finished in third place, while TTT finished in fourth. Alcmaria led 4-1 after three innings, but TTT then scored four runs in the fourth when Brian Eradus hit a grand slam homerun. TTT added a run in the fifth on a single by former big league-pitcher Frank van Heijst (Amsterdam Pirates) to take a 6-4 lead. In the bottom of the fifth, Alcmaria came alongside on singles by Mika de Lincel and Rob van de Kamer.
The final game of the tournament between Quick Amersfoort and Sparks Haarlem was decisive for first place, as the winner would also win the tournament. Sparks Haarlem took an 1-0 lead in the first inning on a single by Michael Wernik off of Quick-starter Jos de Jong. Rutger Zwaal, who also played in the highest league some years ago, went the distance for Sparks Haarlem. He held Quick scoreless for three innings, but then gave up two runs with two outs in the fourth. Remian Denis led off with a single, then scored the tying run on a 2-out single by Jordy Burger. The latter was replaced by pinch-runner Bas de Jong, who then advanced on a single by Bob Klaarenbeek (also a former big leaguer) and scored the winning run on a single by Shairon Nicholas. With the 2-1 win, Quick finished in first place and won the tournament for the first time.
Quick Amersfoort also had the Best Hitter of the event, as Remian Denis led with a .778 average (7-for-9).
Final Standings
1. Cityside Apartments Quick Amersfoort, 2. Sparks Haarlem, 3. Alcmaria Victrix, 4. Tex Town Tigers, 5. Barracudas (Switzerland).
(April 2)
Go here for the recap of the Mastenbroek Softball Tournament