UVV led only 3-0, but appeared to be en route to a victory when Twins suddenly tied the score in the bottom of the eighth inning. UVV then scored again in the ninth to win 4-3.

UVV opened the score in the second inning off of starter Reynaldo Sarmiento Claro. Mike Bazuin and Randy Daal led off with singles to put runners at the corners. With one out, Bazuin scored the first run on a sacrifice fly by Sergino Martis.

In the fourth, UVV got close to its next run. With one out, Randy Daal was hit by a pitch and Julian Goins walked. Daal was then forced out at third on a grounder by Sergino Martis. While trying to complete a double play at first base, a throwing error followed, which led to runners at first and third base, but they stranded.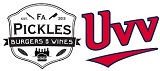 UVV then added its second run in the sixth off of new pitcher Sharlon Lebacks. The Twins-defense committed three errors in this inning, but UVV scored only once. Lead-off hitter Bryce Cherry reached on an error, then was elimimated when he tried to reach second base also. Hereafter, Mike Bazuin reached on the next error. He moved on a grounder by Randy Daal and reached third base when an error followed on a grounder by Julian Goins. Sergino Martis followed with a runscoring single to make it a 2-0 score and give him his second RBI. Goins advanced to second base, but the inning then ended when he was picked off there by Lebacks.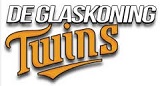 UVV made it a 3-0 score in the top of the eighth. Bryce Cherry and Mike Bazuin led off with singles, resulting in runners in the corners. Cherry then scored on a sacrifice fly by Randy Daal.
Twins got a chance to score the first run in the first inning off of starter Jimmy Osinga. With one out, he walked Melvin Perdue and gave up a single to Dennis De Quint. Perdue moved to third base on a flyout, but then was picked off by the catcher moments later to end the inning.
Twins got into scoring position again in the fourth, fifth and sixth at bat. In the fourth, De Quint singled with one out, but stranded on second base. In the fifth, off of new pitcher José Moreno, Bob van der Meer led off with a single and later was left behind on third base. In the sixth, Twins left runners on second and third base.
Trailing 3-0 in the bottom of the eighth, Twins suddenly came back into the game. Roland Laurens took over the UVV-pitching, but he walked the first two batters he faced. Hereafter, a throwing error followed on a grounder by Nick Peels, resulting in a run and a pitching change. Kevin van Veen took over, but he saw the next run being scored on a sacrifice fly by Jamie Verheyleweghen. Van Veen then walked Melvin Perdue and when he took off to steal second base, Peels scored the tying run. Van Veen closed with two strikeouts, but the score was now 3-3.
UVV re-took the lead in the top of the ninth off of new pitcher Thijs Steenwijk, who last season for UVV. Berend Ruben led off with a single, advanced on a walk for Cecil Comenencia and a force play-grounder by Rick Kuipers, then scored on a sacrifice fly by Jelle Blaauw.
In the bottom of the ninth, Van Veen retired the side to end the game.