(Story by Marco Stoovelaar; Photo by Henk Seppen)


Tom de Blok makes professional debut
Nederlands



COMSTOCK PARK, Michigan (USA) - Dutch righthanded pitcher Tom de Blok has made his professional debut. On Tuesday (May 2), he threw three innings for West Michigan Whitecaps (Detroit Tigers) in the home game against Clinton LumberKings (Seattle Mariners), who won 5-4.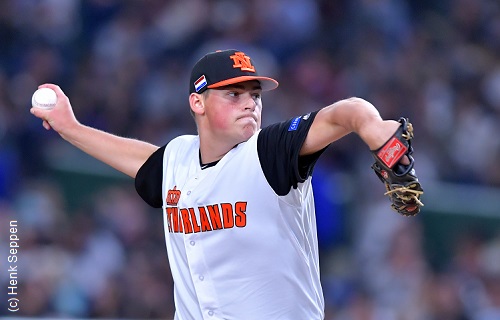 ...Tom de Blok pitching for Netherlands...
...during the World Baseball Classic...
(© Photo: Henk Seppen)

The game was played at Fifth Third Ballpark, the home of the Whitecaps in Comstock Park, which is part of the Grand Rapids metropolitan area.

With the Whitecaps trailing 5-0 after four innings, Tom de Blok took the mound in the top of the fifth inning. De Blok, who will turn 21 on May 8, retired the side in his first professional inning. Luis Liberato led off with a line drive that was caught by rightfielder Danny Woodrow, then a flyout and groundout followed.
In the sixth inning, De Blok again retired the side and also struckout his first batter. In the seventh, he gave up a lead-off single to Gareth Morgan, but he was later forced out at second base. De Blok was relieved in the top of the eighth inning, but left a fine impression in his debut, throwing three scoreless innings.
West Michigan narrowed the deficit to 5-2 by scoring two runs in the fifth, then scored two more in the eighth, but ended up empty-handed.
De Blok signed a contract with the Detroit Tigers in March and reported to the Spring Training-facility of the Tigers in Florida early April. There, he underwent a medical check-up and was in extended Spring Training, before being assigned on April 14 to the Connecticut Tigers, which plays in Single-A Short Season. He didn't pitched for that team, as this league opens its season on June 19. De Blok was then assigned on April 29 to West Michigan Whitecaps, which plays in Single-A.
After Tuesday's game, the Whitecaps were in a tie for second place in the Eastern Division of the Midwest League with a 15-10 record.
Last season, De Blok pitched in 26 games (all in relief) for L&D Amsterdam Pirates, with whom he won the European Champions Cup and reached the Holland Series. He was 5-0 with five saves and an 0.88 ERA. In 41 innings, De Blok struckout 43 batters, walked only eleven and gave up 21 basehits and only five runs. His 0.88 ERA was the second lowest in the Dutch big league last season.
In August, 2013, he already had signed a minor league-contract with the Seattle Mariners. He then traveled to the USA in April of 2014, but returned home after one week.
(May 2)