Today was Dia di Bandera (Day of the Flag), which is a National Holiday on Curaçao. Before the game this afternoon, an Antillian brass-band (with exotic dancers) performed. Shortly before the start of the game, Rotterdam Mayor Ahmed Aboutaleb addressed the spectators. He later threw the ceremonial first pitch, together with Kenneth Gijsbertha, who is the Minister of Finances of Curaçao and also is the former President of the Baseball Federation of Curaçao (FEBEKO) and the Netherlands Antilles Baseball Federation (NABAFE). Also attending the game was Anthony Begina, the Minister Plenipotentiary of Curaçao.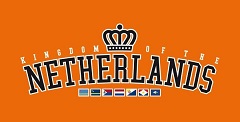 Curaçao, which left a runner behind on second base in the first inning, opened the score in the bottom of the third inning off of veteran righthander Rob Cordemans. Reangelo Beaumont led off with a double and advanced when Dennis Gustina followed with a bunt-single. Next batter Shurendell Mujica then singled to bring in Beaumont. Cordemans struckout the next two batters, but then gave up a runscoring single to Denzel Richardson, which gave Curaçao a 2-0 lead.

In the next five innings, Cordemans allowed only one more runner to get into scoring position. He retired the side three times. In the fifth, Mujica singled with one out, but was forced out on a grounder by Raywendly Van Gurp. The latter then stole second base, but was left behind.
Curaçao-starter Ruderly Manuel did very well. He held the Dutch offense scoreless for seven innings and gave up only two hits in these at bats. Also, no Orange-runner got into scoring position!
After retiring the side in the first inning, Manuel gave up a lead-off single to Gianison Boekhoudt in the second inning, but then eliminated the next three batters.
Manuel retired the side again in the third, then the Netherlands could have had its first runner in scoring position in the fourth. With one out, Dwayne Kemp singled. With two outs, he stole second base, but when the high throw ended up in centerfield, he tried to advance to third base, but was thrown out there on a nice throw from centerfielder Dennis Gustina.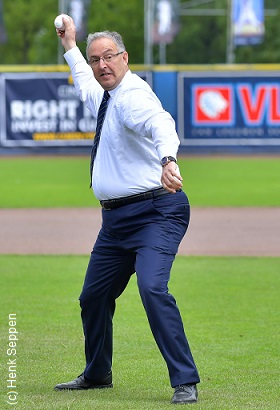 ...Ahmed Aboutaleb, Mayor...
...of Rotterdam, throws the...
...ceremonial first pitch...
(© Photo: Henk Seppen)

Manuel retired the side again in the fifth and sixth inning. With one out in the seventh, he walked Dwayne Kemp, but he was caught stealing moments later. Another walk followed, this time for Gianison Boekhoudt, but he was forced out to end the inning.

Finally, the Netherlands was able to do some scoring in the top of the eighth inning and scored twice to come alongside. With one out, pinch-hitter Max Draijer singled and Bram Grooten walked. With two outs, the two rookies advanced when Chris Garia walked to load the bases. Stijn van der Meer then delivered a runscoring single, which led to a pitching change. Ismael Ross took over from Manuel, but he walked Dwayne Kemp, which brought in the tying run. Three runners were left behind when a grounder ended the at bat, but it had become a new ball game.

As the score was still 2-2 after nine innings, the game went into extras. Both teams left a runner behind on second base in the tenth and so, the eleventh at bat started. From the eleventh inning on, the international tie-break rule comes into effect, meaning the inning begins with runners on first and second base.

In the top of the 11th, the Netherlands scored twice. Tie-break runners Chris Garia and Stijn van der Meer moved on a sacrifice bunt by Dwayne Kemp. A force play was then created by walking Gianison Boekhoudt intentionally, but Dudley Leonora followed with a 2-run single.

Curaçao answered with two runs of its own in its 11th at bat off of new pitcher Mike Bolsenbroek. With a 4-2 lead, he took over from Kevin Kelly, who had relieved Cordemans in the ninth inning. Curaçao also advanced its tie-break runners Shurendell Mujica and Raywendly Van Gurp via a sacrifice bunt, which was done by Ardley Jansen. The Orange coaches didn't opt for an intentional walk to set up a force play. A comeback-grounder accounted for the second out, but hereafter, Edinho Meyer connected for a 2-run triple that made it a 4-4 score.

The Netherlands again scored twice in the 12th inning. Nick Urbanus and Rowan van Hoek were the tie-break runners and again, it was attempted to move then with a sacrifice bunt. However, Bram Grooten's bunt ended in a force out at third base. With two outs, Chris Garia tripled to give the Dutch a 6-4 lead.

The game wasn't over yet, as Curaçao also scored two runs again in the bottom of the 12th. Tie-break runners Johnny Gregorius and Rojean Cleofa moved on a sacrifice bunt by Reyhan Fecunda, then respectively scored on a sacrifice fly by Reangelo Beaumont and a single by Levis Carolus.

In the 13th inning, the Netherlands took a decisive lead by scoring four runs. With the tie-break runners on first and second base, Dwayne Kemp produced a runscoring single to make it a 7-6 score. A sacrifice bunt by Gianison Boekhoudt then led to runners on second and third base and a following intentional walk for Dudley Leonora loaded the bases. The latter was forced out on a possible double play-grounder by Nick Urbanus, but that also led to a run. In an attempt to complete a double play at first base, a throwing error followed and that enabled Kemp also to score. Moments later, Rowan van Hoek singled to bring in the fourth run and lift the lead to 10-6.

In the bottom of the 13th inning, Berry van Driel took over the Dutch pitching. He saw the tie-break runners advance on a grounder, then gave up a sacrifice fly to Ardley Jansen. With a runner on third, a grounder ended the game, which lasted three hours and 30 minutes.