(Story by Marco Stoovelaar; Photos by Henk Seppen)


Schoop and Jansen elected fot All Star Game
Nederlands



NEW YORK, New York (USA) - Second baseman Jonathan Schoop and closer Kenley Jansen have been elected for this years Major League All Star Game, which will be played on Tuesday, July 11 in Miami. The rosters for the All Star Game were announced on Sunday-evening (July 2).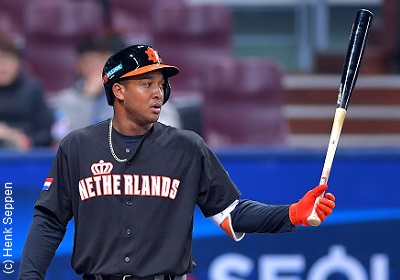 ...Jonathan Schoop hitting for the Netherlands...
...during the World Baseball Classic...
(© Photo: Henk Seppen)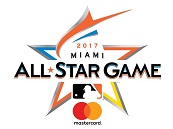 Jonathan Schoop, who plays for the Baltimore Orioles, will be one of the reserves on the roster of the American League. It is the first time that he will play in the Major League All Star Game. This season, he is one of the most consistent hitters for the Orioles. The 25-year old, Curaçao-born, Schoop hits .293 (85-for-290) this season with 16 homeruns. He scored 45 runs and batted in 51 runs.

Kenley Jansen, who also comes from Curaçao, is 4-0 this season with an 0.79 ERA. The 29-year old righthander pitched in 32 games for the Los Angeles Dodgers and earned 18 saves. Jansen struckout 53 batters in 34 innings and has walked only one (!) batter. This is Jansen's second All Star-selection. He also pitched in the All Star Game for the National League last year.

Coming Thursday, the final two players will be announced, one each for the American League and National League. Amongst the five candidates for the American League are Didi Gregorius (New York Yankees) and Xander Bogaerts (Boston Red Sox).

Schoop, Jansen, Gregorius and Bogaerts all participated with the Netherlands Kingdom Baseball Team in the World Baseball Classic in March of this year. The Orange-squad then reached the Semi-Final again for the second consecutive time.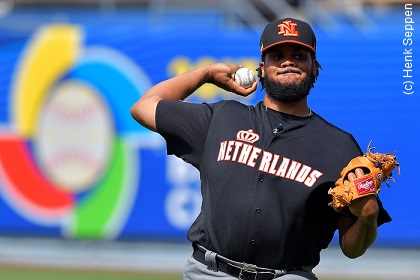 ...Kenley Jansen pitching for the Netherlands...
...during the World Baseball Classic...
(© Photo: Henk Seppen)

The following players were chosen as starters:

American League
C-Salvador Perez (Kansas City Royals), 1B-Justin Smoak (Toronto Blue Jays), 2B-José Altuve (Houston Astros), SS-Carlos Correa (Houston Astros), 3B-José Ramirez (Cleveland Indians), OF-Aaron Judge (New York Yankees), George Springer (Houston Astros), Mike Trout (Los Angeles Angels of Anaheim), DH-Corey Dickerson (Tampa Bay Rays).

National League
C-Buster Posey (San Francisco Giants), 1B-Ryan Zimmerman (Washington Nationals), 2B-Daniel Murphy (Washington Nationals), SS-Zack Cozart (Cincinnati Reds), 3B-Nolan Arenado (Colorado Rockies), OF-Charlie Blackmon (Colorado Rockies), Bryce Harper (Washington Nationals), Marcell Ozuna (Miami Marlins).

(July 2)