Netherlands vs. Sangmu Baseball Team (KBO Army)
For today's exhibition game, Netherlands Team Manager Hensley Meulens had 27 of his 28 players available. The lone missing player was catcher Dashenko Ricardo, who had traveled back home to Curaçao for attending the funeral of his father. Ricardo will re-join the team in the coming days.

Shawn Zarraga is the lone other catcher on the roster and he started today's game. He was later replaced by Chadwick Tromp, who is with the team (and also during the WBC) as Bullpen Catcher. Tromp plays professionally in the organization of the Cincinnati Reds.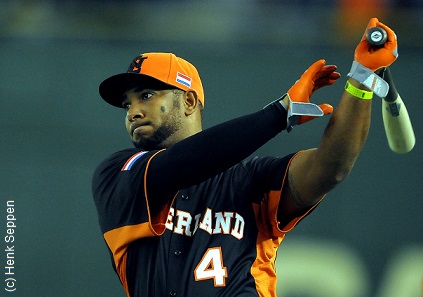 ...Wladimir Balentien was 2-for-3 today...
(© Photo: Henk Seppen)

With the addition of the Major League-players, Meulens had four short stops to choose from: Bogaerts, Gregorius, Profar and Simmons. In his starting line-up, the Hitting Coach of the San Francisco Giants penciled in Simmons as his starting short stop and lead-off hitter. Bogaerts started at third base, Profar started in centerfield and Gregorius was the starting designated hitter. Bogaerts played in 53 games at third base for the Red Sox in 2013 and 2014. Profar played in six different positions last season for Texas, including 28 games in the outfield. Halfway the game, Gregorius took over at short for Simmons, who then became the new DH. Schoop started at his regular position at second base.

The first six batters in the batting order all had Major League-experience: Simmons, Profar, Bogaerts, Wladimir Balentien, Schoop and Gregorius. Balentien played in 170 Major League-games in 2007-2009 for Seattle Mariners and Cincinnati Reds.

In the top of the first inning, the Orange squad immediately opened the score off of starter Ji-seob Lim. Andrelton Simmons led off with a walk, but was forced out with one out on a grounder by Xander Bogaerts. Hereafter, Wladimir Balentien singled and Jonathan Schoop followed with a runscoring single that made it 1-0.

Rob Cordemans started for the Orange squad. The righthander gave up a lead-off single to Min-hyuk Kim, then next batter Seung-min Choi connected for a double. Kim was waved home, but was eliminated at the plate on a nice throw from centerfielder Profar to second baseman Schoop to catcher Zarraga. Choi advanced on the throw and later scored the tying run on a sacrifice fly by Dae-in Hwang.

The Netherlands re-took the lead in the second inning. With two outs, Randolph Oduber singled, then scored on a following double by Andrelton Simmons.

One run was added in the fourth inning. Curt Smith and Shawn Zarraga led off with walks, then the bases got loaded on an infield-hit by Randolph Oduber. Smith then scored with one out when Jurickson Profar also walked. A double play then ended the inning.

From the fifth inning on, the Netherlands started to enlarge its lead. In the top of the fifth, Jonathan Schoop singled with one out, then scored when Curt Smith homered with two outs.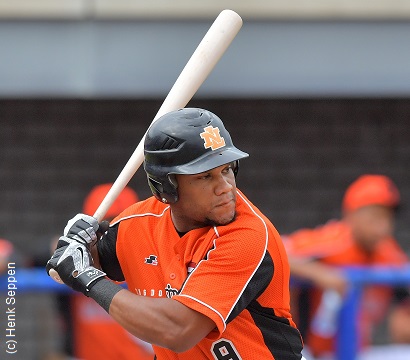 ...Curt Smith hit a 2-run homerun...
(© Photo: Henk Seppen)

A 4-run rally followed in a productive seventh inning (six basehits), which also saw the entrance of several new players. Dwayne Kemp (who replaced Schoop) led off with a single, then Didi Gregorius also singled. Moments later, Kemp scored on a single by Yurendell de Caster (who took over for Smith). With one out, Sharlon Schoop (who replaced Oduber) singled in the next run. With two outs, the bases got loaded when Jurickson Profar also singled. Hereafter, two more runs were added on a double by Stijn van der Meer (who replaced Bogaerts) and that lifted the lead to 9-1.

In the eighth inning, Didi Gregorius walked with one out and Chadwick Tromp reached on with two outs. Gregorius later scored on an error, while Tromp scored on a single by Sharlon Schoop to make it an 11-1 score.

Hensley Meulens used nine different pitchers in this game, as it already was announced before that there would be a new pitcher each inning.

After the Korean opponent had scored a run in the first inning, it would reach base only three more times in the remainder of the game. All three times on basehits. Two runners stranded, while the third one was caught stealing at second base.

The Netherlands pitching did very well today. After Rob Cordemans had pitched the first inning, Diegomar Markwell, Jair Jurrjens, Shairon Martis and Tom Stuifbergen followed and all retired the side in their inning.

Mike Bolsenbroek then took over in the sixth inning. With one out, he gave up a single to Kim, who was then caught stealing. Bolsenbroek closed with a strikeout.

Jim Ploeger pitched the seventh inning and he gave up a 2-run single to Park, but a grounder followed. After Tom de Blok had thrown an 1-2-3 eighth inning, Loek van Mil closed the game. With one out, he gave up a single to Choi, but he also was left behind on first base.

The Netherlands collected 16 basehits. Both Jonathan and Sharlon Schoop registered two basehits, as did Balentien, Oduber and Profar.

The following players got into action today:
Andrelton Simmons (SS-DH, 1-for-4, double, 1 RBI, 2 walks, 1 strikeout); Jurickson Profar (CF, 2-for-5, double, 1 RBI, 1 walk, 1 strikeout); Xander Bogaerts (3B, 0-for-3, 1 run, 1 walk); Stijn van der Meer (3B, 1-for-2, double, 2 RBI's); Wladimir Balentien (RF, 2-for-3); Kalian Sams (RF, 0-for-3, 1 strikeout); Jonathan Schoop (2B, 2-for-3, 1 run, 1 RBI); Dwayne Kemp (2B, 1-for-2, 1 run, 1 walk); Didi Gregorius (DH-SS, 1-for-5, 2 runs, 1 walk); Curt Smith (1B, 1-for-2, homerun, 2 runs, 2 RBI's, 1 walk, 1 strikeout); Yurendell de Caster (1B, 1-for-2, 1 run, 1 RBI, 1 strikeout); Shawn Zarraga (C, 0-for-2, 1 walk, 1 strikeout); Chadwick Tromp (C, 0-for-1, 1 run, 1 walk, 1 strikeout); Randolph Oduber (LF, 2-for-3, 1 run); Sharlon Schoop (LF, 2-for-2, 1 run, 2 RBI's).