(Story by Marco Stoovelaar; Photos by Henk Seppen, European Baseball Confederation & Marco Stoovelaar)

Didier Seminet succeeds Jan Esselman as CEB-President
Nederlands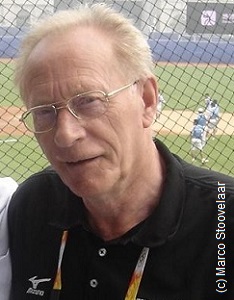 ...Jan Esselman...
(© Photo: Marco Stoovelaar)

BELGRADE (Serbia) - Didier Seminet of France has been elected unanimously as new President of the European Baseball Confederation (CEB) during its annual joint ESF-CEB Congress on Saturday (February 4) in Belgrade, the capital of Serbia.

Seminet becomes the CEB's eighth President and succeeds Dutchman Jan Esselman, who had led the CEB as its President since February 2013.
At the Congress of the European Softball Federation (ESF), Gabriel Waage from the Czech Republic was elected as new President, succeeding André van Overbeek, who had served two 4-year terms and according to the regulations was not eligible for re-election.
More coverage of the ESF Congress
CEB Presidents
Period
President
1953-1970
Prince Steno Borghese (Italy)
1971-1984
Bruno Beneck (Italy)
1985-1986
Guus van der Heijden (Netherlands)
1987-2004
Aldo Notari (Italy)
2005-2011
Martin Miller (Germany)
2012-2013
Petr Ditrich (Czech Rep.)
2013-2017
Jan Esselman (Netherlands)
2017-current
Didier Seminet (France)
During the Congress of the European Baseball Confederation and European Softball Federations, representatives of 32 member federations were present. Amongst the items on the agenda were elections for the Executive Committee. Esselman withdrew his candidacy for a second term prior to the elections and was given a standing ovation.

After being elected, Didier Seminet addressed the representatives and stated: ,,I'm honored to serve European Baseball and I want to thank the National Federations for their trust. CEB faces multiple challenges that the newly elected Executive Committee will take action to raise baseball's profile within Europe and globally. On a more personal note, I want to thank former President Jan Esselman for his work and dedication to European Baseball.''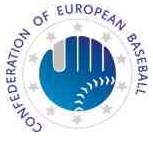 Also elected to the Executive Committee were Petr Ditrich (Czech Republic) as 1st Vice-President, Jürgen Elsishans (Germany) as 2nd Vice-President, Rainer Husty (Austria) as 3rd Vice-President, Krunoslav Karin (Croatia) as Secretary-General, René Laforce (Belgium) as Treasurer and Roderick Balk (Netherlands), Marco Mannucci (Italy) and Oleg Boyko (Ukraine) as Members-at-Large.
Ditrich succeeded Peter Kurz (Israel) as 1st Vice-President, while Elsishans was re-elected as 2nd Vice-President. Ditrich was 3rd Vice-President and now has been succeeded in that position by Husty. Laforce and Karin were both re-elected in their position. Balk, Mannucci and Boyko succeed Mats Franson (Sweden), Michael Manning (Ireland) and Monique Schmitt (Switzerland). Before the elections, all present Excecutive Board-members were running for re-election.
...Erika Sojat, Serge Makouchetchev, Steve Janssen, Jason Holowaty...
(© Photos: Marco Stoovelaar & Henk Seppen)
During the Congress, the CEB also handed out its annual awards. French umpire Serge Makouchetchev was named Umpire of the Year, while Erika Sojat (Italy) was named Scorer of the Year. Steve Janssen, Manager of the Netherlands Baseball Team won the award for Coach of the Year. In September last year, Janssen led the Orange squad to the European title.

The award for Federation of the Year went to the Polish Baseball and Softball Federation.

The special Xavier Mateu Award for services to European Baseball was given to Jason Holowaty, whose stay as MLB Europe Development Director ended in 2016.

(February 4)