www.grand-slam.nl
International Baseball
Headlines
Compiled and Copyright © 1997-2017 by Marco Stoovelaar

(Story by Marco Stoovelaar; Photos by Henk Seppen)





Puerto Rico records important win in Serie del Caribe; First loss Cuba
Nederlands



CULIACÁN, Sinaloa (México) - Puerto Rican champion Criollos de Caguas won 10-2 vs. Dominican champion Tigres del Licey on Saturday-afternoon (February 4), Day 4 of the 59th edition of the Serie del Caribe in the Mexican city of Culiacán. In the evening, Venezuelan champion Águilas del Zulia handed Cuban champion Alazanes de Granma its first loss with a n 8-3 score.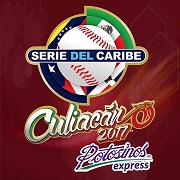 With these results, Puerto Rico reached the top-4 and qualified for the Semi-Finals, that will be played on Monday, while the Dominican Republic was eliminated. The Dominicans play their last game in the round robin on Sunday and will move into a tie with Puerto Rico when it wins. The head-to-head result is then in favor of Puerto Rico. A 3-way tie would have been possible in case Venezuela would have lost its final two games. In that case, the score of the game between the Dominican Republic and Venezuela could have been decisive. But because Venezuela won against Cuba, a 3-way tie was not possible and anymore and with that, it eliminated the Dominican Republic.
Mexican champion Águilas de Mexicali, which is unbeaten, had no game scheduled.
At Estadio BBVA Bancomer, the stadium of Tomateros de Culiacán, Puerto Rico led only 3-2 halfway the fifth inning. The team then rallied for three runs in the fifth and sixth inning to take a comfortable lead en route to an important victory. In the second game of the day, Venezuela broke a 3-3 tie in the fourth inning, rallied for three runs in the fifth, collected 15 basehits and handed Cuba its first loss.
(February 4)
Game 7 - Puerto Rico vs. Dominican Republic
Dominican champion Tigres del Licey left two runners behind in the top of the first inning, including one on third base. In the bottom of the first inning, Puerto Rico champion Criollos de Aguas scored twice to take an early lead. Later in the game, Criollos had two 3-run rallies to take more distance.

In the bottom of the first inning, off of starter Bryan Evans, Puerto Rico scored twice. With one out, Iván DeJesús, Jr. singled, then Cuban Rusney Castillo homered with two outs.

Puerto Rican starter John Brownell saw the Dominicans leave a runner on first base in the second at bat, then retired the side in the next two innings.
After stranding two runners in the third inning, Puerto Rico added a run in the fourth. Jorge Padilla and Jesmuel Valentín led off with walks, which led to a pitching change. The two then moved on a sacrifice bunt, then Padilla scored on a sacrifice fly by Jonathan Morales.
In the top of the fifth inning, John Brownell ran into problems. He gave up singles to Engel Beltre and Anderson Hernández, who then advanced on a sacrifice bunt. Brownell followed with a strikeout, but then got the bases loaded when he walked Leury García. Hereafter, Zoilo Almonte delivered a 2-run single that narrowed the deficit to 3-2. It also led to a pitching change, as Brownell was relieved by Andres Santiago. With that, Brownell ended up 1/3 inning short to become the winning pitcher.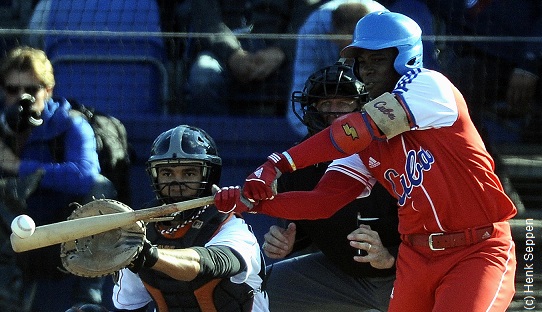 ...Cuban Rusney Castillo homered and had 3 RBI's for Puerto Rico...
...On the photo, he is hitting for the Cuban National Team...
...in the 2012 Haarlem Baseball Week in Haarlem (Netherlands)...
(© Photo: Henk Seppen)

Puerto Rico immediately reacted with three runs to take more distance. With one out, David Vidal doubled, then scored when next batter Rusney Castillo reached on an error. An additional outfield-error enabled Castillo to move to second base. A pitching change followed and Juan Grullon took over. He saw Castillo steal third base, then walked Ruben Gotay. That was the sign for the next pitching change and Warner Madrigal became the fifth Dominican pitcher. With runners on first and third base, a sacrifice bunt/squeeze by Jorge Padilla accounted for the next run. A following single by Jesmuel Valentín brought in Gotay and made it a 6-2 score.

Puerto Rico scored three more runs in the sixth off of new pitcher Wirfin Obispo. He gave up singles to Jonathan Morales and Henry Ramos, who then both scored on a following double by Iván DeJesús, Jr.. The latter moved to third base on the throw to the plate. Hereafter, David Vidal walked. Next batter Rusney Castillo grounded into a double play, which brought in DeJesús and lifted the lead to 9-2.

In the eighth, Puerto Rico scored its 10th run on a single by Rusney Castillo.

The Dominicans were retired in order in the seventh and eighth inning. They then got a baserunner with one out in the top of the ninth, but he stranded on first base after a flyout and groundout ended the game.

Puerto Rico collected 11 basehits off of eight pitchers, including three by Iván DeJesús, Jr. and David Vidal. DeJesús also scored three runs, while Rusney Castillo batted in three runs.
Game 8 - Venezuela vs. Cuba
In the evening, Venezuela took an early 3-0 lead in the first inning, then Cuba came alongside in the second. The Venezualans broke the tie in the fourth, added three runs in the fifth and went on to win 8-3. With that, it more or less registered a surprise victory. Alazanes de Granma convincingly won the Cuban Champion-title with a sweep in four games to qualify for the Serie del Caribe, then had strong outings in its first two games against the Dominican Republic and Puerto Rico.

Venezuela struck immediately in the first inning off of starter Freddy Álvarez when the first four batters all singled. The bases got loaded quickly when Freddy Galvis, Ronny Cedeño and René Reyes singled. José Castillo then delivered the fourth consecutive single and brought in the first two runners. With one out, Alex Romero also singled to make it a 3-0 score. It also meant a quick exit for Álvarez, who was replaced by Noelvis Entenza, who retired the next two batters.

Wilfredo Boscan started for Venezuela. Last year, the righthander made his Major League-debut, pitched in six games for Pittsburgh Pirates and was 1-1. Boscan was supported with a double play in the first inning, but then saw Cuba come alongside in the second at bat. With one out, he gave up singles to William Saavedra and Guillermo Áviles, then a homerun to Carlos Benítez, that made it a 3-3 score. Hereafter, Boscan closed with two strikeouts. It would the only runs Cuba scored in this game.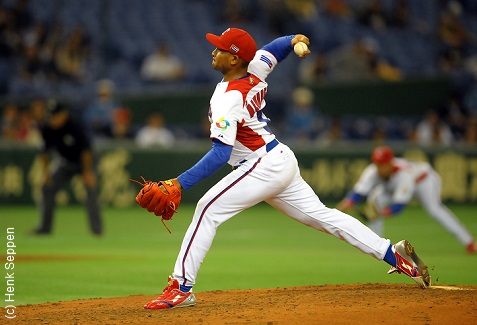 ...Cuban starter Freddy Álvarez pitched in relief against...
...the Netherlands during the Second Round of the...
...2013 World Baseball Classic in Tokyo (Japan)...
...The Netherlands won and advanced to the Semi-Finals...
(© Photo: Henk Seppen)

Águilas del Zulia re-took the lead in the bottom of the fourth inning off of Entenza. With two outs, Freddy Galvis singled, stole second base and scored on a following single by Ronny Cedeño.

A 3-run rally followed in the fifth at bat. With one out, Alex Romero singled, as did Francisco Arcía with two outs. Hereafter, Yoelkis Cruz took over the Cuban pitching, but he was greeted with a runscoring single by Ali Castillo, followed by a 2-run double by Freddy Galvis. That marked the end for Cruz, who was replaced by César García. He gave up a single to Ronny Cedeño that put runners on the corners and led to another pitching change. Leandro Martínez became the fourth Cuban pitcher in this inning and he finally closed the at bat with a strikeout.

In the meantime, Cuba was unable to do something back and stranded some runners in scoring position. Trailing 7-3, it appeared that the team was about to come back again the top of the seventh inning when it got the bases loaded off of reliever Wil Ledezma. Carlos Benítez led off with a single, but was forced out on a grounder by Osvaldo Vázquez. Hereafter, the bases got loaded when Yoelkis Céspedes and pinch-hitter Victor Mesa, Jr. both singled. However, the three runners stranded when Ledezma struckout the next two batters. The 36-year old Ledezma pitched in the Majors in 2003-2011, including five seasons with Detroit Tigers. The veteran lefthander pitches in the Mexican League since 2016.

In the bottom of the seventh, Venezuela added another run on an error to make it an 8-3 score. Cuba was retired in order in the eighth and ninth inning.

Zulia collected 15 basehits, including three by Freddy Galvis and Ronny Cedeño.

Thank you for visiting this site.
Mail your suggestions and questions to stoov@wxs.nl
Copyright © 1997-2017 Marco Stoovelaar / Grand Slam * Stats & News.