www.grand-slam.nl
Baseball
Headlines
Compiled and Copyright © 1997-2017 by Marco Stoovelaar

(Story by Marco Stoovelaar; Photos by Alfred Cop Fotografie & Henk Seppen)

HCAW opens exhibition season with small win
Nederlands



BUSSUM (Neth.) - On Saturday-afternoon (March 4), HCAW became the first big league-team to take the field this year to play a game. OK, it was only an exhibition game, but with this game, not only the exhibition season officially opened, also, the 2017 season went underway! Baseball is back again in the Netherlands for another exciting season!
Today, only one game was played involving a team from the Dutch Major League. Tomorrow, De Glaskoning Twins will play its first game at home against its second team. Next week, all teams will get into action, except for Hoofddorp Pioniers, which will play its first exhibition game on March 18.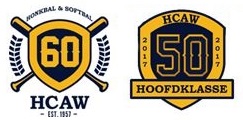 Under acceptable weather condtions, HCAW played its first exhibition against RCH-Pinguïns, one of the 16 teams who will play this year in the second highest league, the 'Overgangsklasse'. The game was played at HCAW's home site in Bussum, which was renamed after club-icon Rob Hoffmann last year in honor of its former star-pitcher from the sixties and early seventies. It was Hoffmann, who led the team to promotion to the big league in 1966. On April 13, HCAW will open its 50th season at the highest level after making its debut in 1967. Since then, it played only year at a lower level, which was in 1983 (First Division). Later this year, in September, the club celebrates its 60th anniversary.

HCAW's opponent today also has a long history in Dutch baseball. RCH-Pinguïns made its debut at the highest level in 1938, but then relegated. The team returned in the fifties, but then relegated again in 1956. It then took forty years for the club to return at the highest level in 1997, but after six seasons, another relegation followed. This time, it didn't took that long for RCH to return, as it made its comeback in the big league in 2007. Unfortunately, after three seasons, the club relegated again and played in the big league for the last time in 2009. Last season, RCH-Pinguïns announced its ambition to return to big league-level, but then finished in third place in the 'Overgangsklasse'. This year, the club again has showed its interest to promote.
HCAW won today's exhibition game with a 2-1 score.
Next weekend, HCAW meets reigning champion Curaçao Neptunus. At home on Saturday, in Rotterdam on Sunday.
RCH-Pinguïns also will play two games coming weekend. It will then play two road-games on Saturday and Sunday against The Hawks in Dordrecht.
(March 4)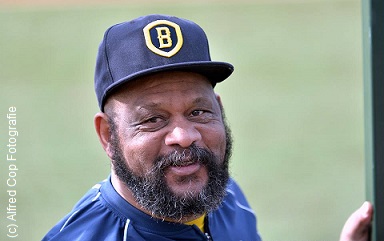 ...A bearded Roeland Henrique made his debut...
...today as Head Coach of HCAW...
(© Photo: Alfred Cop Fotografie)

As mentioned, the weather conditions were acceptable today and much better than a year ago. Last year, on March 5, HCAW also opened the exhibition season and then played an 8-inning game against L&D Amsterdam Pirates. Back then, the temperatures were only 5,6 degrees Celsius (42 Fahrenheit) and it was very cold. Today, it was 11,9 Celsius when the game started (53,4 F).

HCAW used seven pitchers today, while RCH-Pinguïns sent six pitchers to the mound.

Kaj Timmermans started for HCAW and gave up a 2-out single to Ties van der Beeke, who last season had made his big league-debut while playing for DSS. A flyout ended the lone inning Timmermans pitched. Hereafter, Giovanni Tensen retired the side in the second inning.

For RCH-Pinguïns, Dion Steyl was the starter and pitched two innings. Steyl, who pitched in the big league for Kinheim in 2013, also saw a batter reach with two outs in the first inning. That was veteran Vince Rooi who walked, but he also stranded on first base.

HCAW opened the score in the bottom of the second inning. Kevin Dirksen led off with a triple, then scored when next batter Kevin Weijgertse singled. Last year, Dirksen led Hoofddorp Pioniers with a .328 batting average.

Tim Niekerk took over the HCAW-pitching in the third inning. He walked a batter with two outs, but he was the forced out.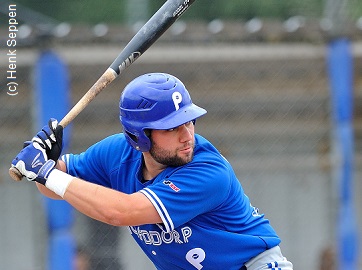 ...Kevin Dirksen had 2 hits, including a triple...
...and also scored the first HCAW-run...
(© Photo: Henk Seppen)

RCH-Pinguïns came alongside in the fourth inning off of new pitcher Ian Delemarre. The righthander gave up lead-off singles to Rick Nansink and Ties van der Beeke. Delemarre followed with a strikeout, but then Joshua Zara followed with a runscoring double that made it an 1-1 score. With runners on second and third base, two grounders ended the at bat.

In its third and fourth inning, HCAW was held scoreless by Hylke van Viersen, who in 2013 pitched in the big league for UVV. He retired the side in the third, then gave up a 2-out single to Kevin Dirksen, but a double play followed.

Hereafter, Moreno Vork (HCAW) and Lars Werkman (RCH-Pinguïns) pitched a scoreless fifth inning.

In the top of the sixth, the HCAW-pitching was taken over by Steven van Groningen, who last season played for Curaçao Neptunus, but he returned to HCAW after one year in Rotterdam. He threw two innings and became the winning pitcher, as HCAW re-took the lead in the bottom of the sixth.

For RCH-Pinguïns, veteran Al Morales Gomes took the mound in the sixth and gave up an unearned run. The 38-year old righthander also was with RCH-Pinguïns during its three big league-seasons in 2007-2009, including one as Pitching Coach. In 2011, Morales pitched for L&D Amsterdam Pirates, with whom he the won the Netherands championship-title. The following year, he was the Pitching Coach of the Amsterdam-squad. Thereafter, he returned to RCH-Pinguïns to pitch again for the Heemstede-based team.
...Steven van Groningen...
...winning pitcher...
(© Photo: Henk Seppen)

In the sixth, Morales gave up a lead-off single to Roelie Henrique, but followed with a stikeout. The speedy Henriquez advanced to third base when a throwing error followed on a grounder by Vince Rooi. Shortly hereafter, HCAW took a 2-1 lead when Henrique scored while Rooi was forced out on a grounder by Rossini Frolijk, whose father Marlon Frolijk is the Head Coach of RCH-Pinguïns.

HCAW was held scoreless in the remainder of the game. Morales struckout two batters in the seventh, then Lars Broersen and Mike Ruitenberg closed the game for RCH-Pinguïns. Broersen gave up an one-out single to Delano Selassa and Ruitenberg gave up a 2-out single to Raoell Kortstam, but both stranded on first base.

After having retired the side in the sixth inning, Van Groningen got two baserunners with two outs in the seventh. Shermayn Balentien then walked and Mike Ruitenburg singled, but they were left behind.

Sedley Karel closed the game for HCAW by throwing the eighth and ninth inning. The righthander did well, as he struckout six batters, but he also got some baserunners. With one out in the eighth, Karel committed an error on a grounder by Youri Spoor, but then struckout the next two batters. In the ninth, the righthander struckout the first two batters. Karel then gave up a double to Joshua Zara and then walked Shermayn Balentien, but closed with a strikeout.

Veteran umpire Winfried Berkvens started the game behind the plate. The 3-man then rotated in the fifth inning and Berkvens completed the game at first base. Coming week, he will travel to México where he will be one of the umpires during the First Round of the World Baseball Classic.

...Giovanni Tensen pitched the second inning for HCAW; Mike Ruitenburg is the batter...
...Left: 3B Joshua Zara (RCH-Pinguïns) has fielded a grounder from Vince Rooi; in the background SS Joey Kuijsten...
...Right: Rossini Frolijk connects for HCAW; Catcher is Ties van der Beeke, HP Umpire is Winfried Berkvens...
...Left: Leftfielder Mike Ruitenburg (RCH-Pinguïns) goes after a flyball, standing at right is short stop Joey Kuijsten...
...Right: 3B Vince Rooi (HCAW) retires a batter, standing at right is short stop Delano Selassa...

...Vince Rooi hitting for HCAW, Ties van der Beeke is the catcher, Winfried Berkvens the Home Plate Umpire...
(© Photos: Alfred Cop Fotografie)
R
H
E
RCH-Pinguïns
000
100
000
-
1
6
1
HCAW
010
001
000
-
2
6
1
pitchers RCH-Pinguïns
inn.
SO
BB
H
R
ER
Dion Steyl
2
-
1
2
1
1

---

Hylke van Viersen
2
1
-
1
-
-

---

Lars Werkman
1
-
-
-
-
-

---

Al Morales Gomes, L (0-1)
2
3
-
1
1
-

---

Lars Broersen
1
1
-
1
-
-

---

Mike Ruitenberg
1
-
-
1
-
-

---

pitchers HCAW
inn.
SO
BB
H
R
ER
Kaj Timmermans
1
-
-
1
-
-

---

Giovanni Tensen
1
-
-
-
-
-

---

Tim Niekerk, H (1)
1
-
1
-
-
-

---

Ian Delemarre, BS (1)
1
1
-
3
1
1

---

Moreno Vork
1
1
-
-
-
-

---

Steven van Groningen, W (1-0)
2
2
1
1
-
-

---

Sedley Karel, SV (1)
2
6
1
1
-
-
Umpires: HP-Winfried Berkvens, 1B-John Beltman,
3B-Jan-Willem van der Paauw.
Umpires from 5th inning: HP-Jan-Willem van der Paauw,
1B-Winfried Berkvens, 3B-John Beltman.
Scorer-Rob Schuurman (HCAW).
Public Address Announcer-none.
Scoreboard Operator-Nico van de Luitgaren.
Starting Time-1:13 PM.
Time Played-2:20 hrs.
Site-Rob Hoffmann Vallei, Sportpark Zanderijweg, Bussum

Game Notes:


Exhibition Game.
Weather conditions at game time: Cloudy, 11,9° C (53,4° F); wind direction south-southwest;
wind speed 18 kmh (11,3 mph); wind force 3 Bft; humidity 72%.

Thank you for visiting this site.
Mail your suggestions and questions to stoov@wxs.nl
Copyright © 1997-2017 Marco Stoovelaar / Grand Slam * Stats & News.