(Story by Marco Stoovelaar; Photo by Henk Seppen)

Tom de Blok sign contract with Detroit Tigers
Nederlands



AMSTERDAM (Neth.) - Righthanded pitcher Tom de Blok has signed a professional contract with the organisation of the Detroit Tigers. The agreement has been confirmed by his club L&D Amsterdam Pirates.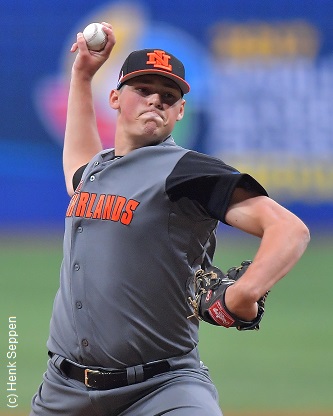 ...Tom de Blok pitching for Netherlands...
...during the World Baseball Classic...
(© Photo: Henk Seppen)

The 20-year old De Blok will fly to the USA coming weekend to the Spring Training-facility of the Tigers in Florida for a medical check-up and then will be assigned to his new team. As of now, that will be West Michigan Whitecaps, which plays in Single-A, which has its home site in Comstock Park, near Grand Rapids.

De Blok recently returned from Los Angeles with the Netherlands Kingdom Baseball Team after completion of the World Baseball Classic. The Orange squad again had a successful event, as it reached the Semi-Final for the second consecutive time and (again) finished in fourth place.
De Blok threw in two games for the Netherlands during the Classic. In the First Round, he pitched one inning against Israel and in the Second Round, he also threw one inning against Japan. In both appearances, she struckout a batter, walked none and gave up no runs. He gave up one Israeli basehit.
His pitching appearances impressed scouts and that resulted in a contact with the Detroit Tigers, who signed him to a 4-year contract.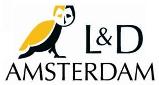 Last season, De Blok pitched in 26 games (all in relief) for Amsterdam Pirates, with whom he won the European Champions Cup and reached the Holland Series. He was 5-0 with five saves and an 0.88 ERA. In 41 innings, De Blok struckout 43 batters, walked only eleven and gave up 21 basehits and only five runs. His 0.88 ERA was the second lowest in the Dutch big league last season.
Earlier, De Blok already was noticed by other professional organisations from the USA and Japan. Last year, he got a try-out with the Tohoku Rakuten Golden Eagles in Japan. Before that, he already stayed in the States for one week, but then returned home to re-join Amsterdam Pirates.
In a reaction, Amsterdam Head Coach Charles Urbanus said: ,,I'm extremely proud that Tom has signed with the Detroit Tigers. This is a recognition for the way Tom has developed the last few years both physically and mentally.''
Tom de Blok is the second Dutch player who signed a professional contract in a short period. Early last month, infielder Oliver van der Wijst Severino signed with the Houston Astros. Both De Blok and Van der Wijst began their career in youth-teams of Amsterdam Pirates. Last year, Van der Wijst played in the Dutch big league for Kinheim. He transfered to Hoofddorp Pioniers after completion of the season.
(April 4)
Related Article:


Oliver van der Wijst Severino signs contract with Astros. (March 9)