The Netherlands opened the score quickly in the first inning off of starting pitcher Dariel Gongora. With one out, Stijn van der Meer (who reached on a fielder's choice) advanced on a sacrifice bunt by Dwayne Kemp. He then scored when Gianison Boekhoudt followed with a double.

Cuba came alongside immediately in its first at bat off of starter Lars Huijer. The righthander walked lead-off hitter Humberto Bravo, who scored the tying run on a 2-out single by Osvaldo Vazquez.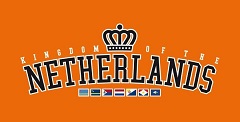 For Cuba, this was to be its lone run in the game. From the second inning on, Huijer dominated, allowed only four batters to reach base and saw only two more runners get in scoring position. In the second, Yoelquis Guibert led off with a single and moved on a grounder, but stranded on second base. In the fourth, Guibert doubled after the Orange-defense had turned a double play. He advanced to third base on a wild pitch, but also was left behind.

The Netherlands was retired in order in the second inning, but then re-took the lead in the third at bat. Rookie Nick Peels led off with a single and moved on a sacrifice bunt by Chris Garia. With two outs, Peels scored on a single by Gianison Boekhoudt, who batted in his second run to make it a 2-1 score.
From here, the game belonged to the Netherlands, which played a very good game, was productive offensively, got solid pitching and commited no errors defensively.
In the fourth inning, the third run was added. Nick Urbanus led off with a single, advanced to third base on a wild pitch, then scored on a single by Max Draijer, another rookie on the Orange-roster.
Two runs were scored in the fifth. With one out, the bases got loaded when Dwayne Kemp singled, Gianison Boekhoudt walked and Dudley Leonora also singled. Next batter Nick Urbanus grounded out, but that also brought in a run. Max Draijer followed with his second runscoring single in the game.
Leading 6-1, the Netherlands scored its final run in the ninth inning off of reliever Alexander Rodriguez, the third Cuban pitcher in this game. Chris Garia led off with a walk, stole second base, advanced on a single by Stijn van der Meer, then scored when Dwayne Kemp grounded into a double play.
Lars Huijer retired the last six batters he faced in the sixth and seventh inning. In the eighth, rookie Jerremyh Angela took over and retired the side, striking out two batters. Kevin Heijstek pitched the ninth inning for the Orange. He gave up a lead-off single to Osvaldo Vazquez, but a double play and groundout followed to end the game.